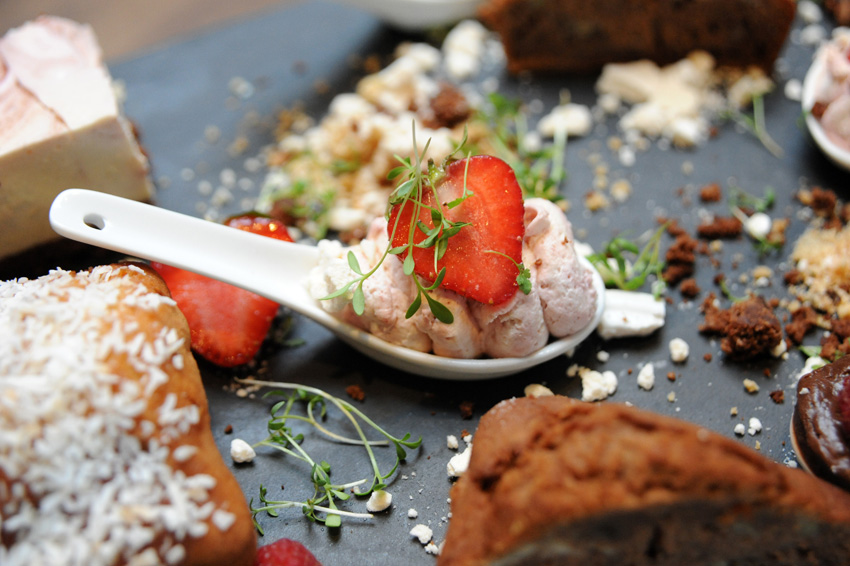 We sat by the big bright windows as the rain poured down outside. The pampas grasses in the garden lulled and nodded under the weight of the water. The Drawing Room was peaceful and calm, decorated in my favourite colours – greyish blue and blueish grey.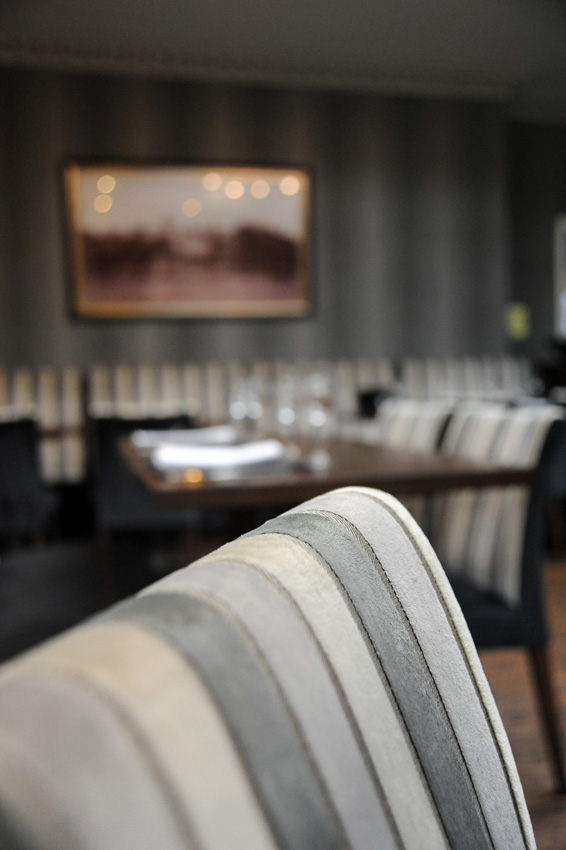 On the table a selection of loose teas were displayed in small glass jars. We were invited to take a moment to choose from them, breathing in their scent and imagining their flavour. Darjeeling, Moroccan Mint, Earl Grey, English Breakfast, Red Berries – 'mmm, that's nice!' Red Berries was in fact so nice that it was sniffed and sniffed again, then slung, luscious and loose leafed into my handbag with accidental abandon.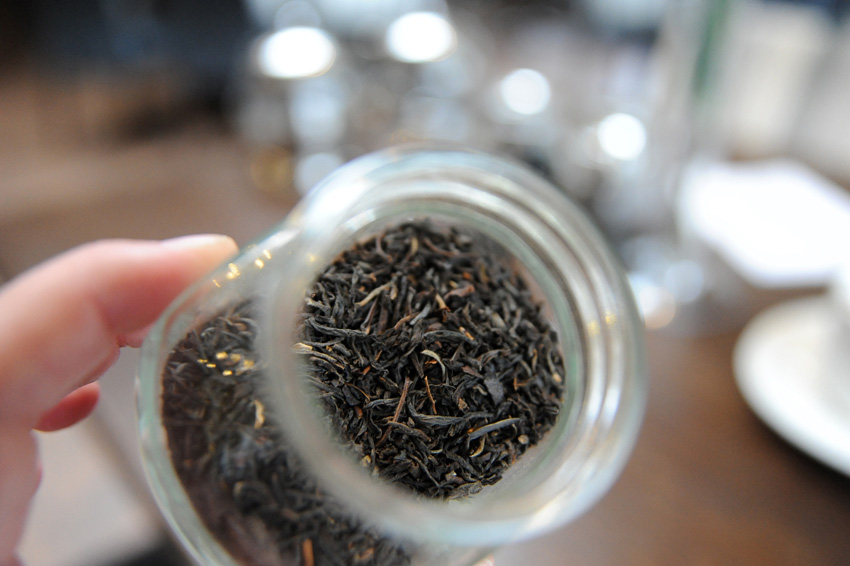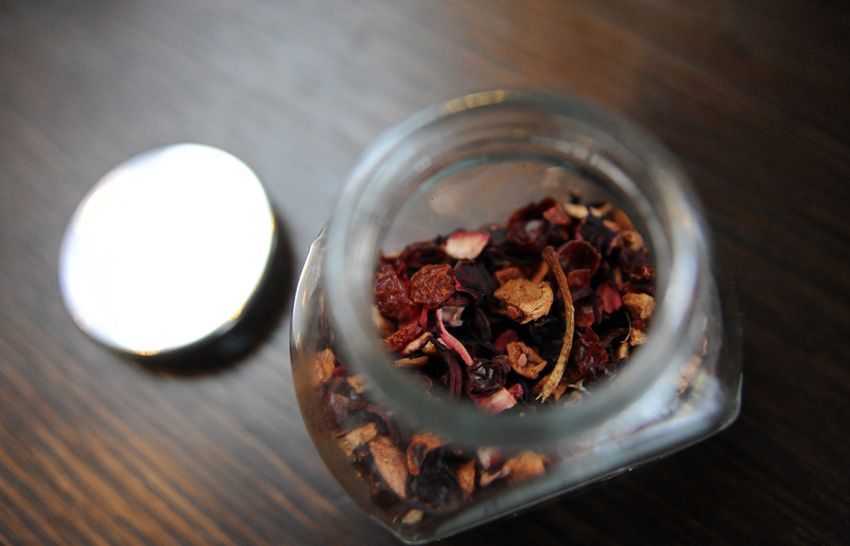 Adam chose a very light and delicate Darjeeling, while I opted for good ol' English Breakfast tea. (I knew I could always have the Red Berries later, when I salvaged the remnants of over excited tea-sniffing from the bottom of my bag!)
We settled into our surroundings and gazed out of the windows as the tiered tea stand was set down in front of us. Behold one of the nicest afternoon teas I have ever seen.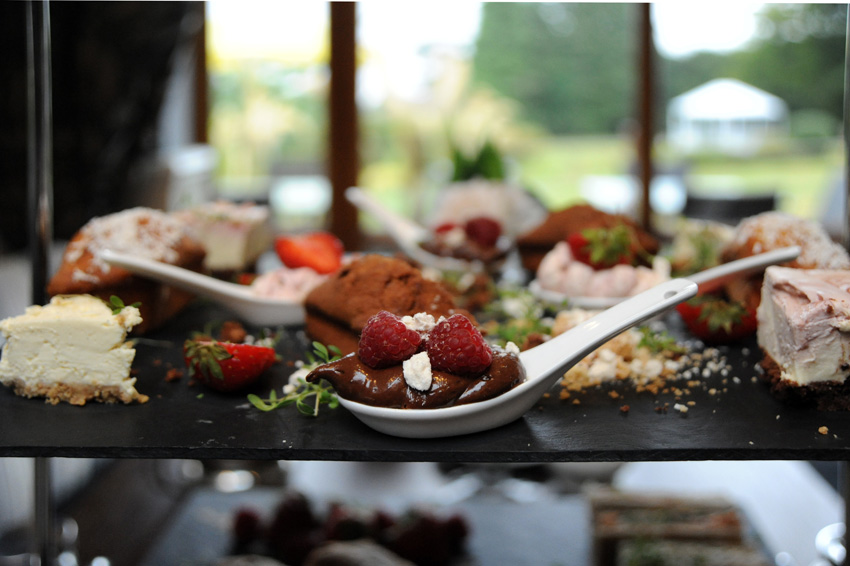 Substantially filled sandwiches of egg and mayonnaise, smoked salmon with cucumber, ham and tomato, and cucumber and cream cheese, sat neatly next to plump scones and bright red fruits.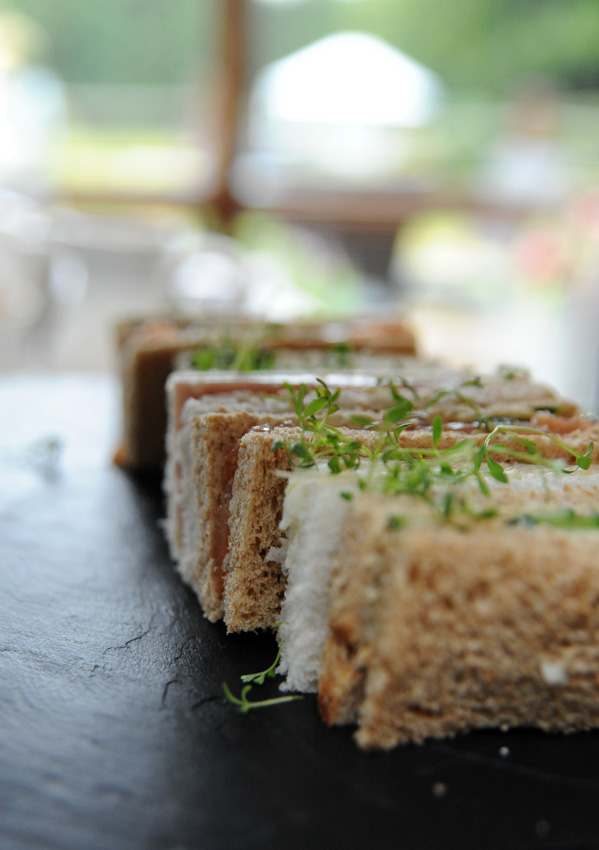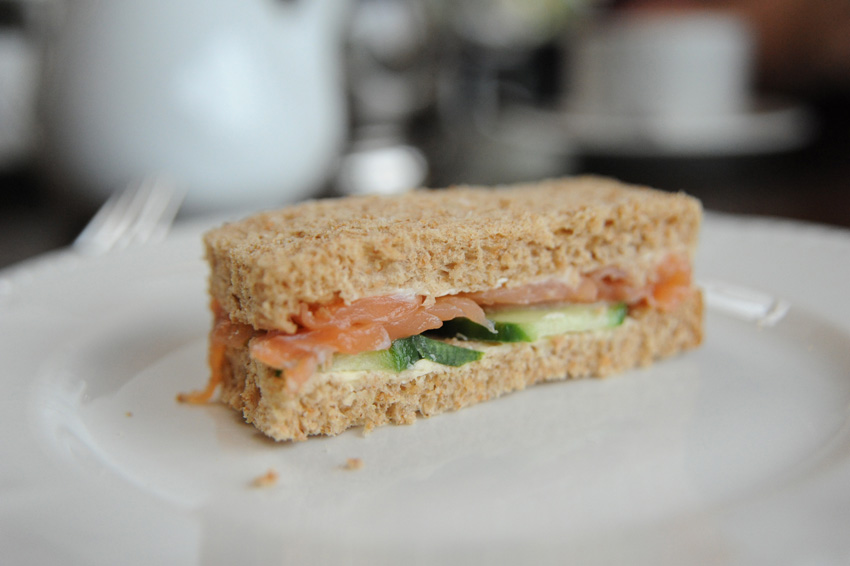 The sandwiches were pleasant, but the scones were something else. Just cooked fresh scones, soft and homely, with clotted cream and jam. I could have eaten scones all afternoon. I mean it. (You know I mean it).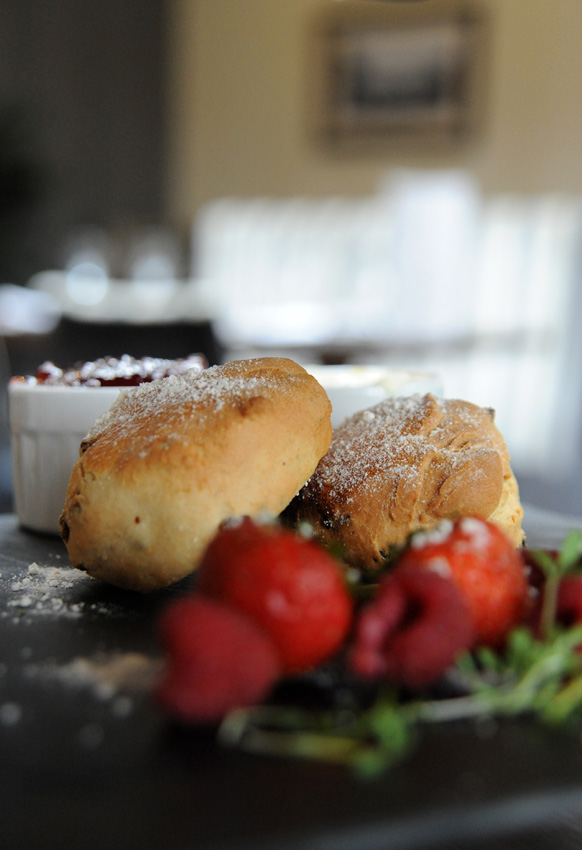 We took our time. I think that's one of the best things about afternoon tea – that it is seen as such an occasion that you can take your time, enjoy and savour it. So often we rush our meals because there is something else to be done, or somewhere else to be, but afternoon tea makes the exception.
The top tier was brimming with sweet treats.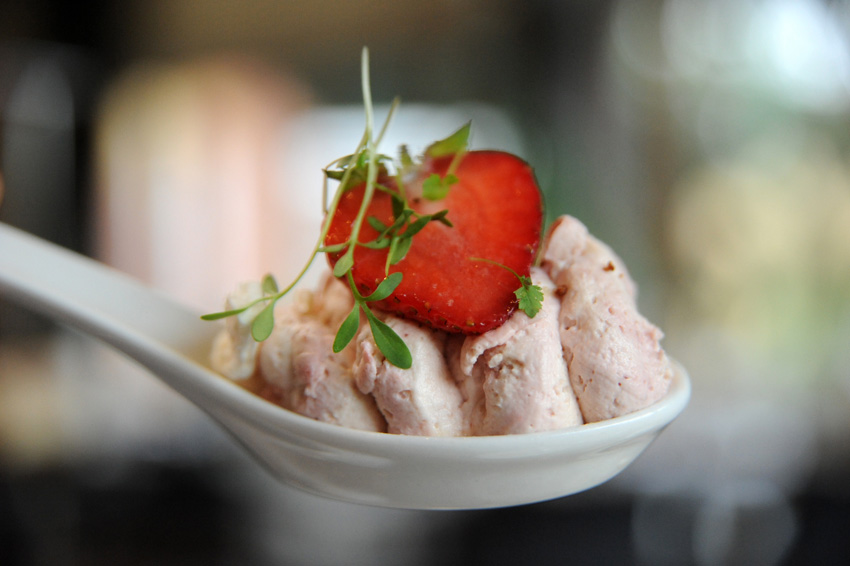 Eton mess mousse – pretty and pink, fresh cream and strawberries whipped into a very light mousse.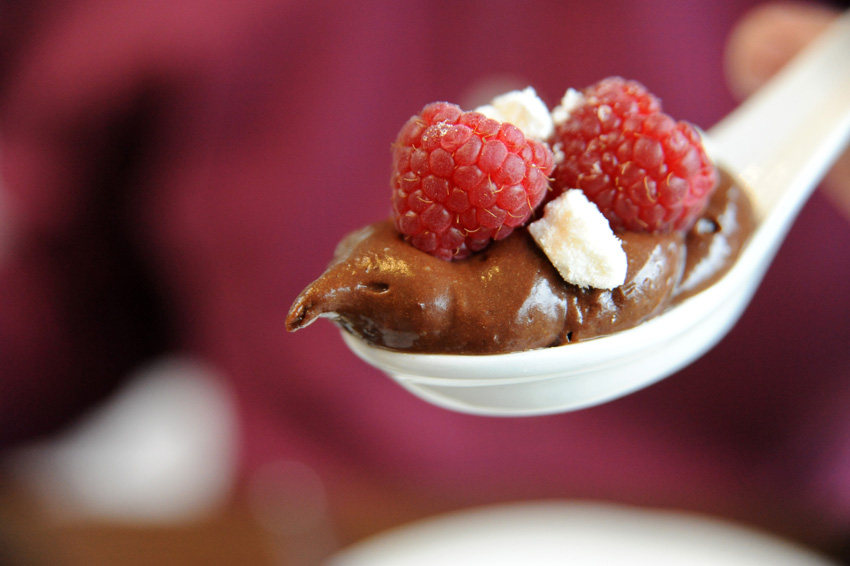 Chocolate mousse – to me it seemed to be a bit more of a very sweet fondant. Adam's looked like a little brown bird with a raspberry backpack.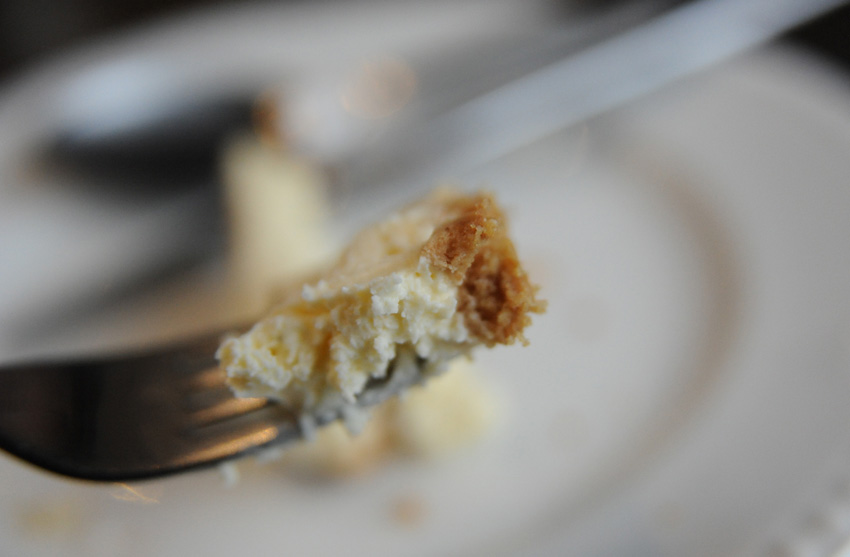 Vanilla cheesecake – very light and enjoyable.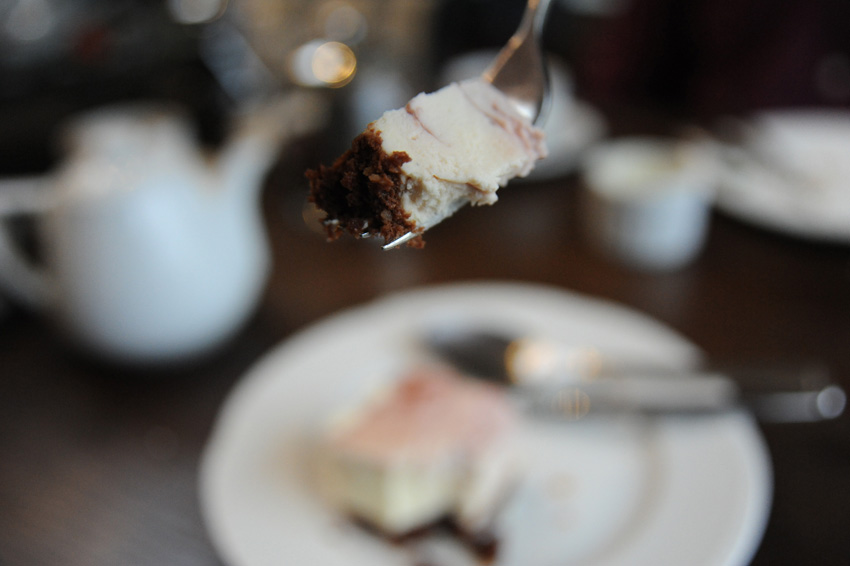 Raspberry chocolate brownie cheesecake – thick and yoghurt-like raspberry cream, with a chocolate-chip-filled chocolate cake base.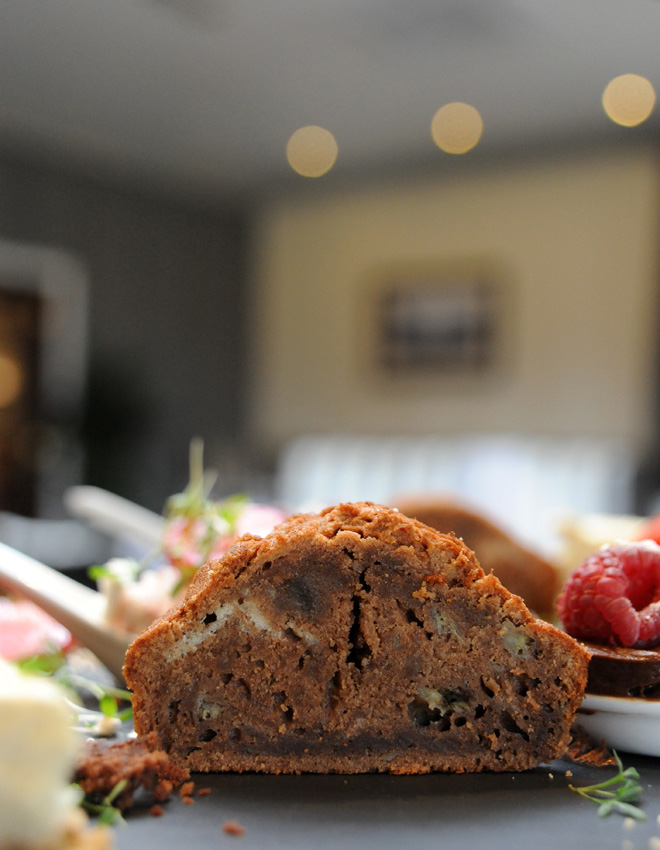 Banana loaf – very smooth and tasty.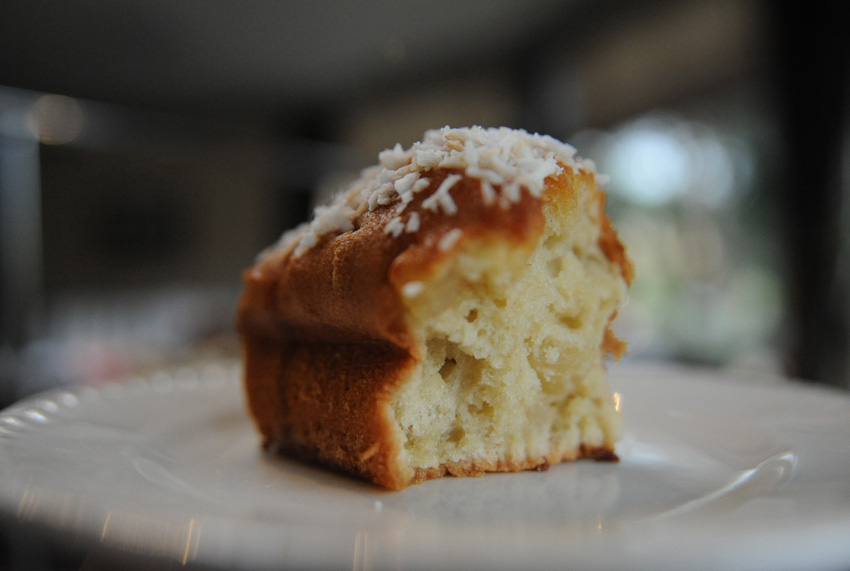 Coconut and pineapple loaf – squishy, chunks of pineapple in sponge with coconut on top.
There was far more food than we could manage, even though we took our hours over it and I really did try my best. I could have made room for another scone though! The fact that all the food was made in the hotel kitchen, and the scones had been made fresh, to order, left an impression on me. It's those little touches that make things personal, genuine and worthwhile. Those are the things that make food worth savouring.
It was also nice to have teas available at the table so we could choose with our noses (and handbag) too.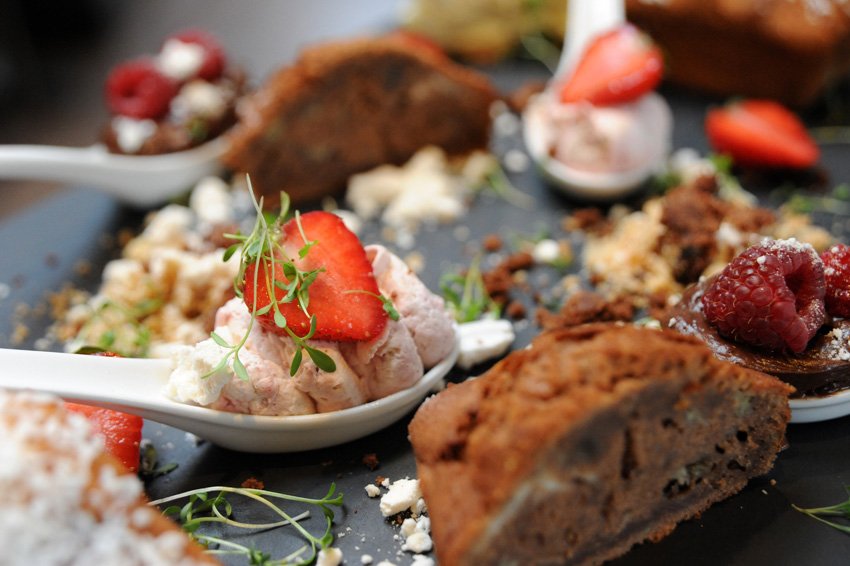 In our sugar induced stupor we left the table and wandered off to explore the hotel.
Afternoon tea at The Mount is £17.50 per person, or £19.50 with a glass of Prosecco, and I think, totally worth it.
We were guests at The Mount, and very happy ones too.