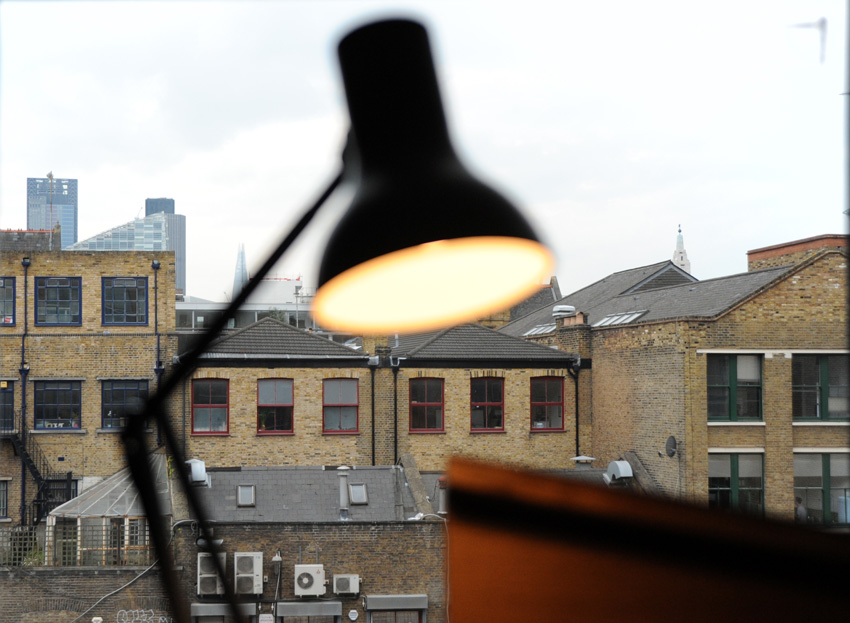 I sat opposite an elderly couple on the train. Bad move. She kept kicking me and then he stood on my foot, just before he sneezed with might into the newspaper he was reading. He folded it and handed it to his wife, who placed it on the table between us and pushed it towards me. Then she carried on with her intermittent kicking.
I was in London to speak at the British Journal of Photography's Breakthrough Sessions as part of Free Range, the UK's largest showcase for creative graduates.
There were around thirty people in my audience, and a couple of them familiar faces. I only had half-an-hour and I totally filled it, mostly with trucker horn blowing impressions ('Honk, honk'… with the arm movement, you know!) I was a little embarrassed that I'd done that, so I did it again, possibly several times, and I even ended on one. I was really happy to have people come up to me afterwards to talk, they were kind and appreciative, and they didn't judge me too harshly for my Honk, honking.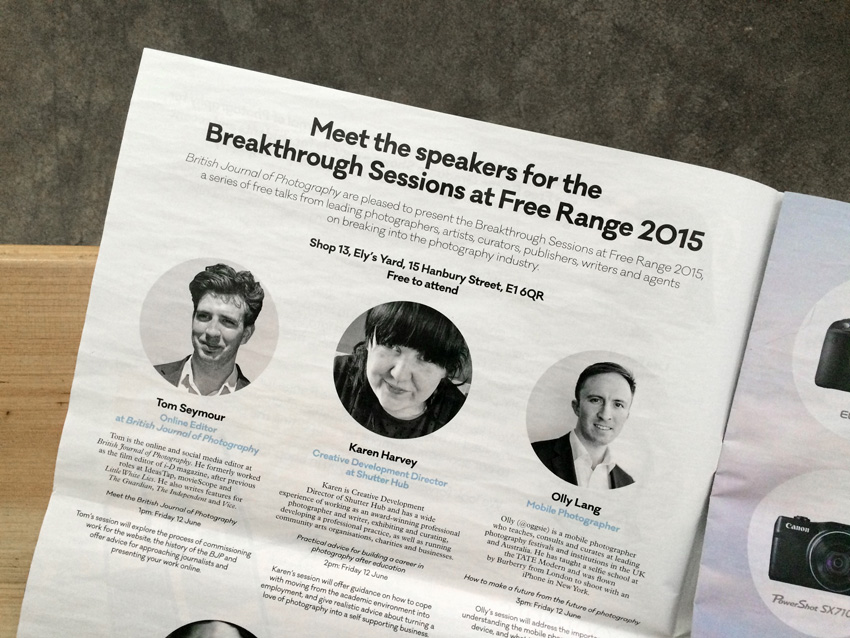 The only picture we could find with my face on, to use for the press, was this one, where I happened to be carving the famous giant Easter gherkin. So we had to crop the gherkin out, and you'd never know it was there, except I've told everyone.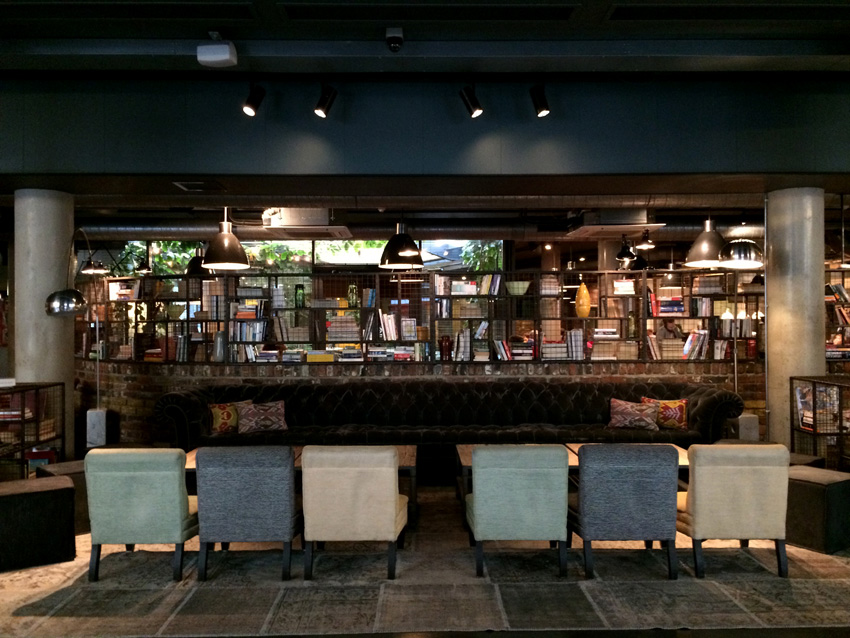 I arrived at The Hoxton in Shoreditch, got the lowdown from the front of house staff and headed up to my room.
On entering I was greeted by soothing sounds coming from the digital radio. 'How nice!' I exclaimed at such a simple but thoughtful touch. (I really want one of these little Roberts radios for MoJo.)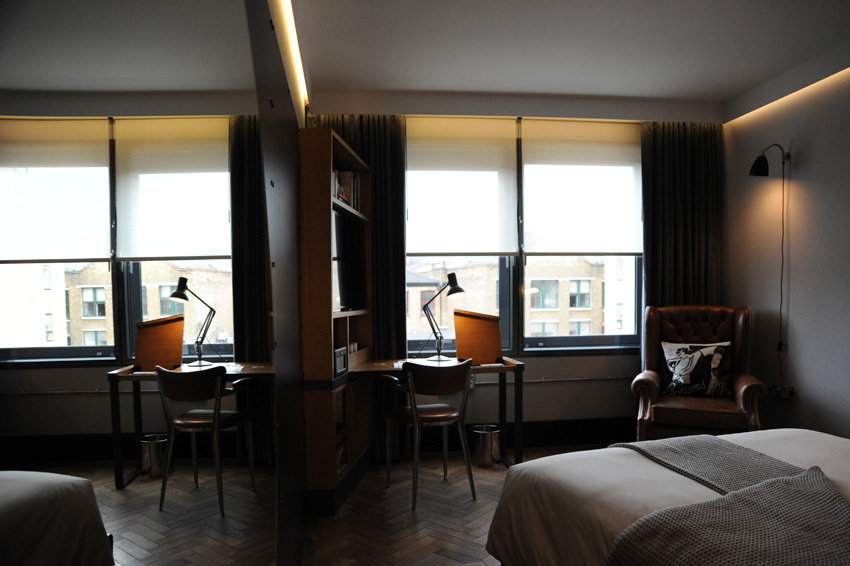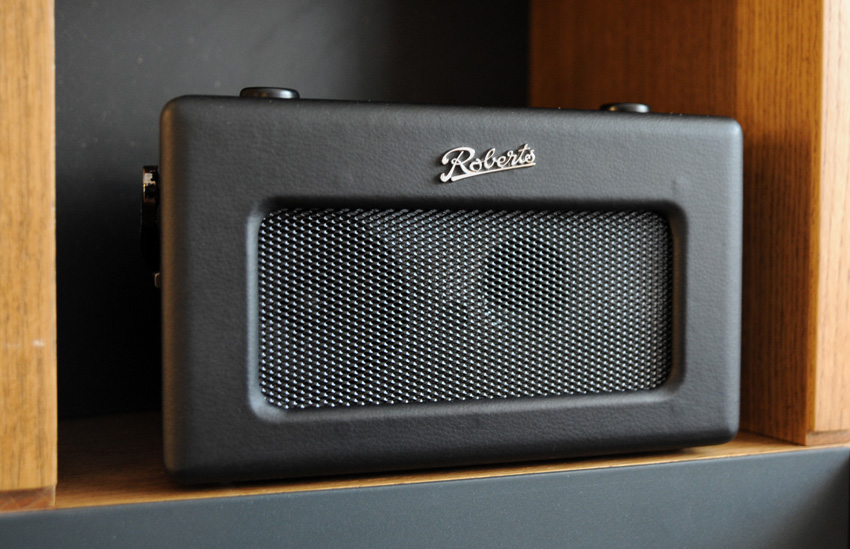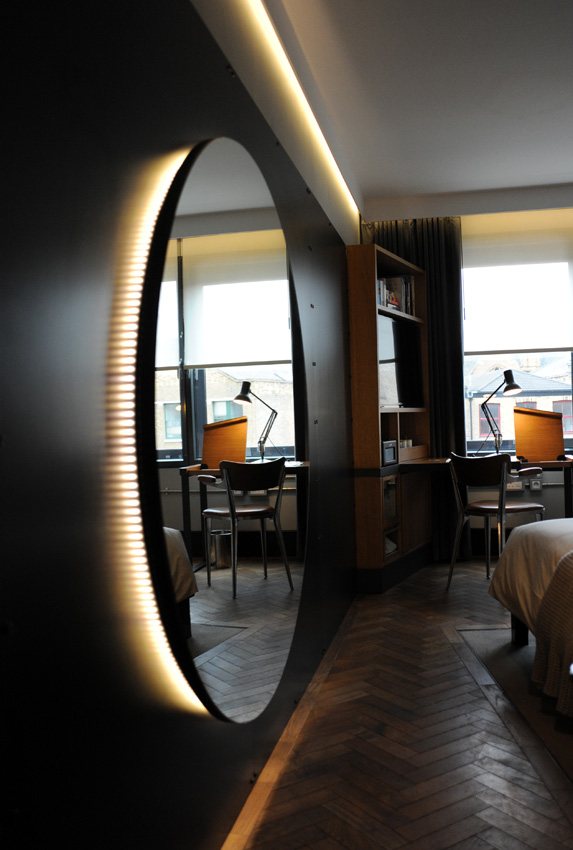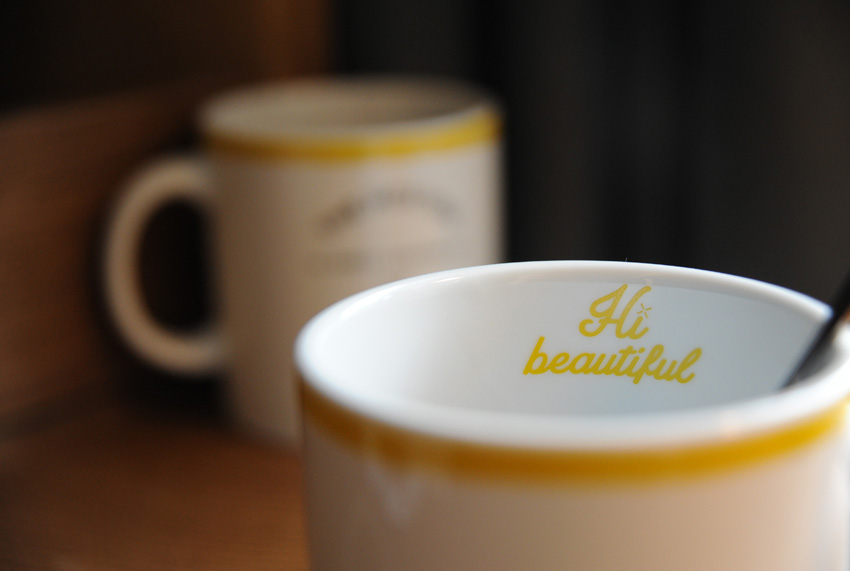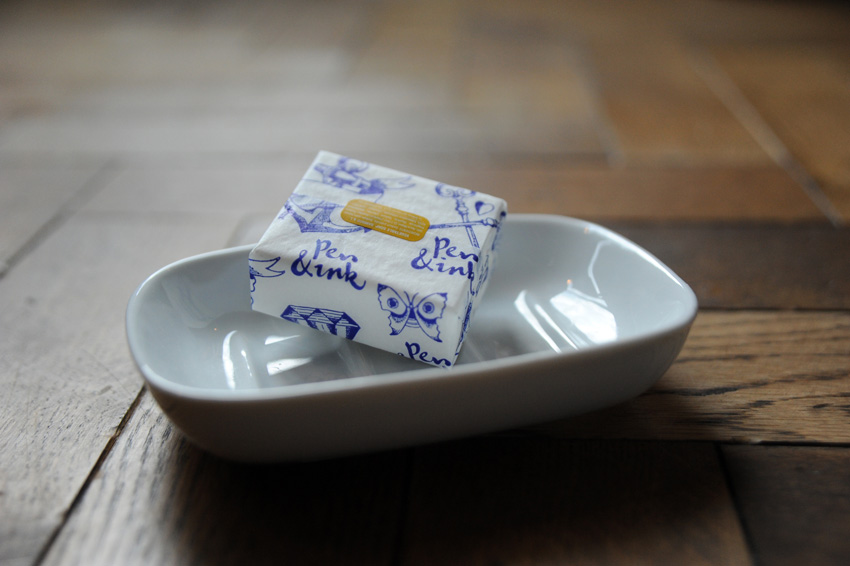 The Hoxton is a seriously cool hotel. My room was smart, clean, and really welcoming. The dark, sleek and clean bathroom was stocked with super attractively packaged Pen and Ink toiletries. The Hoxton makes an effort to make it's guests comfortable with things like random books in the room, a radio, free wifi and phone calls, real milk (hooray!), bottled water, and so much more. There's even an ironing room on the 6th floor, and an ice machine, and Macs in the lobby that are free to use day and night, and if you don't want to check out by 12 noon you can just stay until 4pm for just an extra twenty quid, and… I think it's seriously great. They also have cool carpets.
All super. Super duper. With what I considered to be a mega view from my window, great lighting and elegant herringbone parquet flooring, I couldn't have been happier.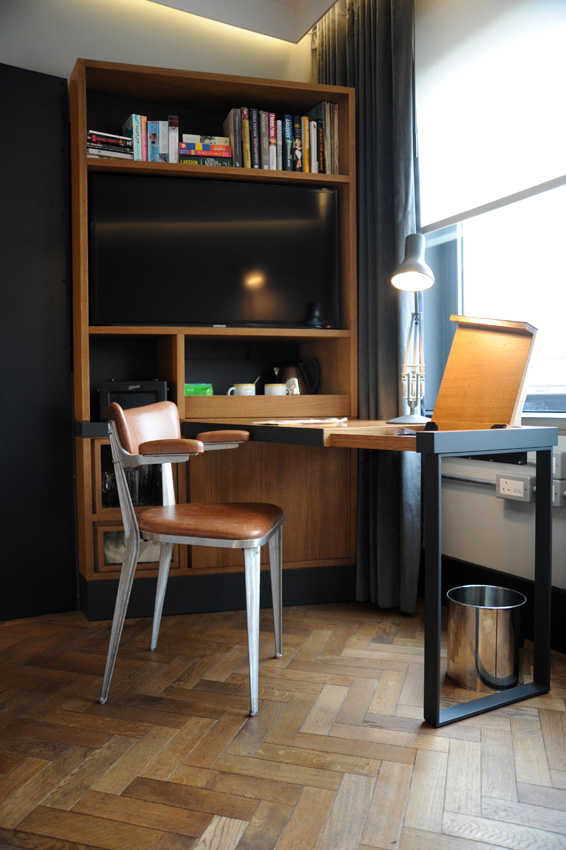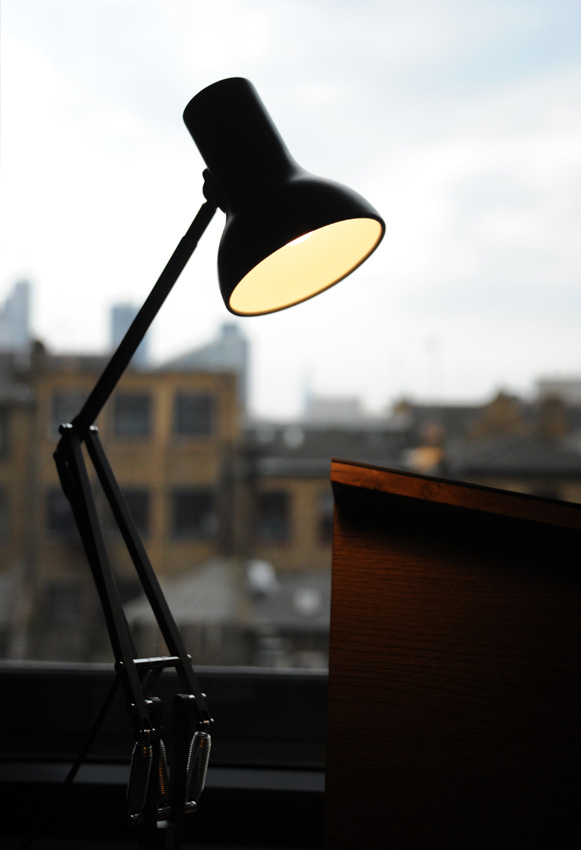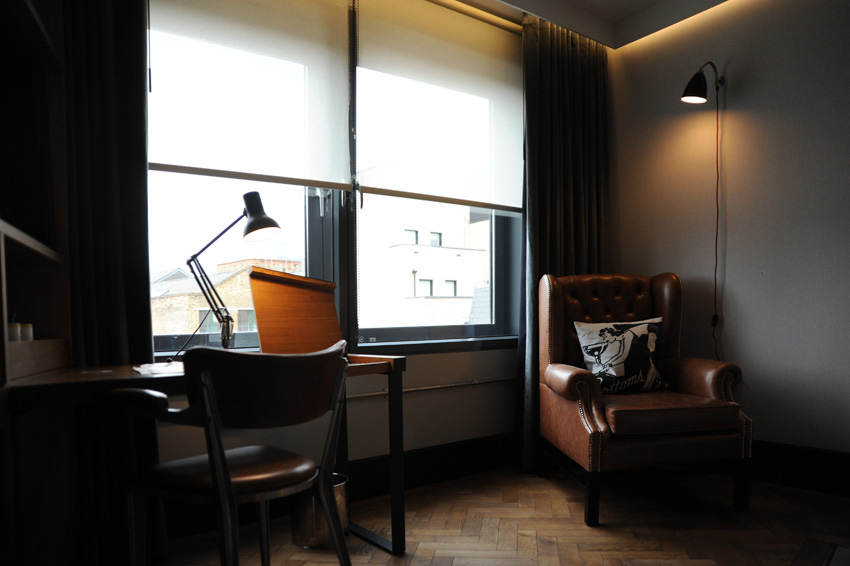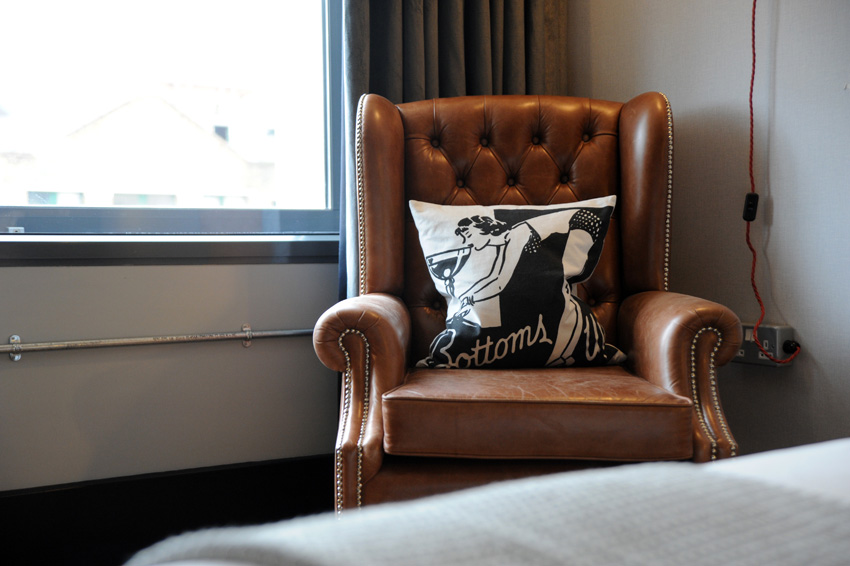 I trotted gleefully down to the Hoxton Grill, squashed myself into a corner of the red banquette and readied myself for dinner, I'd not had time for anything all day, not even a biscuit.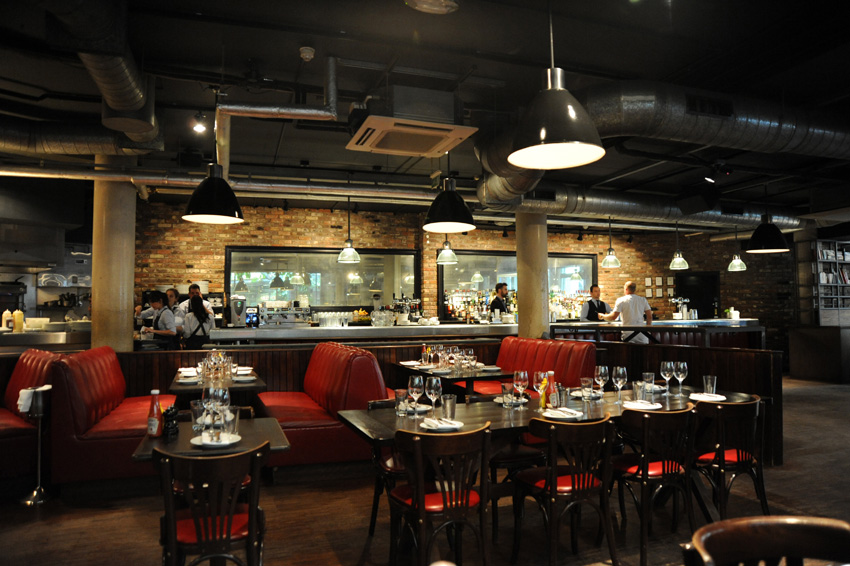 The staff were bustling around, preparing themselves for a busy evening. I observed the open kitchen, the industrial ceiling and the cosy booths and waited for people much more cool than I to arrive.
The order of the day was Cheeseburger and fries, with a side of Redslaw. I asked the waiter, 'What is Redslaw?' and he told me, 'It's coleslaw, but they colour it in with beetroot'. I don't know why, but that sold it to me immediately.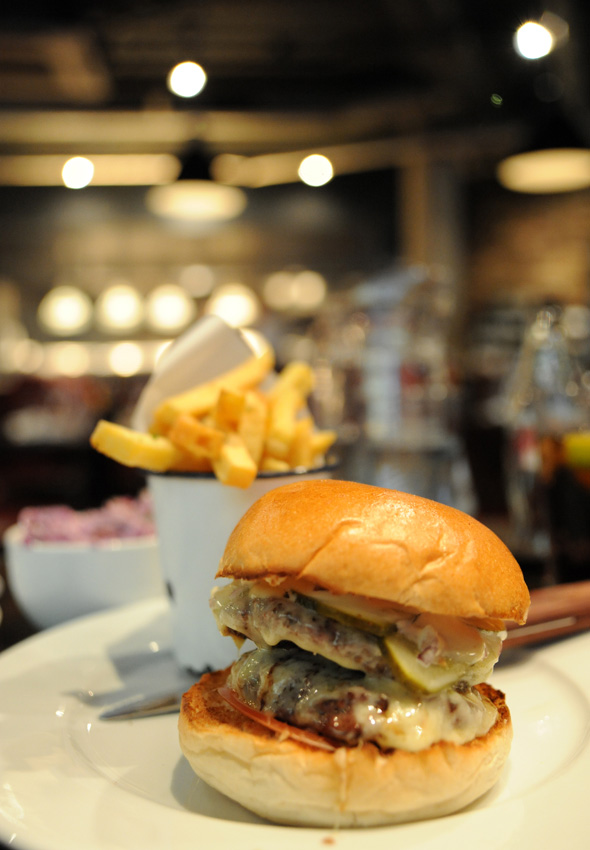 My food arrived. A double patty burger in a soft bun with melted cheddar, thinly slice tomato, gherkin, mild mustardy sauce and finely chopped red onion. It was a bit salty, I think it was the cheese. Salty cheese. The beef patties were overly dense, meaty but too hard going for me.
The fries were dry, slightly over cooked, and salty, with a sprinkle of green herbs that added no flavour – I believe their only purpose is to stick in your teeth so they can check you are brushing properly. Like those little red tablets they used to give out at the dentists, but more healthy and less fun.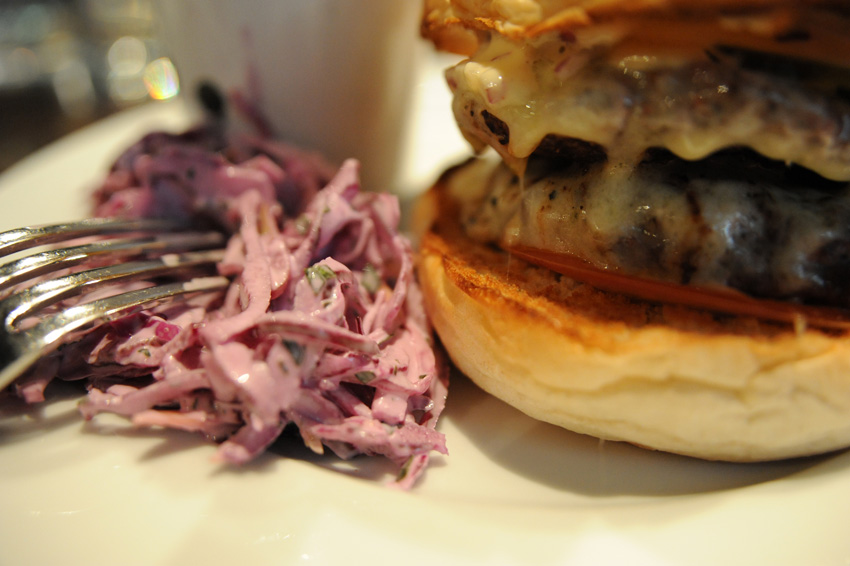 The Redslaw was actually purple. Red cabbage, red onion, celery and apple in a mayonnaise dressing. It sounds nicer than it was, I mean, it was pleasant enough, but not very flavourful, mostly cabbagey. I'd like to make my own though.
Considering I was so hungry you'd think I could have appreciated this more!
The burger itself receives a 5.5 out of 10 on the 'Harvinator Scale of Burger Appreciation' which is most definitely a real thing and one that all purveyors of patties should be fully engaged with. (Just for Harvinator Scale comparison – the only ever 10 was awarded to Steak and Honour. This bloody good burger at Willington Hall was an 8!)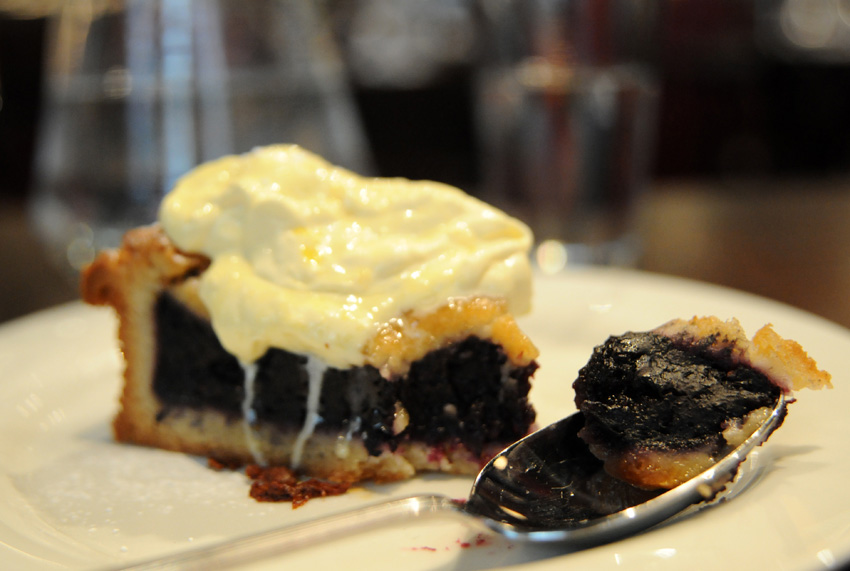 It was important to have a pudding. I ordered the Blueberry pie and this big lump of lovely stodge arrived. Cakey crust, dollop of thick fresh cream, sweet and sturdy. I enjoyed all of it. Well done Karen!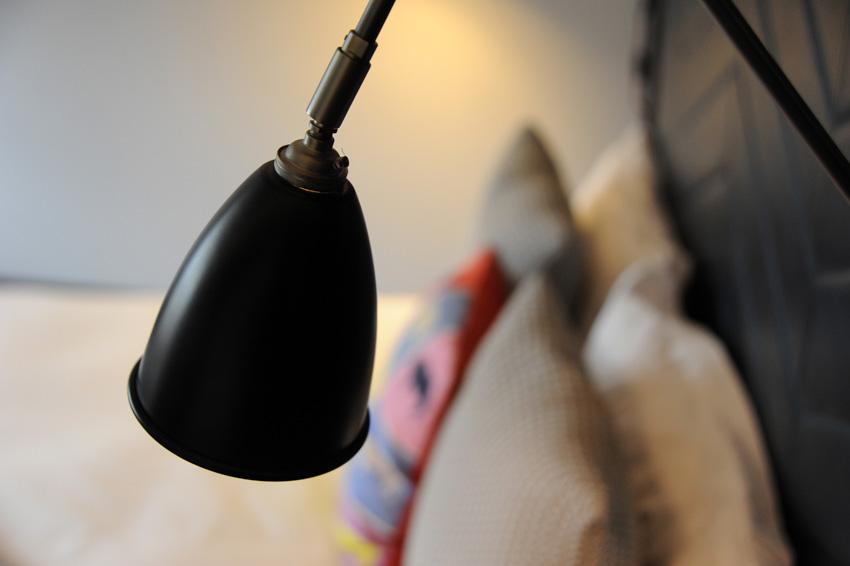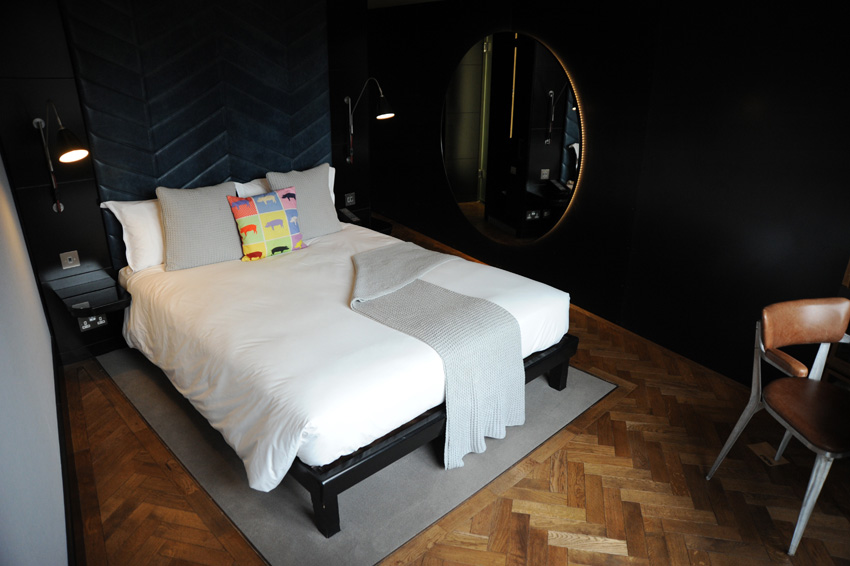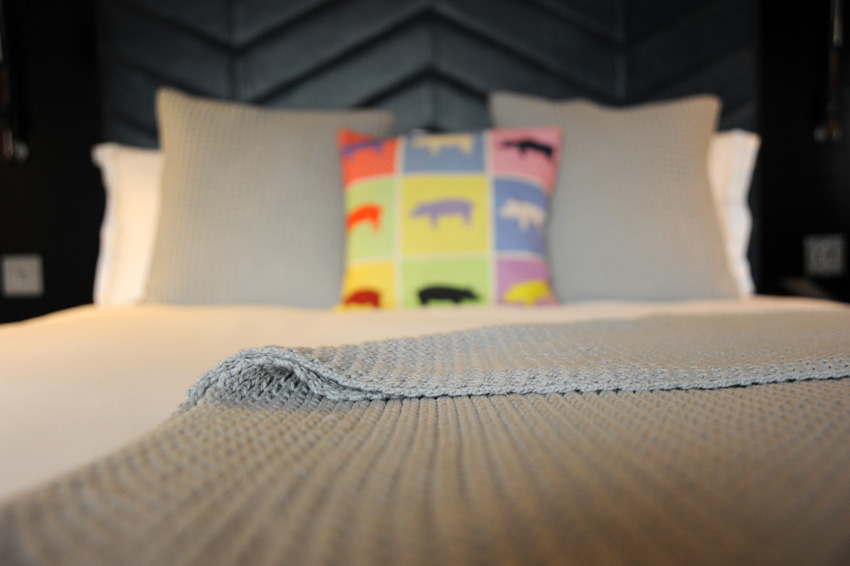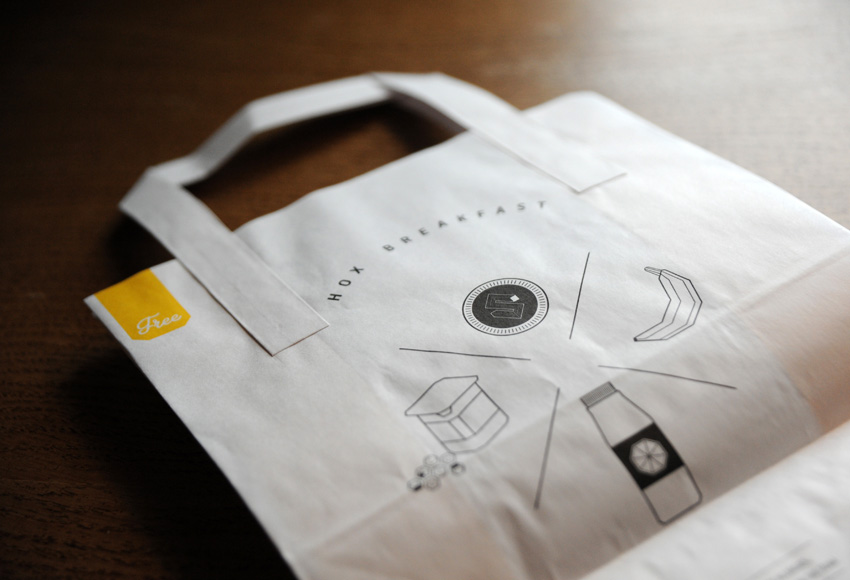 The Hoxton bar was busy downstairs. It was 7pm and I was already in bed, accidentally watching A Question of Sport, drinking tea and opening death threats. (Alright, that's an exaggeration… 'threat'.) At my talk one of the audience members, who I've seen before, handed me an envelope that he said he wanted me to have. Upon settling in my room I decided to open it, assuming it would be a CV, or information about an exhibition, or something. Instead it was a really naff attempt at being clever. I text Adam, 'I think I received my first ever death threat today!' We both agreed that he really didn't know who he was messing with.
Outside my door I put my little breakfast request bag on the hook, like putting my pillow case out for Father Christmas, and hoped I'd get a banana in the morning.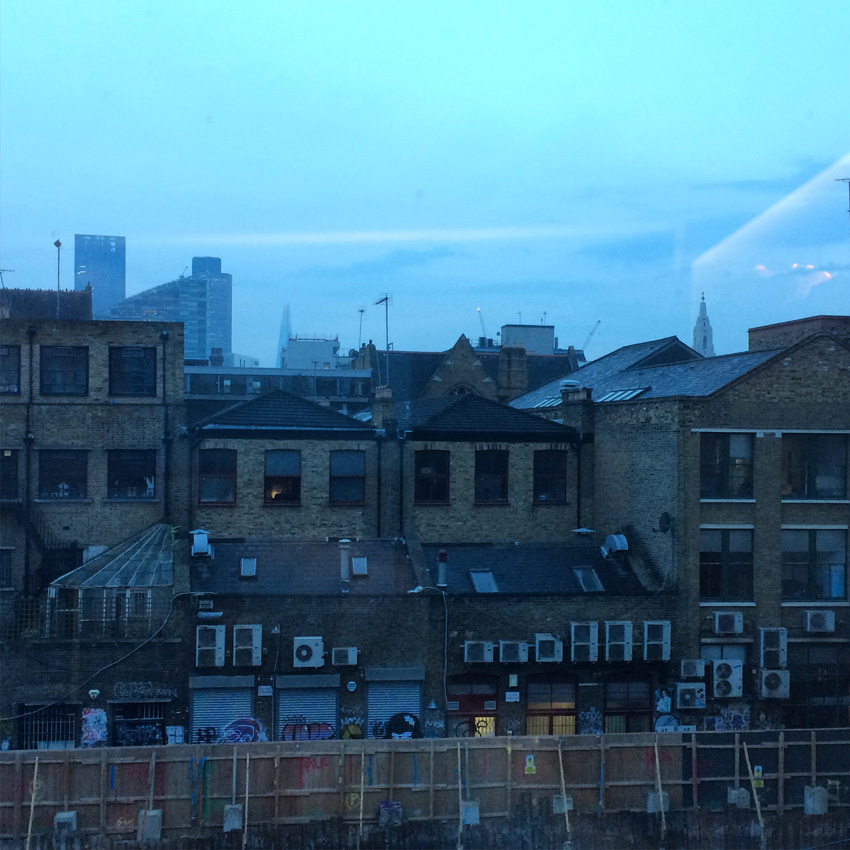 I lay in bed, snuggled up in white cotton and duck down, half watching a program about Reindeer, half admiring the view and the multiple air-con units of Shoreditch.
When I woke up I was very excited to open the blinds on the world. No sun – disappointing. Massive red crane being unloaded and built outside my window – excellent! I ate the breakfast that Father Christmas had left for me and watched on with interest.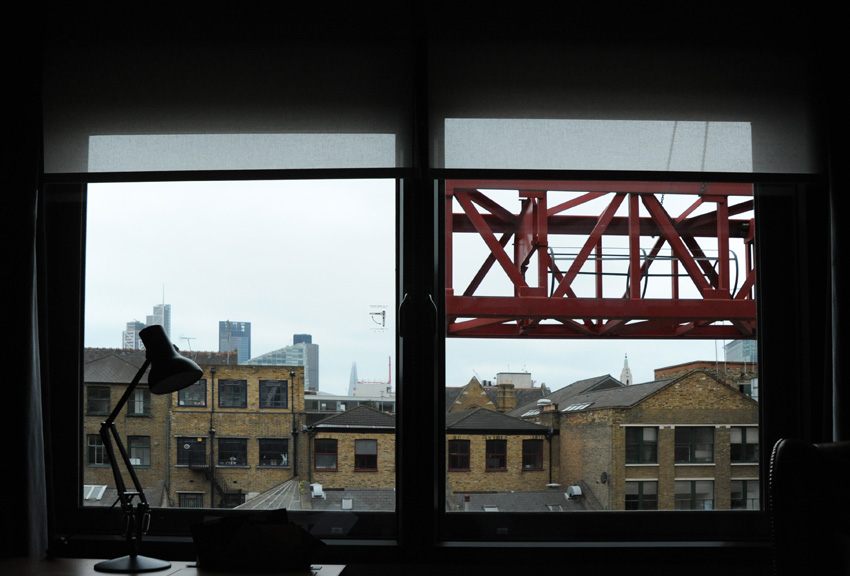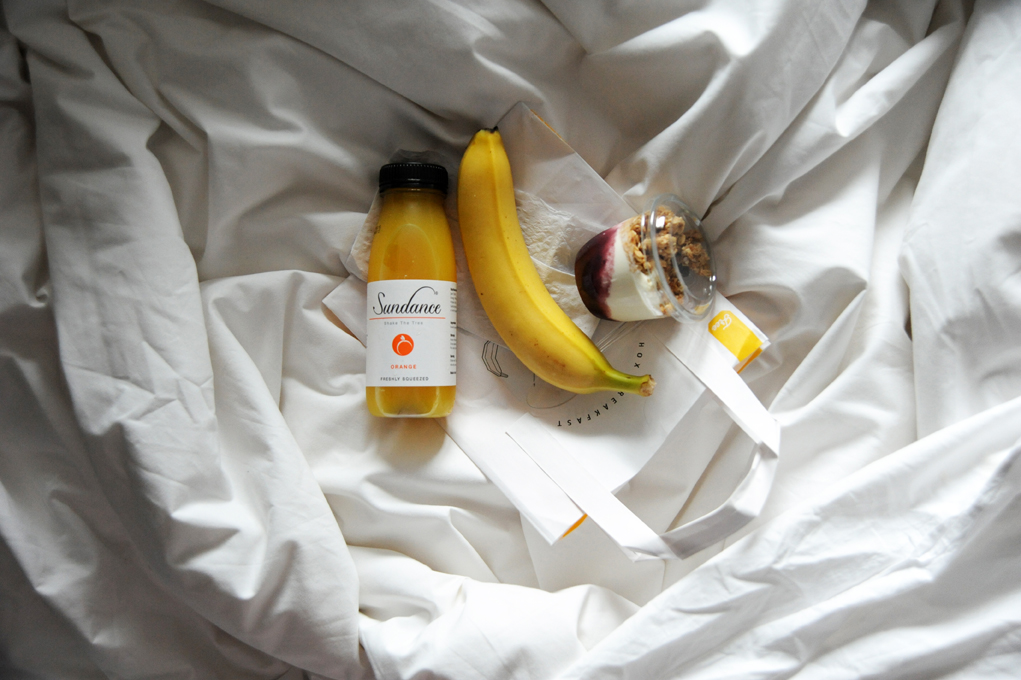 At 9.45am a knock on my door from housekeeping (I always thought they checked who'd checked out first?) reminded me I had a job to do and to get a wriggle on. I checked out, said my thank you's and went on my jolly way, back down the road to Free Range at the Old Truman Brewery for the #GoFolio portfolio reviews with Shutter Hub and the Old Girls Club. Marvellous.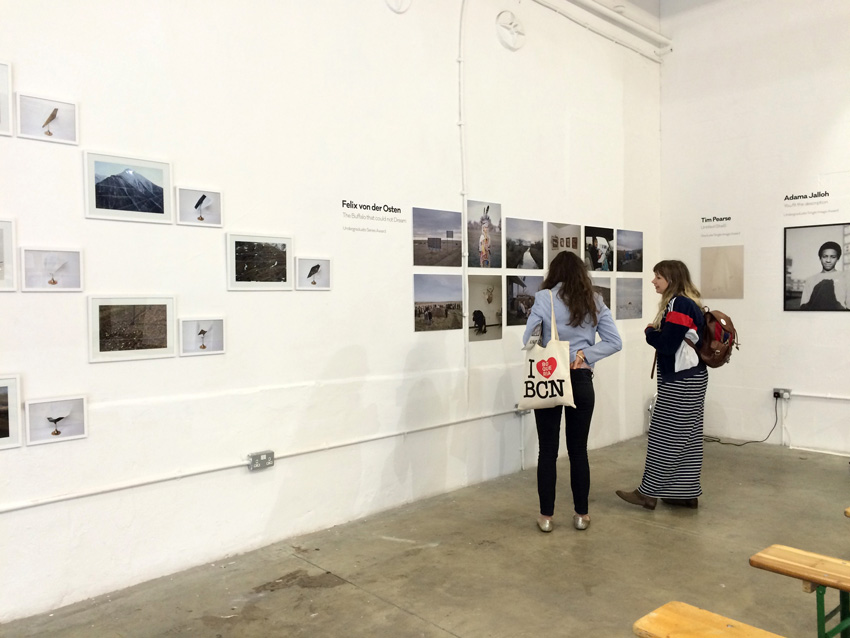 The Hoxton | 81 Great Eastern Street, London EC2A 3HU
Thank you team Hoxton for making my stay such a good one! Woo, go team, high five! …Oh okay, just me then?!