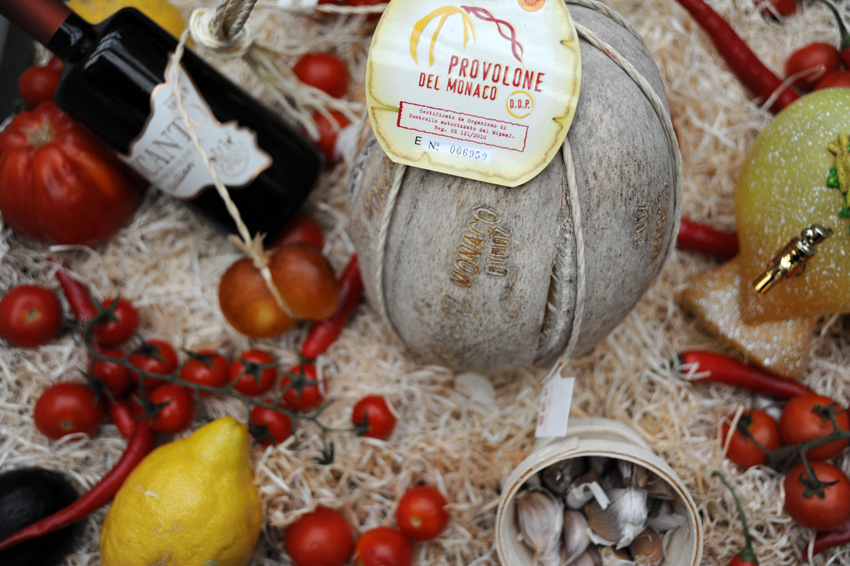 When somebody says 'Italian food' I think of simple, fresh, flavourful dishes, quality produce and traditional recipes. I've been disappointed many times by crappy pasta and metallic tomato sauce, served to me in so-called 'Italian restaurants' by men with moustaches and fake accents. I do have some really strong memories of Italian dining, but not necessarily for the right reasons. – there was that time in Tours where the waiter threw a steak knife at Adam and a little French man had a group of Scotts serenade his wife (seriously weird, Rachel put it on YouTube), and Hannah's lovely birthday dinner in ASK where I found the foil wrapper of a bleach tablet in my salad. Fresh!
So, with all that in mind, can you imagine my excitement when I was asked along to the Bellavita Expo in London and invited to be a member of the judging panel for the inaugural Bellavita Awards?
Bellavita Expo in the UK's biggest trade fair celebrating Italian artisan food, the Awards recognise excellence in Italian food and drink, and I like meat and cheese.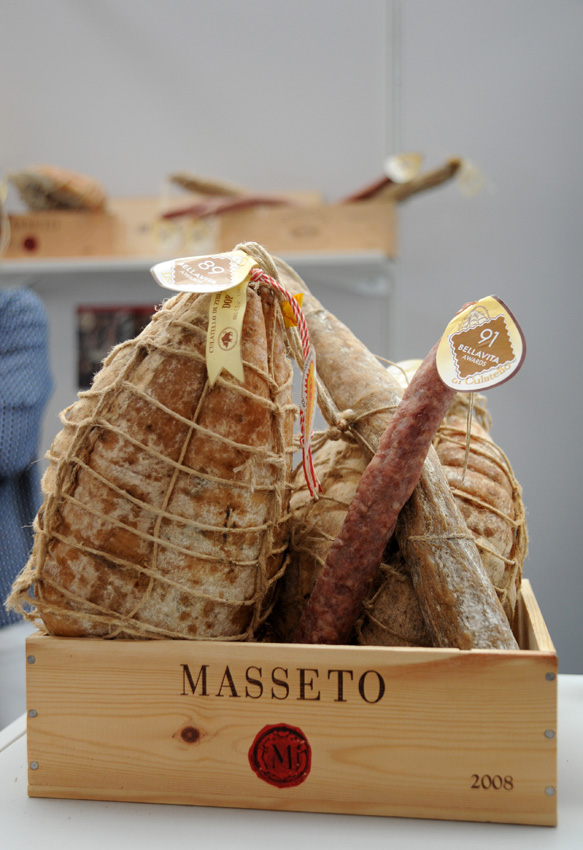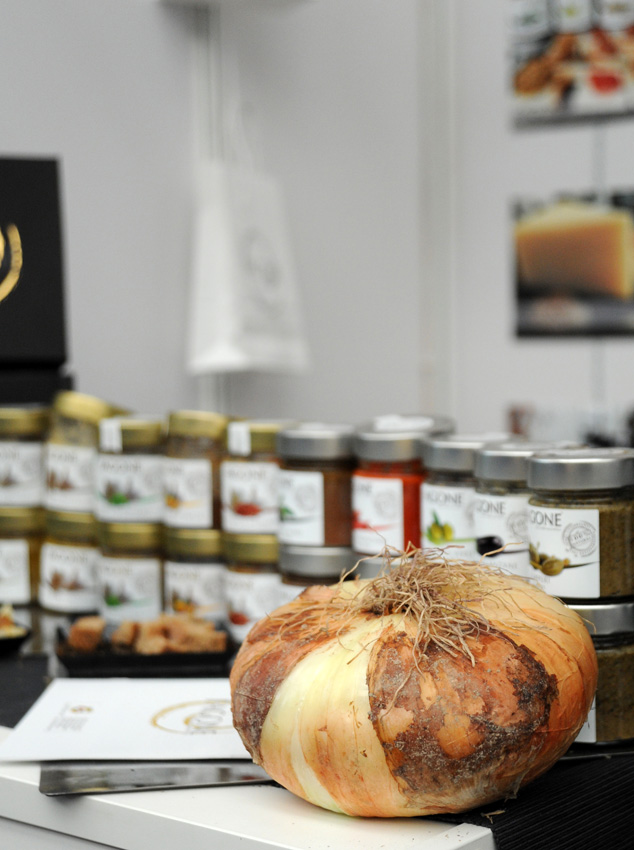 Apparently, Bellavita is the first and only International Awards programme to be entirely dedicated to authentic Italian food and wine. I was totally dedicated to the food.
After all that hard work (eating and saying stuff) I thought it might be nice to share my top picks from my judgey judging.
I can't tell you about the melons though, I didn't try the melons. There were two melons, and only one was there to be judged. It was confusing, there was a man just stood there with two melons and nothing else. 'Which melon?' 'Eat both the melons.' 'I can't.' 'Okay, just forget about it!'  It was quite surreal.
Okay then! Onwards, to my top foody picks…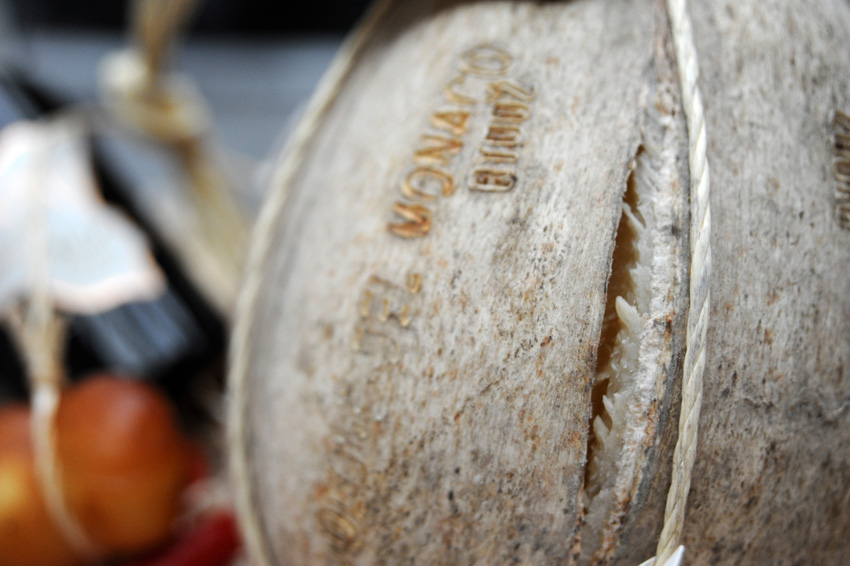 Caseificio Ruocco. Mmmm, Mozzarella. The Fior di latte was deliciously light and really milky. And this thing that looks like a melon? (Top image, and above) A superbly tasty, creamy semi-hard cheese made of spun paste. The 'Provolone del Monaco' is aged for at least six months and made from the milk of the endangered Ageola cow. Fancy.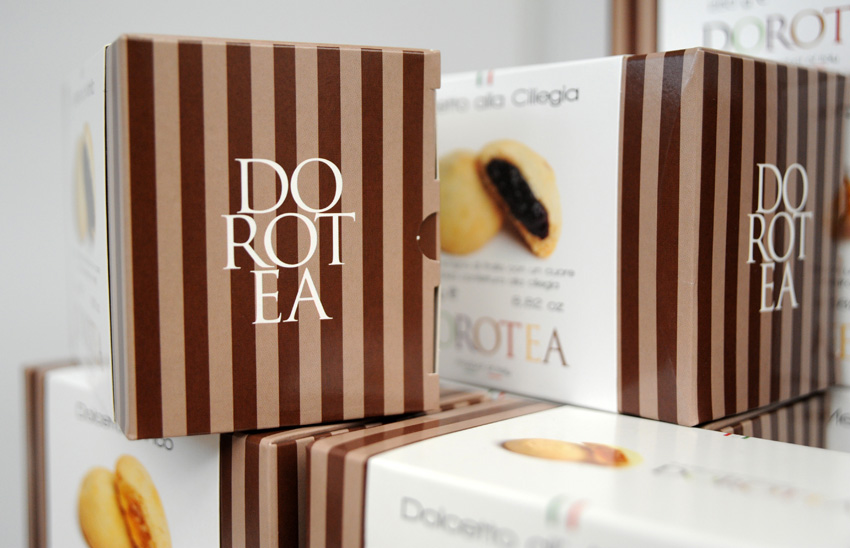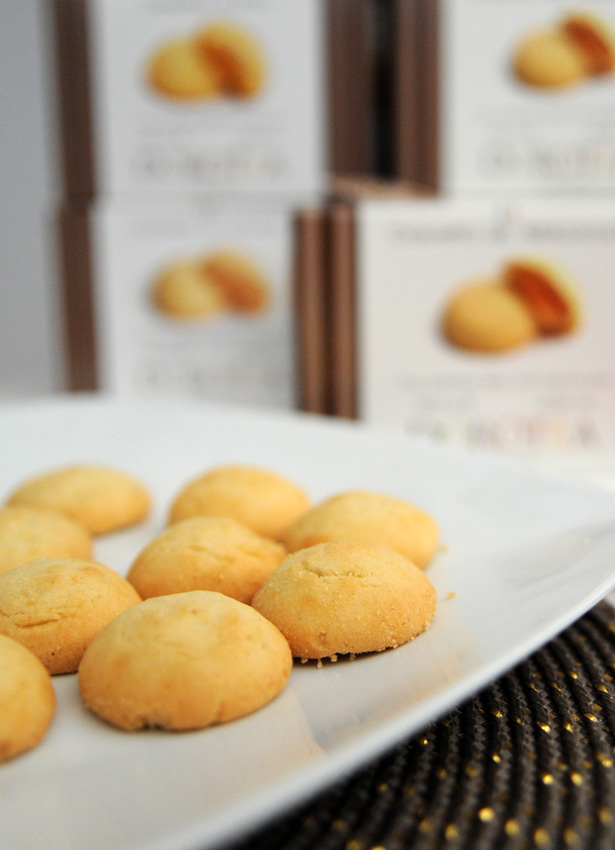 Dorotea. Tasty little biscuits filled with sweet jam. I tried the apricot and it was lovely. Owner Maurizio started the business in 2005 when his hundred-year-old grandmother died. He used her name and her recipes. There are nine flavours in total and you can pick up a box in Harrods.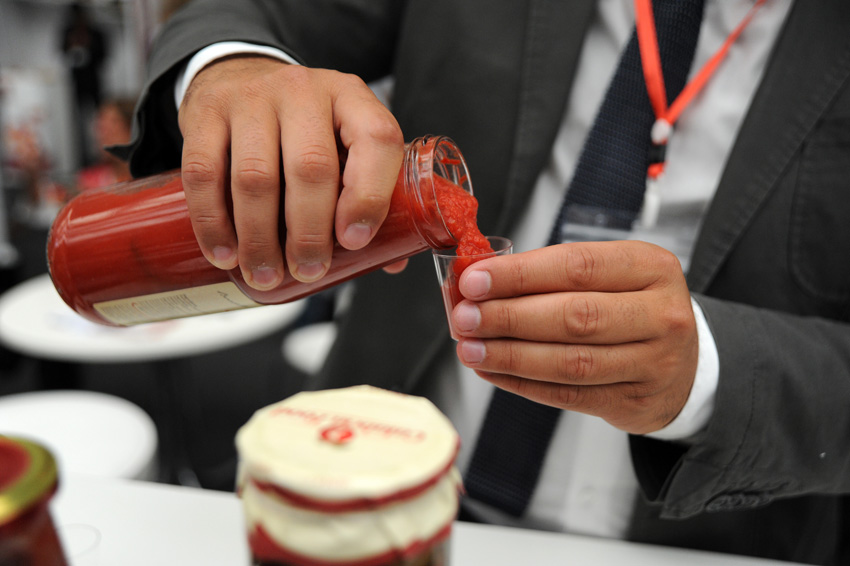 Salsa per Amatori. Arturo Crispino (what a great name!) poured me a tot of thick velvety passata and I glugged it down. The ingredients – tomatoes and one basil leaf. No preservatives or enhancers, totally unassuming, really fresh flavour, not too strong, no nasty tang, beautiful rich red colour and just simple, traditional and nice. This is the weirdest shot I have ever drunk though!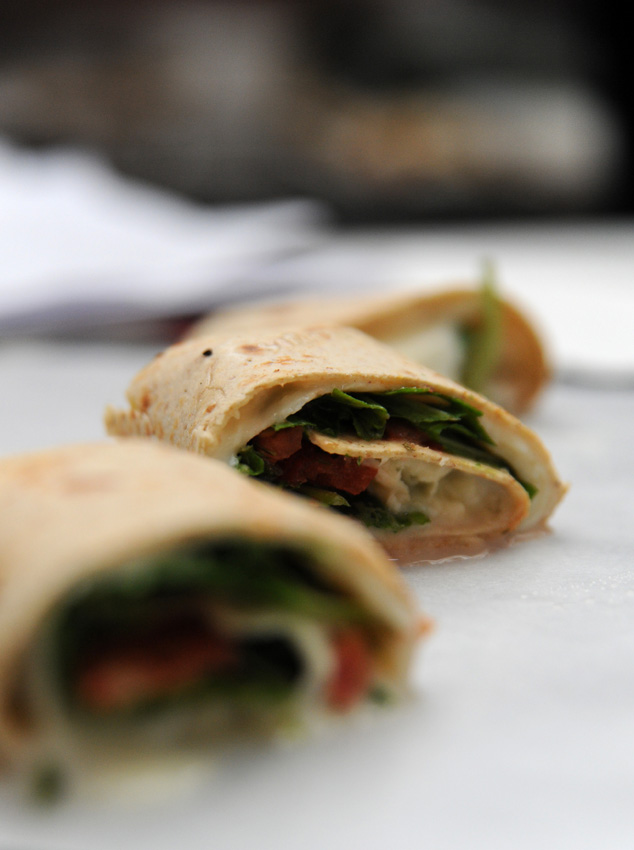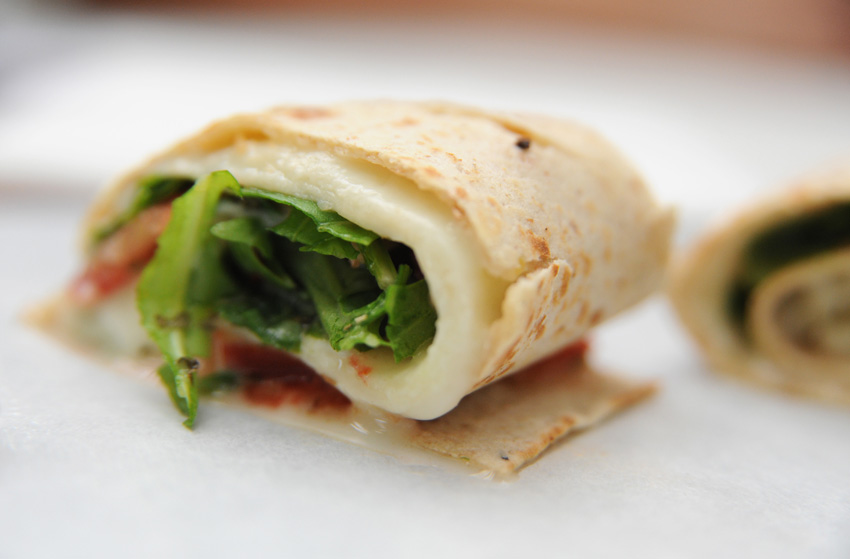 La Caveja Piadinerie. Wraps seem boring and generally just exist to hold other flavourful stuff together. This vegetarian 8 cereal wrap was actually tasty on its own too! They call it Italian street food. Apparently the young people love it. I quite liked it too.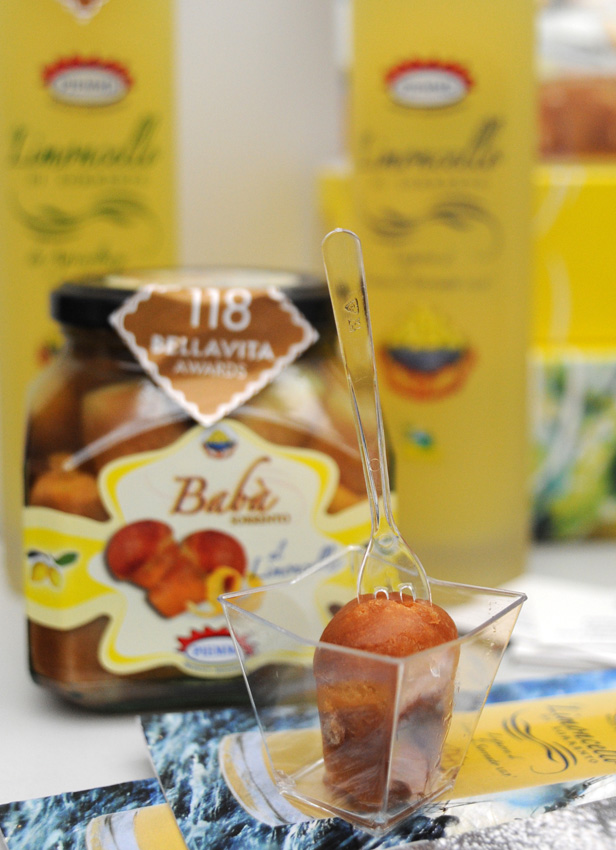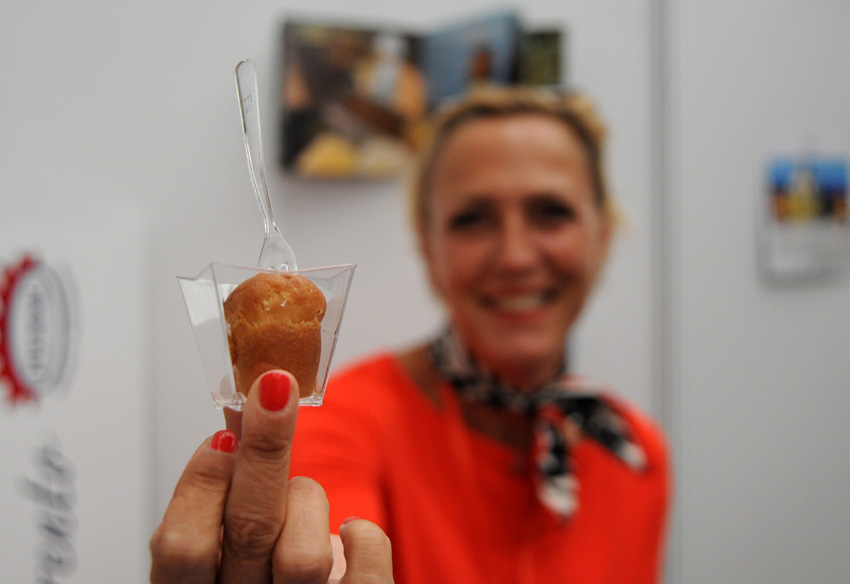 Di Sorrento. Too early in the day for booze, but never too early for cake. Hoorah!These little Limoncello Babas were delicious. Left for one day after baking and then soaked in Limoncello for 24 months. Looks like a poop, tastes like a dream. Could the Baba rival the Macaron and the Canale?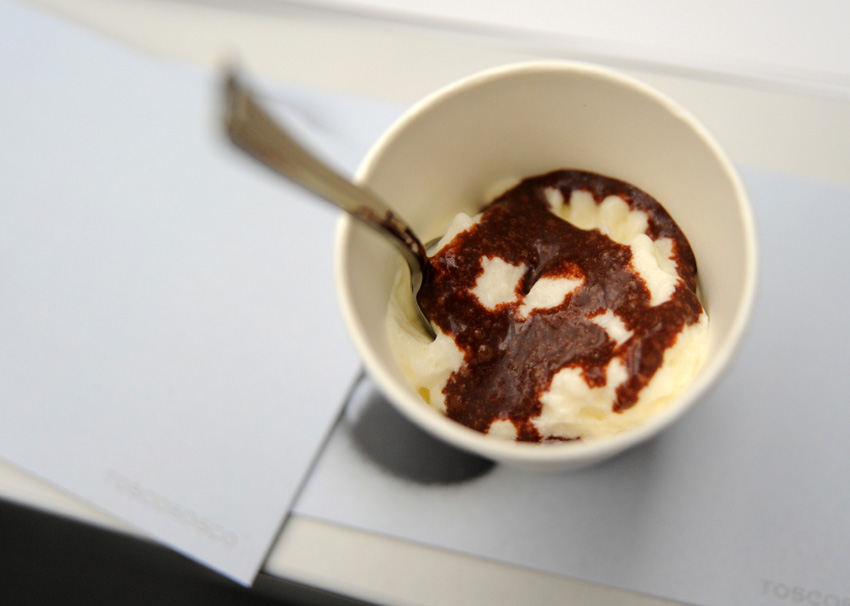 Toscobosco. They make lots of tasty things, but I loved this truffley treat that they served with a creamy light Parmesan semifreddo. Pure cacao from Latin America and bianco truffle, with a touch of red pepper. Sweet, rich, peppery and incredible. Chocolate meets truffle, all in a little pot. Not for sale in the UK yet, but available by mail direct from the producer, somehow. I have to work out how to order some, I can't not!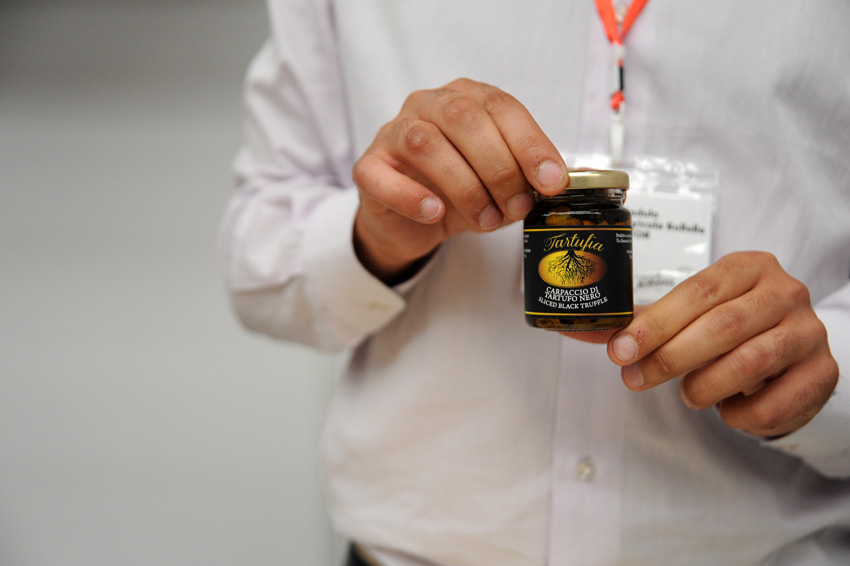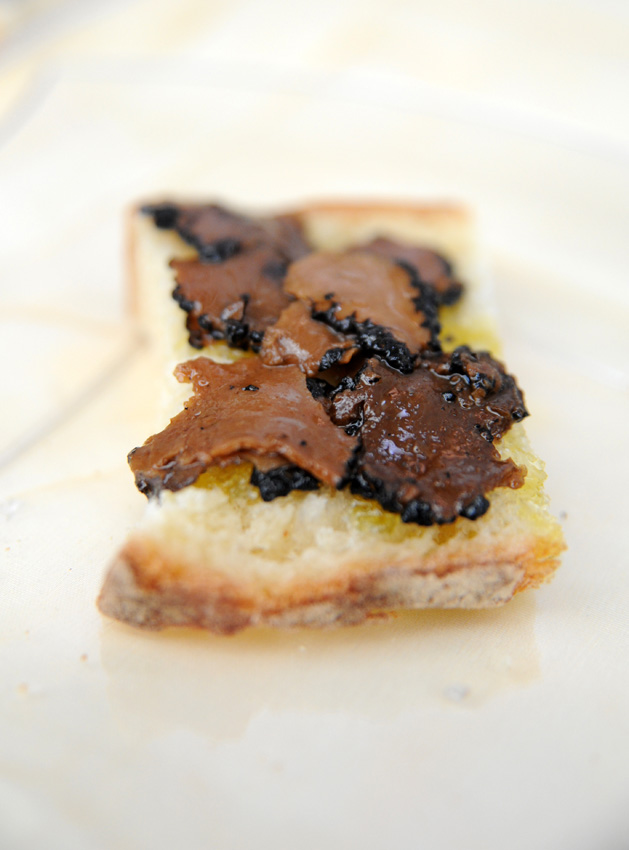 Tartufia. Black truffle, from the Molise region, simply sliced and jarred in olive oil. Very simple, very flavourful. The Tartufia team are very proud of their product, and for using natural and traditional processes.The truffles are hunted by dogs, this is the kind of hunting I can agree with. They come from 'the land of truffles,' Paolo told me, 'plenty of truffle.'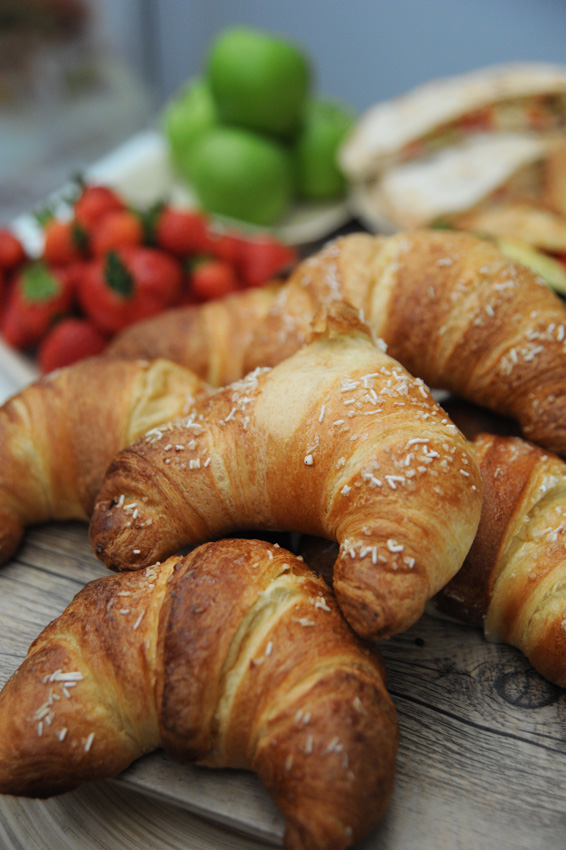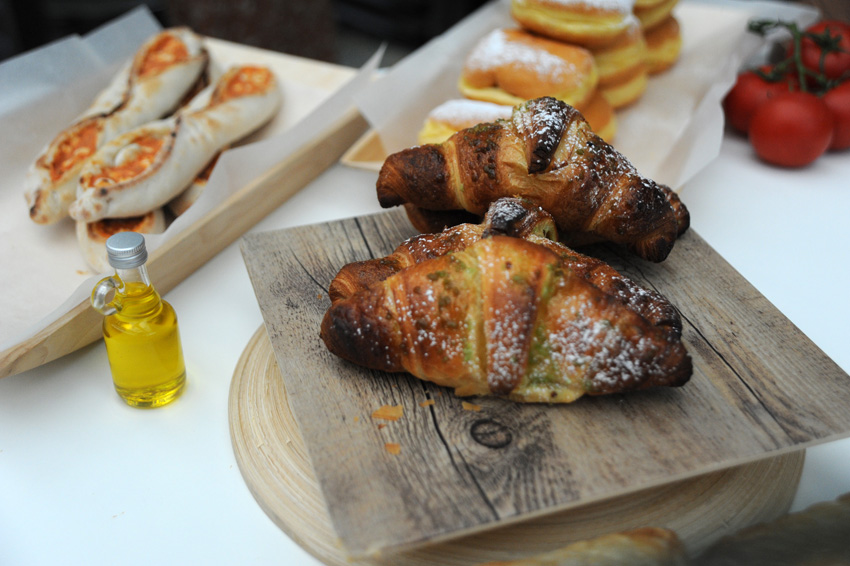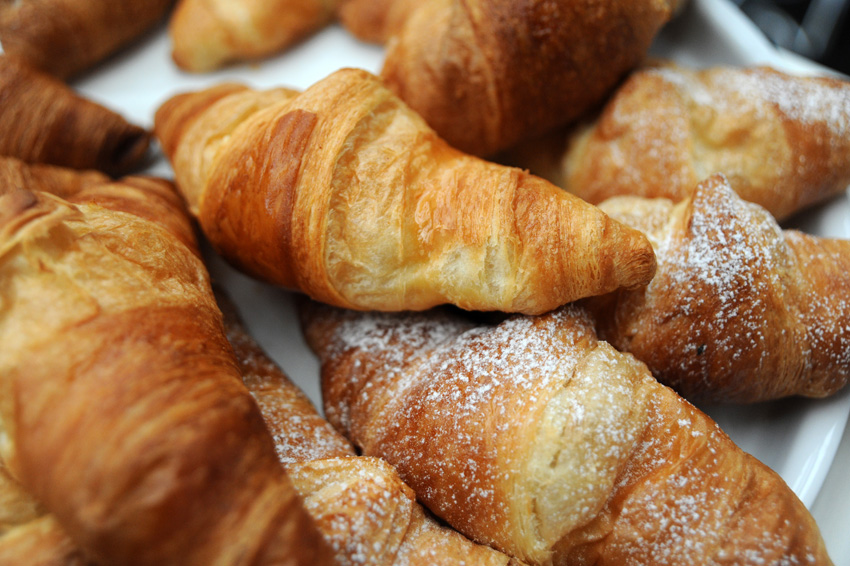 Forno D'Asolo. This one wasn't on my roster, but when I saw their beautiful display of pastry goodness I volunteered myself immediately. I particularly liked that they had their ovens on the go all day, wafting sweet pastry smells and bringing out soft, warm croissants. I sampled the Cornetto Vegano Albicocca, a completely vegan apricot croissant made with soya milk.
They supply coffee bars and cafes around the world, including Cafe Girasole , at 150 Seven Sister Road run by the lovely Eglal Gomaa (Find out more on Zomato) Whether you are vegan or not I think you'd be very happy eating this, they also do vegan pistachio croissants, and all sorts of other doughy delights.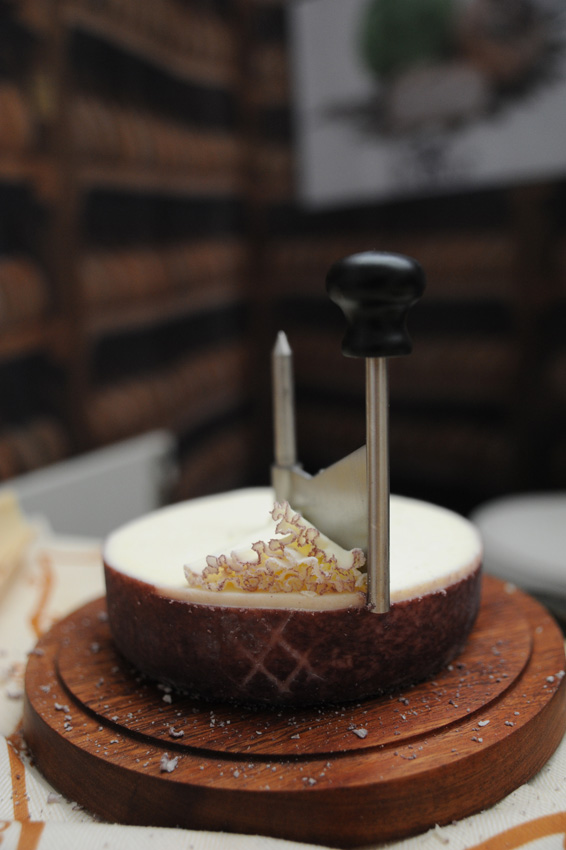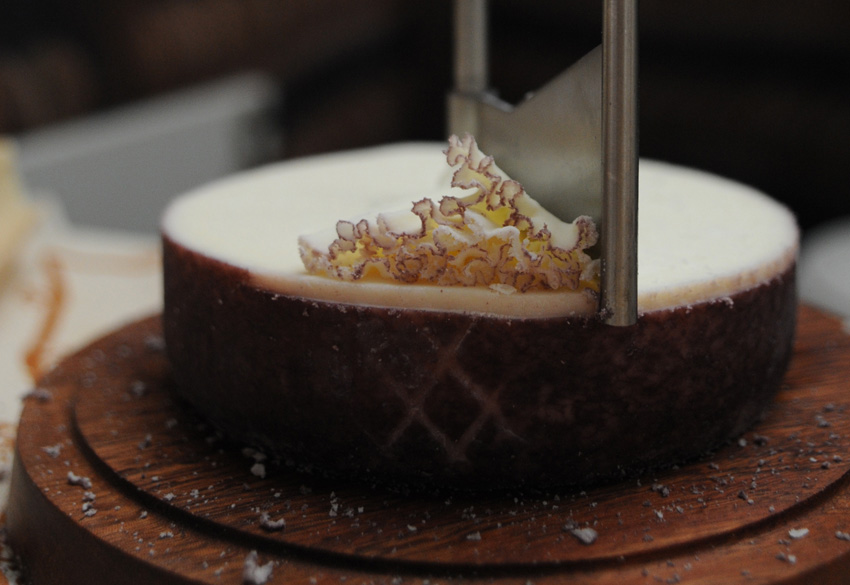 L'Antica Cascina. My absolute hands-down favouritest, best in show, tasty nice thing was their amazing CHEESE! Fermented amongst olive branches, in sealed terracotta pots for a month, the cheese is irregularly shaped, marked on its rind with the imprint of olive leaves and made with Ewe's milk, the 'Pecorino all'Olivio' is delicious, moreish and full of flavour, but in no way overpowering. I reckon you really could just keep eating it, and I plan to hunt down a big chunk of it for myself.
If you're down at Borough Market you can grab a slab (and one for me too please!) at Bianca e Mora. I don't think you'll regret it (unless you are dairy intolerant, of course).
I was more than delighted to hear that my favourite cheese of cheeses, became the overall winner of the food section of the Bellavita Awards. I knew it! (I didn't! I just like nice cheese.)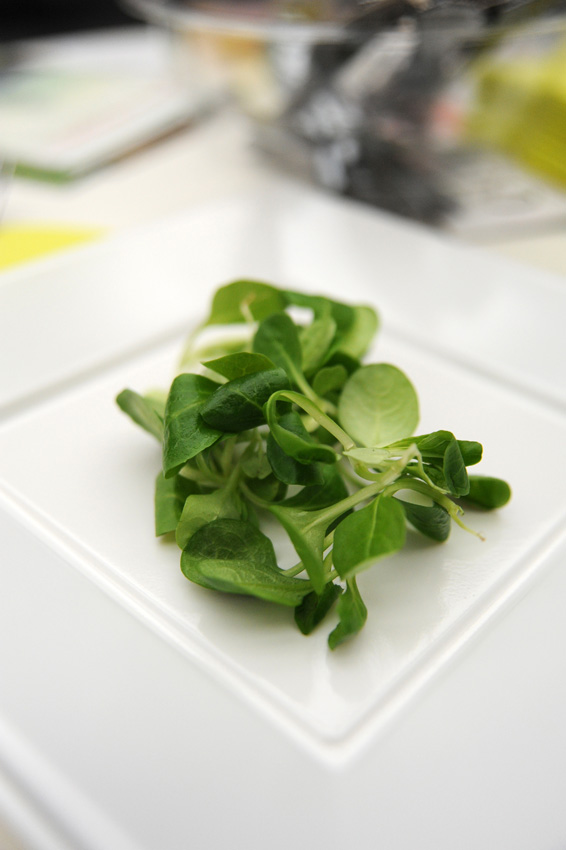 Bellavita Expo was massive – several thousand visitors and over 200 exhibitors. So much to taste and see. I was really lucky to be involved with judging such an array of incredible artisan products, but, I have to tell you, it's not all truffles, cheese and limoncello, they made me judge lettuce. Twice. (That's all I can say, too traumatised.)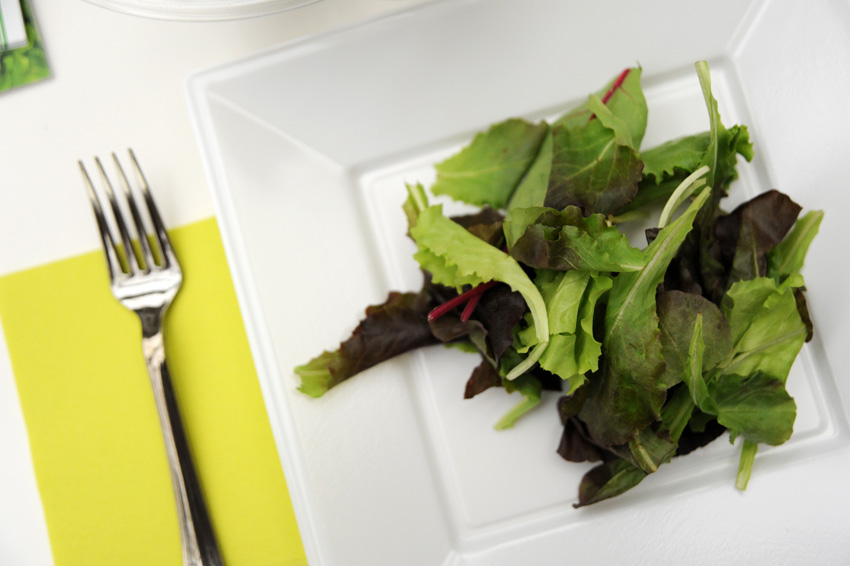 The enjoyment of the day was matched by the excitement of my journey home.
The trains were rather full as a couple had been cancelled. At Cambridge the first four carriages disconnect to go on to Kings Lynn, with the rest of the train stopping at Cambridge. I think it's to do with the short platforms out in the Fens, or the fact that they think there's not enough people to fill a proper train. Any way. I thought I was in the front four, but it turns out I was in carriage number five.
I rushed down the platform to the bursting front four. Passed the first two carriages assuming there'd be more space further down, but no. There was standing room only, and barely any of that. 'Please, please don't make me stay here!' I said in desperation, followed, with slightly more confidence, by, 'Is there room for me? I've got a rather large bottom!' Then the doors closed. I realised at this moment that I was neither on nor off the train. Those doors are more powerful than I ever knew. You'd think they'd stop when they hit body – they don't. It hurt as I was crushed in their solid grip, and then two men prised me free and I popped forwards onto the train. 'Hello!' I said with loud excitement to the flush faces on the full carriage. I stood perfectly still, there was no room to move, we were all as still as stone. It seemed a bit quiet considering we were all so  up-close-and-personal with each other. I made a few random statements about my gratitude for not being squashed.
At the next station several people wished to disembark. I was stood in front of the doors. Some people looked worried, like they'd be trapped forever. I told them I was going to keep them there. I think they might have believed me, but then the doors slid open and I stepped onto the platform, ushering them off the train with a smile, 'Go! Be free!' I told them as they alighted hastily. A sweet little lady grabbed my arm and dragged me back onto the train.
Stop after stop the people got off, and I was soon left with an overly warm seat near the toilets. I felt happy and grateful. Clever British Rail!