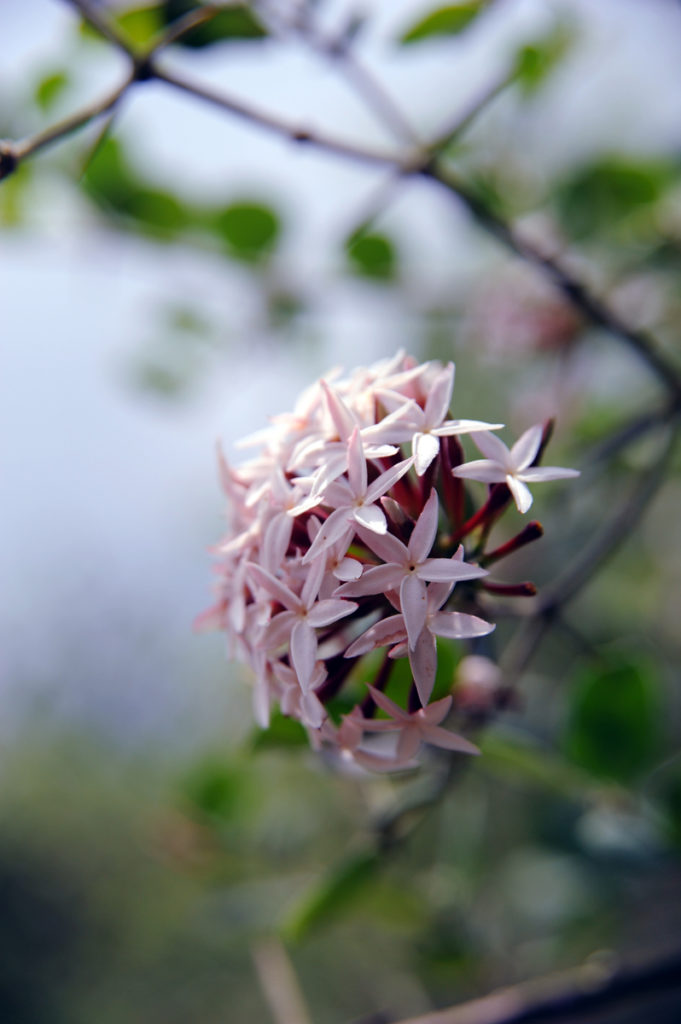 The sun was hotting up as we started our drive to the north of Akagera National Park to meet the ranger who would take us lion tracking. In hindsight I should have put pedal to the metal (or flipflop to the floor) and got up there sooner, but the wowing and wooing over the amazing animals we saw meant we had to keep stopping. We had to.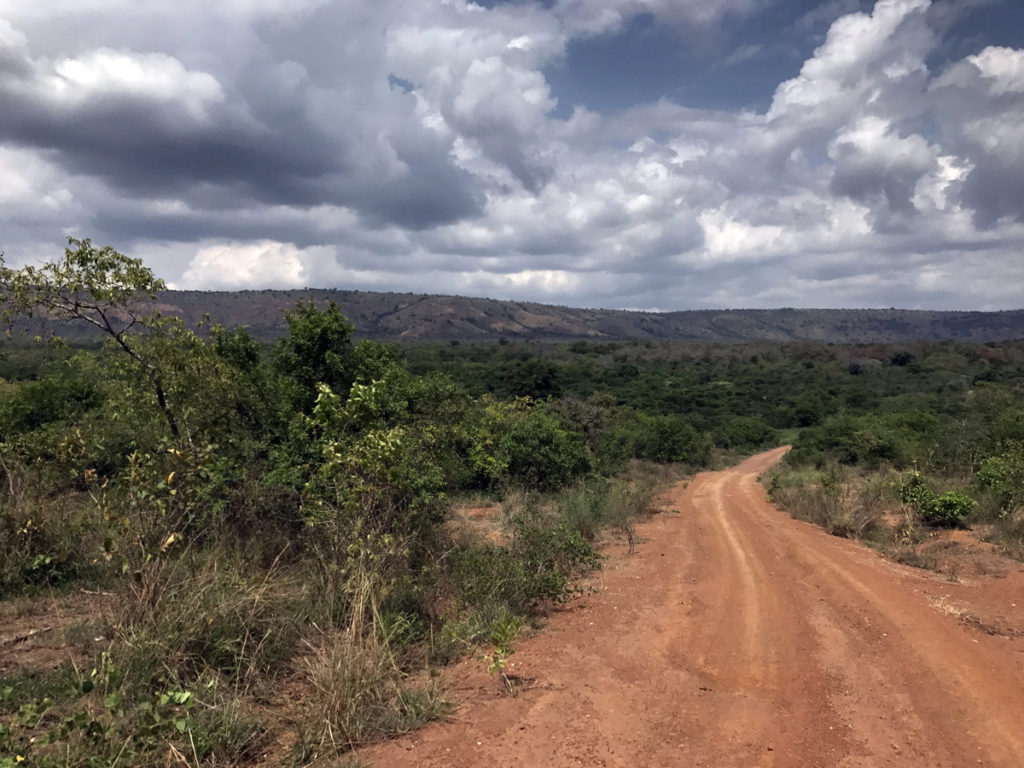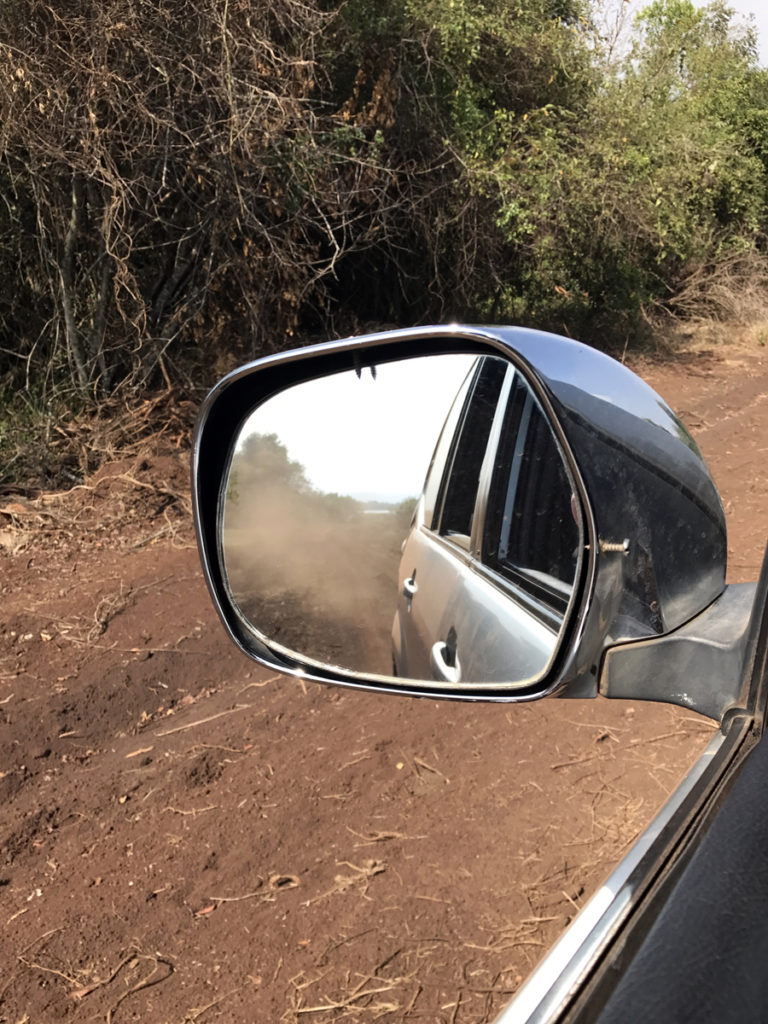 Impala, monkeys, baboons, buffalo, topi, klipspringer, waterbuck, warthogs (and baby warthogs!), giraffes, zebra, guinea fowl, sea eagles, hawk eagles, lilac breasted rollers, all kinds of birds… hippos and a crocodile! I saw some elephant poo too, does that count?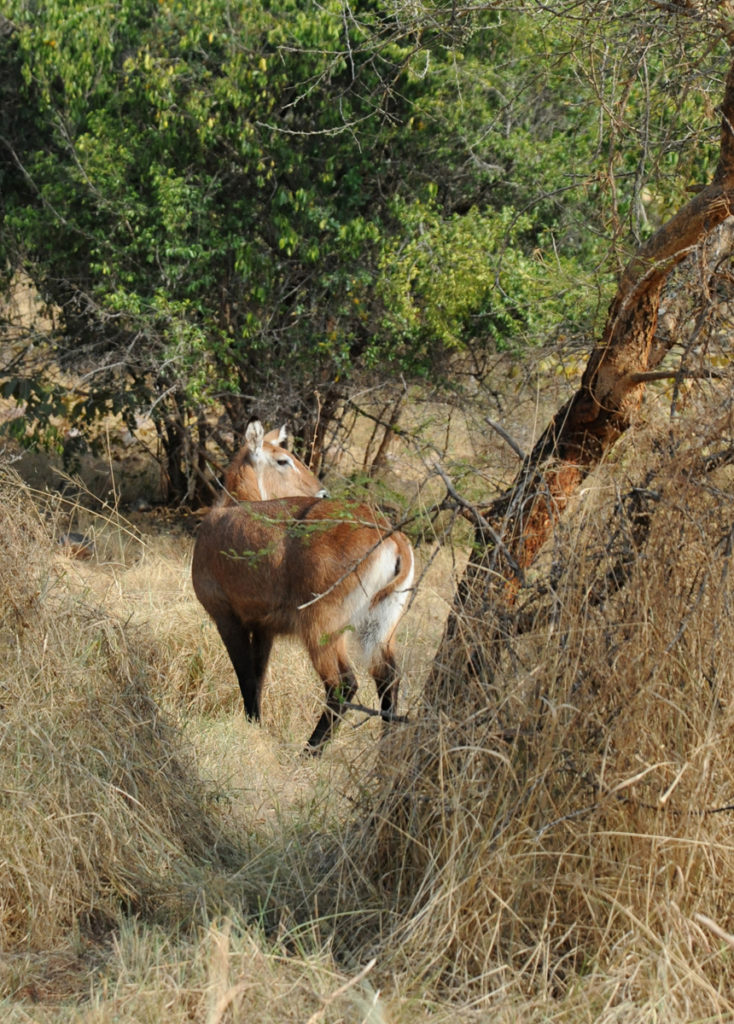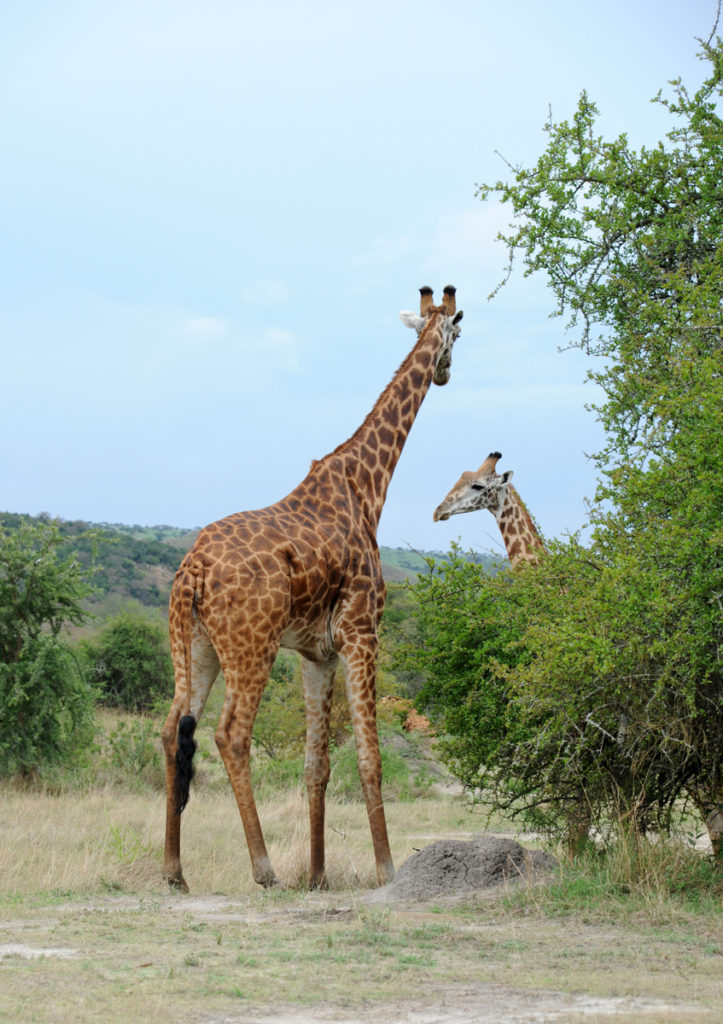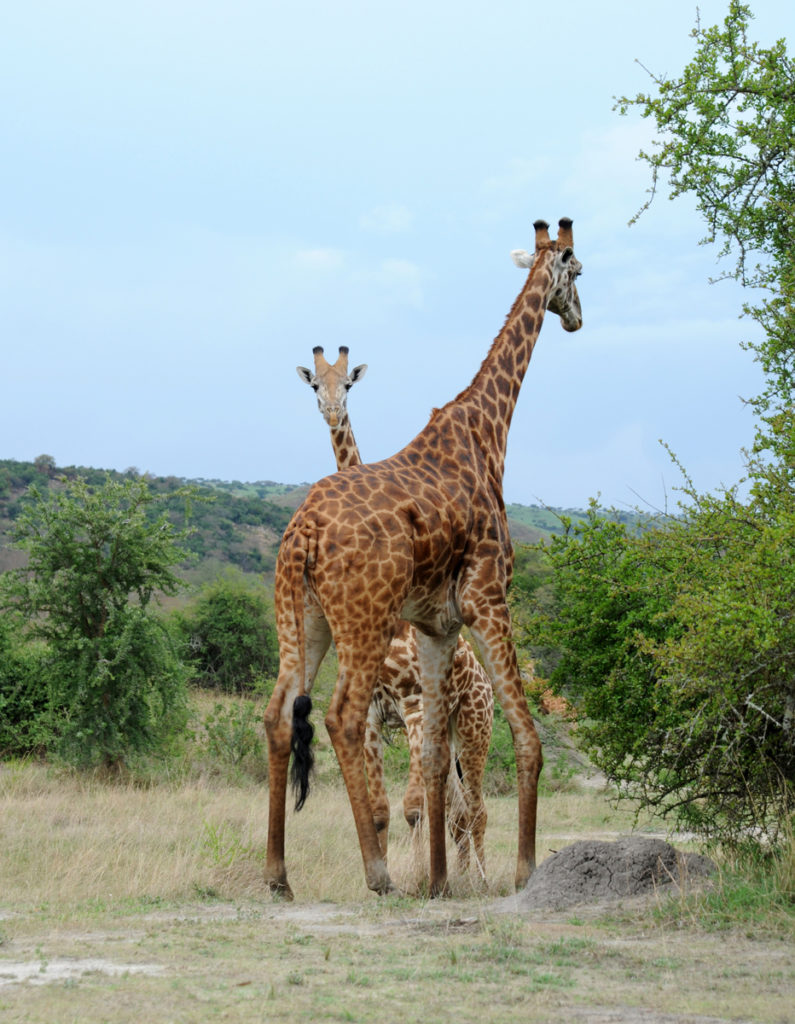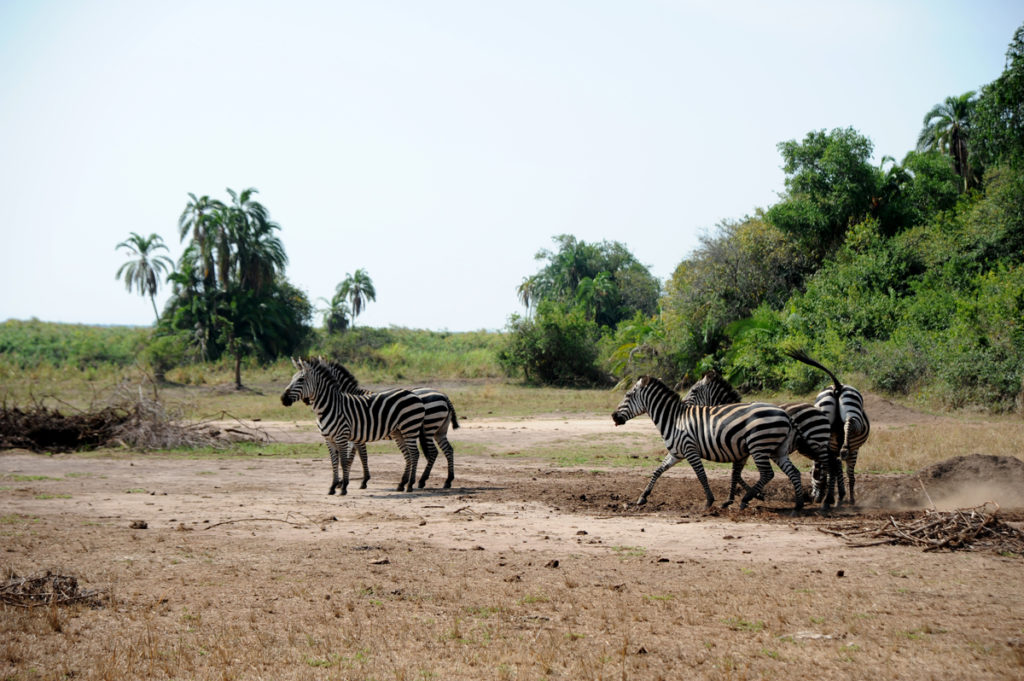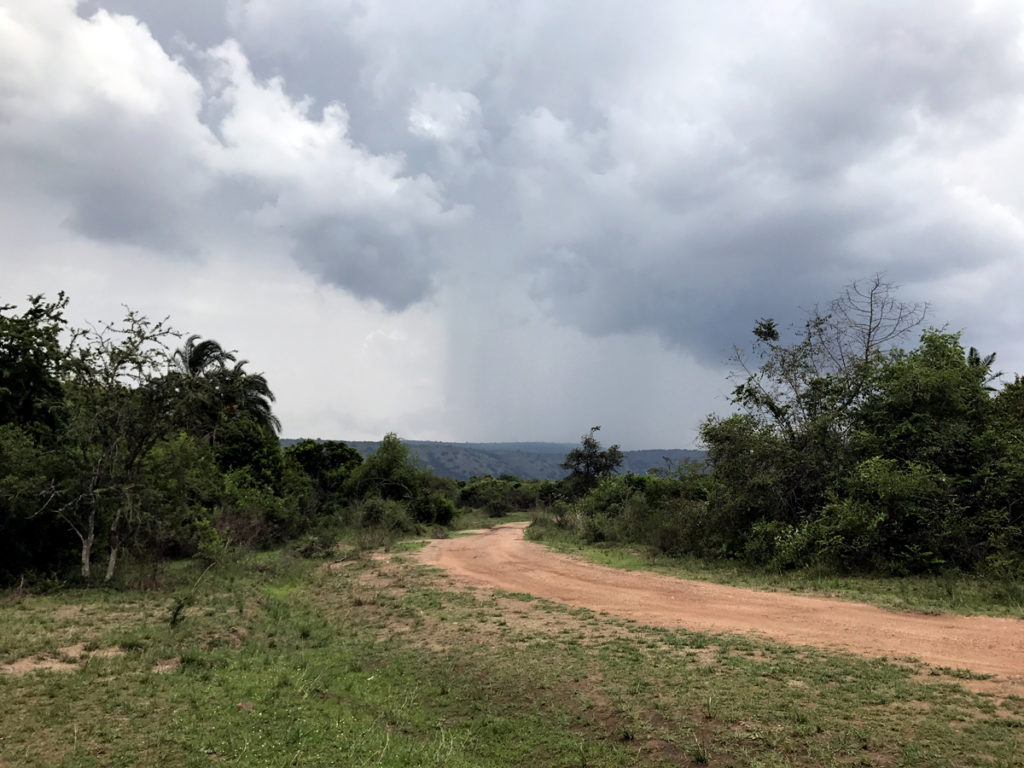 We drove up to Hippo Beach and stopped for a sandwich as a storm came in. Heavy rain and thunder. I offered Maddy the hard boiled egg from my lunch bag. Whack, whack, whack, she cracked it open on the arm rest as we sat and watched the weather moving around us.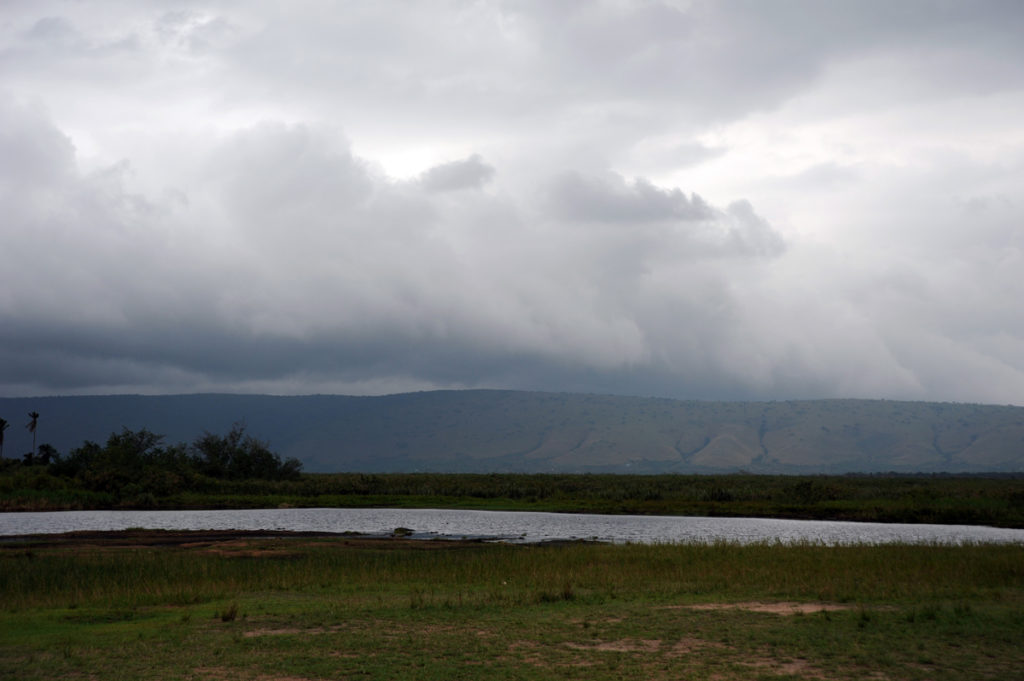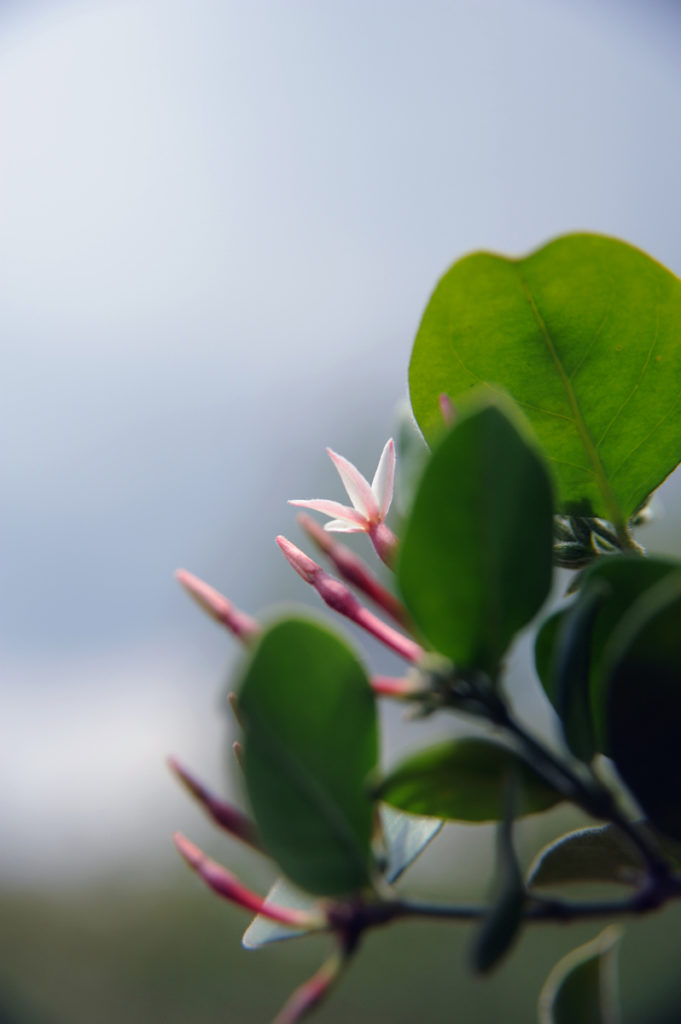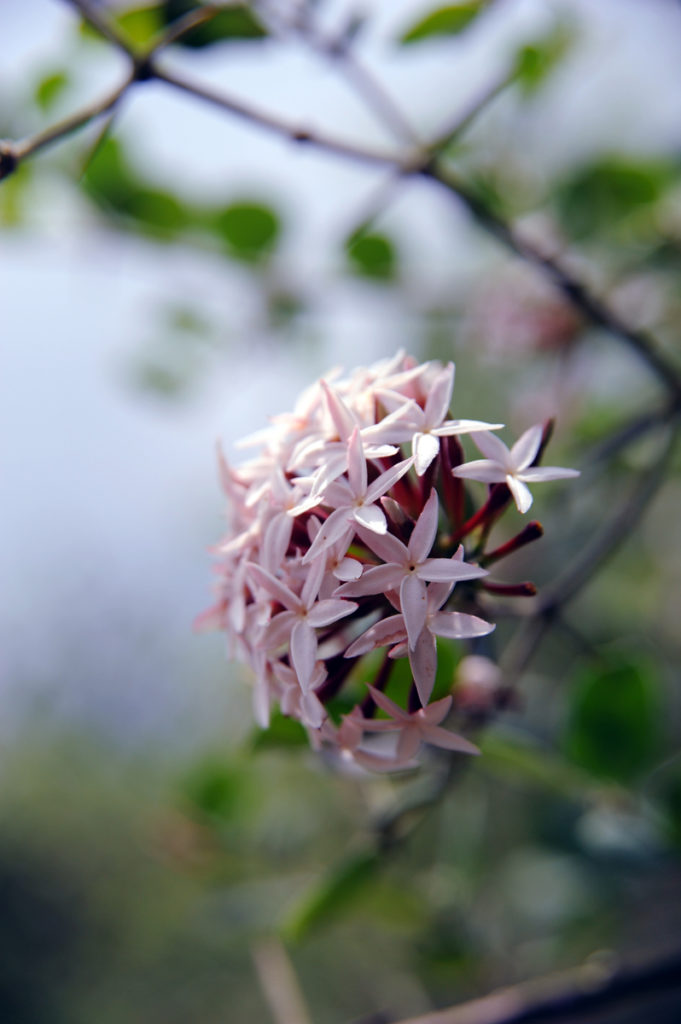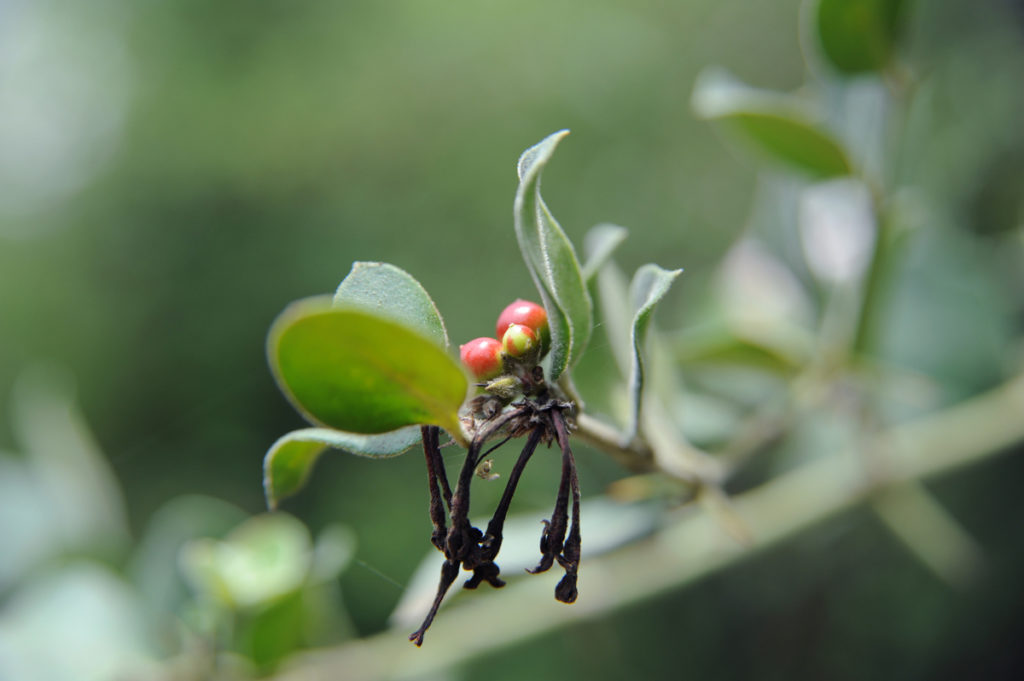 The rain slowed and we drove on, opening the windows and breathing the scent of the warm, damp, nutty earth.
Several hours after setting off, along the bumpy tracks, slowly sweeping round the deep puddles and wonky crevices, we arrived at the ranger's post. Maddy kept telling me how well I was driving, keeping me focused and enthused. I think driving an Elise in the Fens has given me strong pot hole awareness skills. (Also a strong sphincter. Just saying.)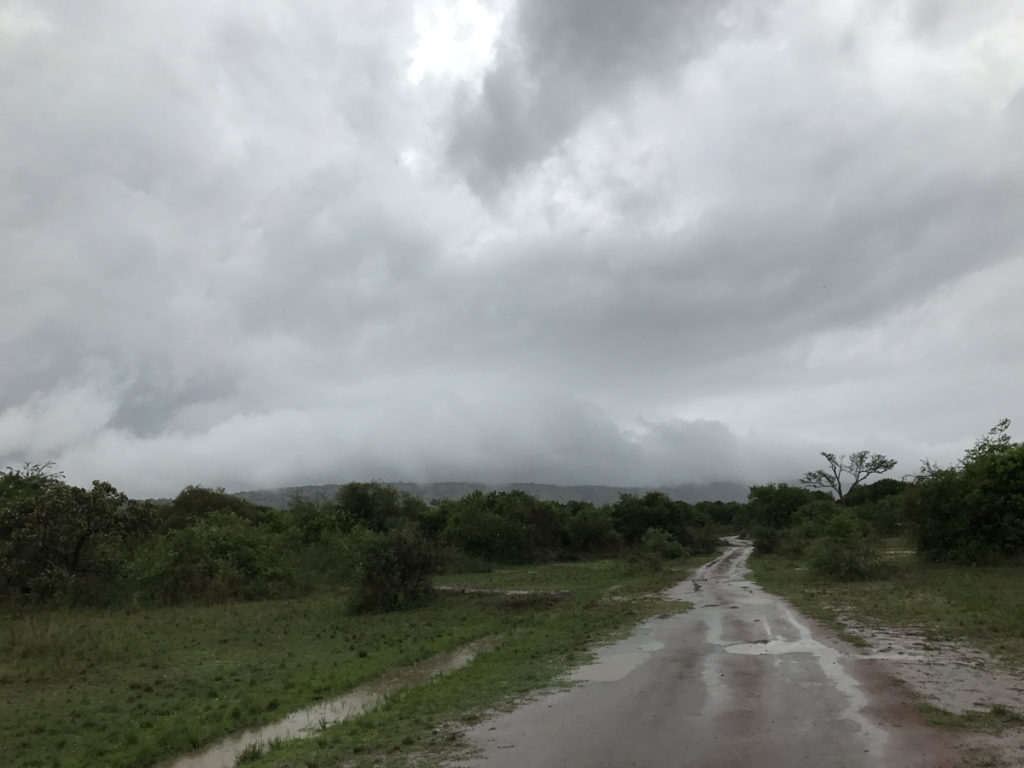 The windows of the ranger's lodge were lined with the skulls of animals. Nathan, the ranger, came out with his telemetry gear in hand, a rifle hanging from his waist. 'It's okay', he explained, 'I would only use it to scare if I had to.'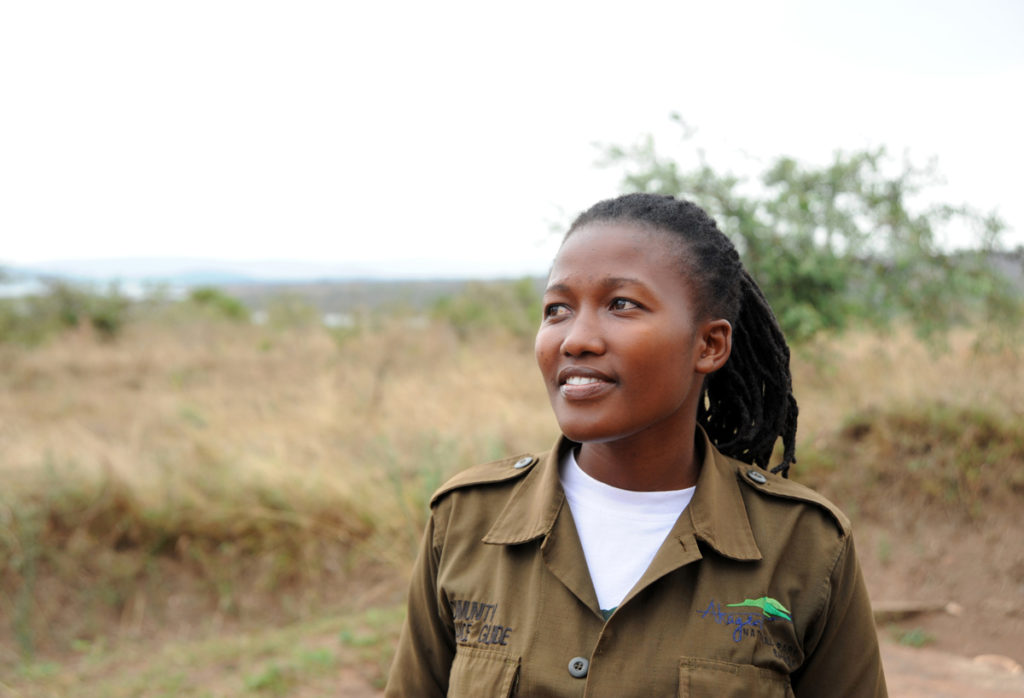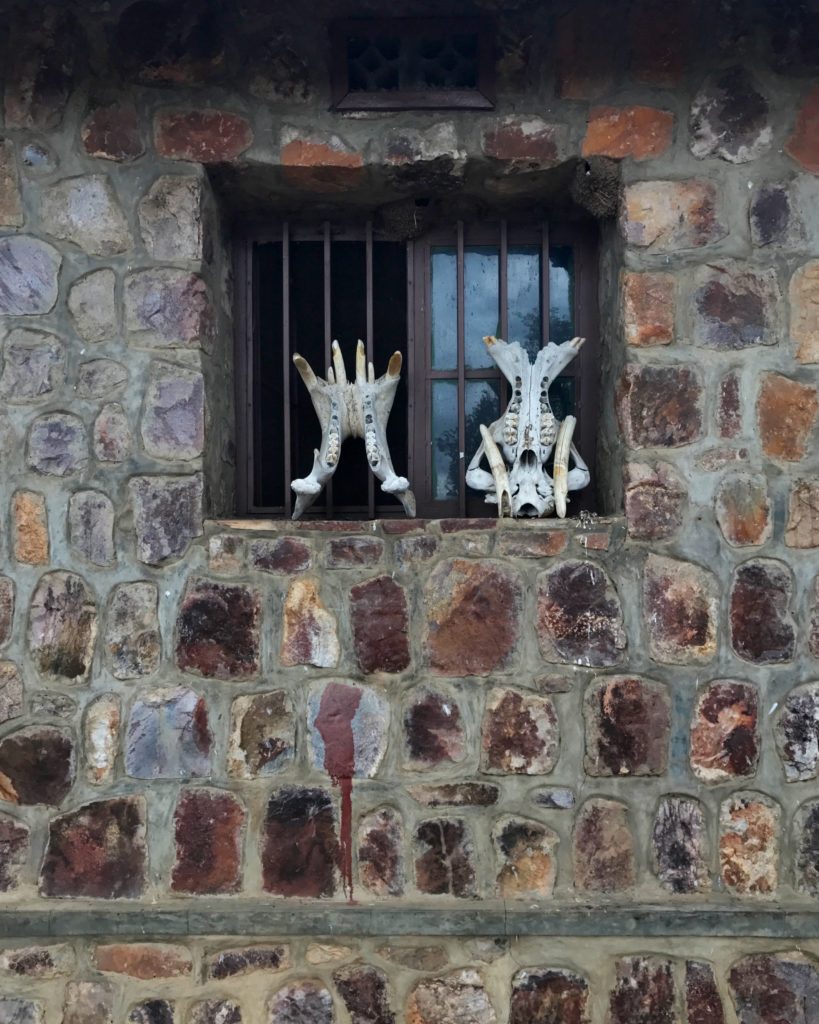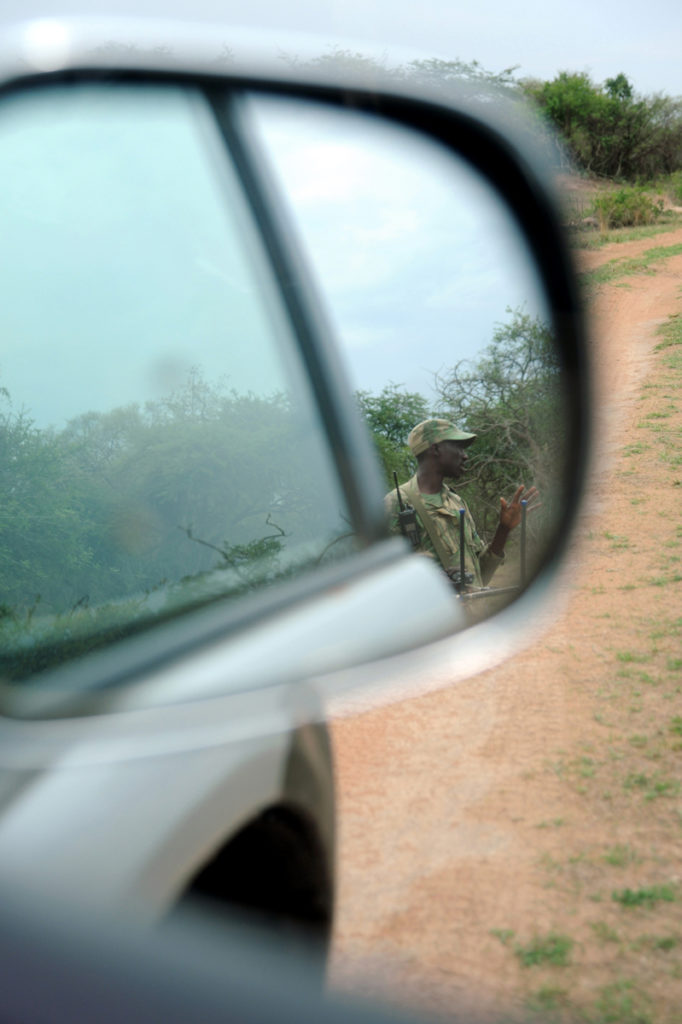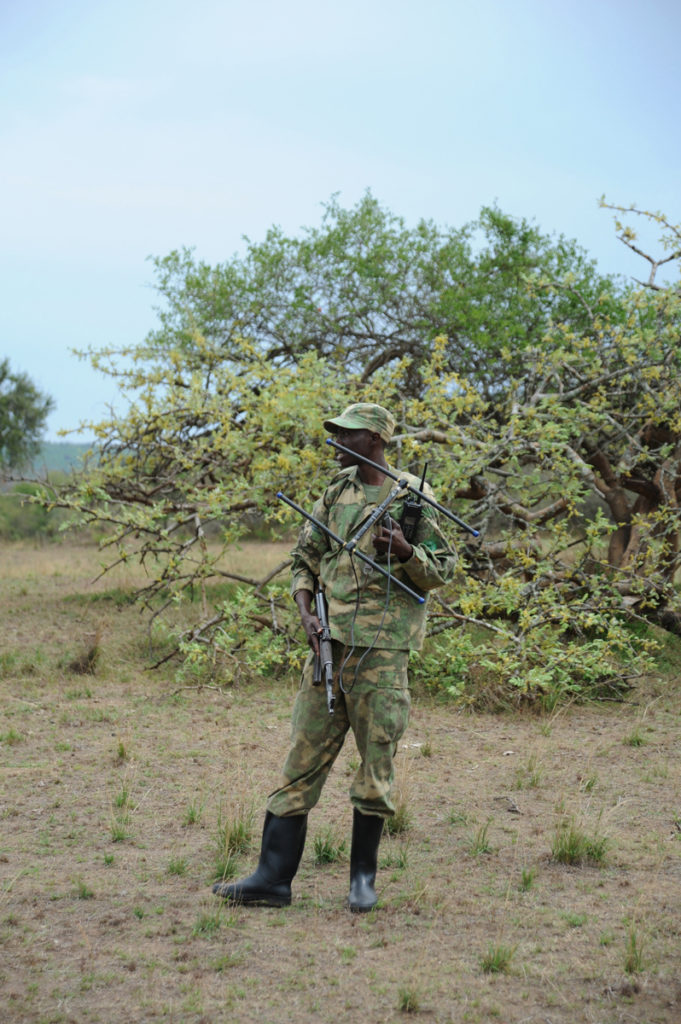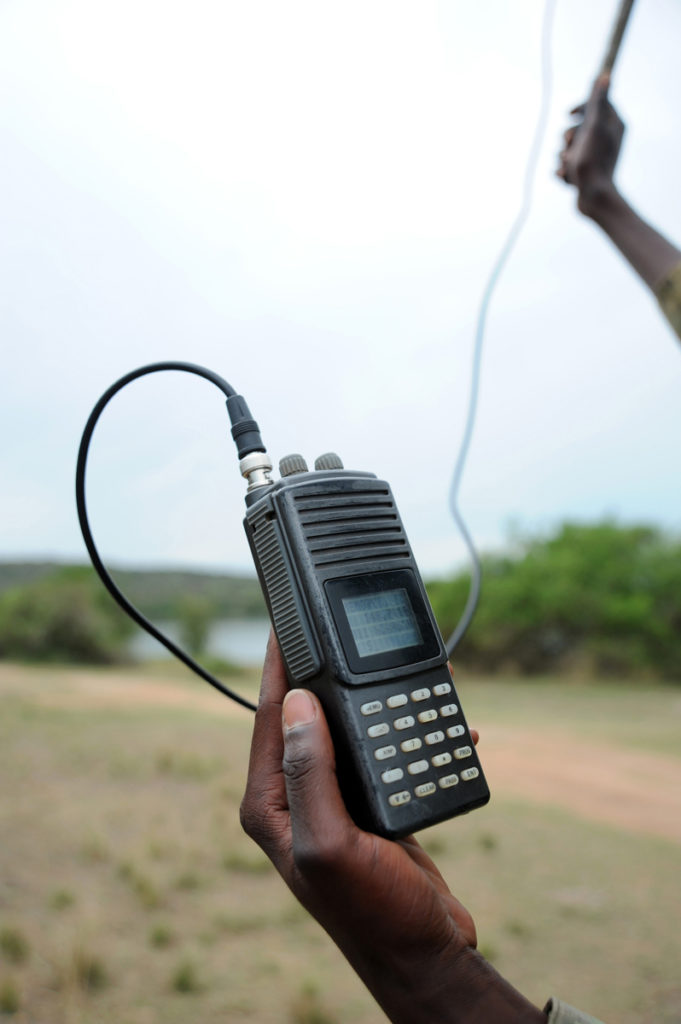 We bundled into the 4×4, me still driving, suddenly more aware of every move – now that there was a man with a gun sat behind me.
We drove and stopped, drove and stopped. Each time Nathan got out and held his lion finding wand in the air. We got closer and closer, tracking the lions to an unreachable hillside, before eventually turning back.
Disappointed. I really thought we'd see the lions. I wondered how we'd be able to tell the story now. Then we spotted a bunch of baboons. One of them was limping. I was fully distracted. While the others ran off, he stopped, sat down, looked me straight in the eye and held his leg up to show me it was injured. Ignore his winky, he was cute. I wish I could have helped him, not just taken his photo.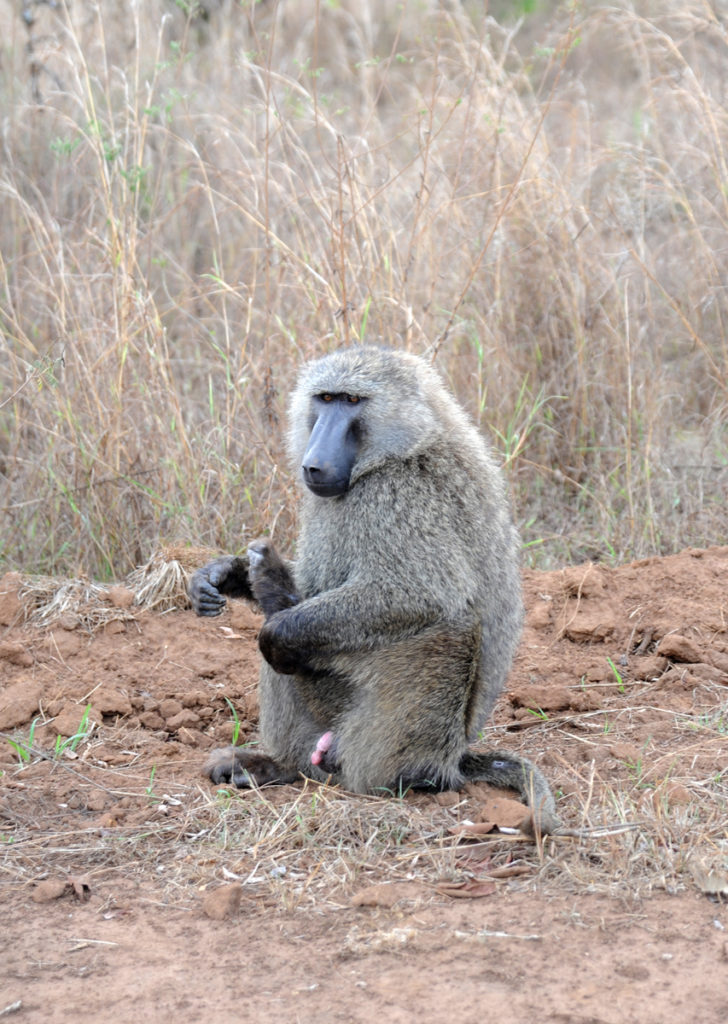 We headed back, checked in to the beautiful Ruzizi Tented Lodge, a solar powered eco-lodge on the edge of lake Ihema with only nine tents.
Along the boardwalk through the trees was our tent, crickets and birds chirping outside. Tiny lizards scurrying across the netted windows.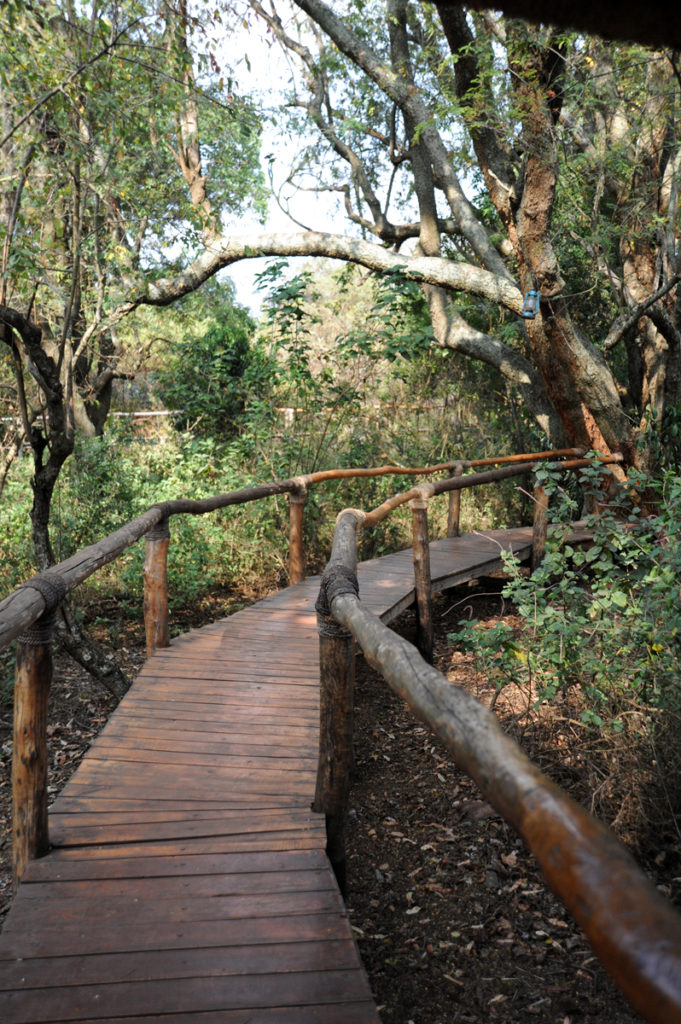 Up at the lodge we sat round the fire, surrounded by velvet darkness and so many unusual sounds. We ate delicious barbecued beef from skewers, and an unexpected sticky toffee pudding.
Returning in the dark to the sound of hyenas barking calls across the clearing in front of our tent, we zipped ourselves in and got into our beds, air cool enough to warrant duvets, leaving the front covers up (mosquito nets down) so that we could be woken by the sun.
I slept so well, strangely soothed by the wild sounds of the dark night. I woke for a short while to hear hippos shouting, making their 'wha ha ha' noises, just like the Predator when he learnt to laugh.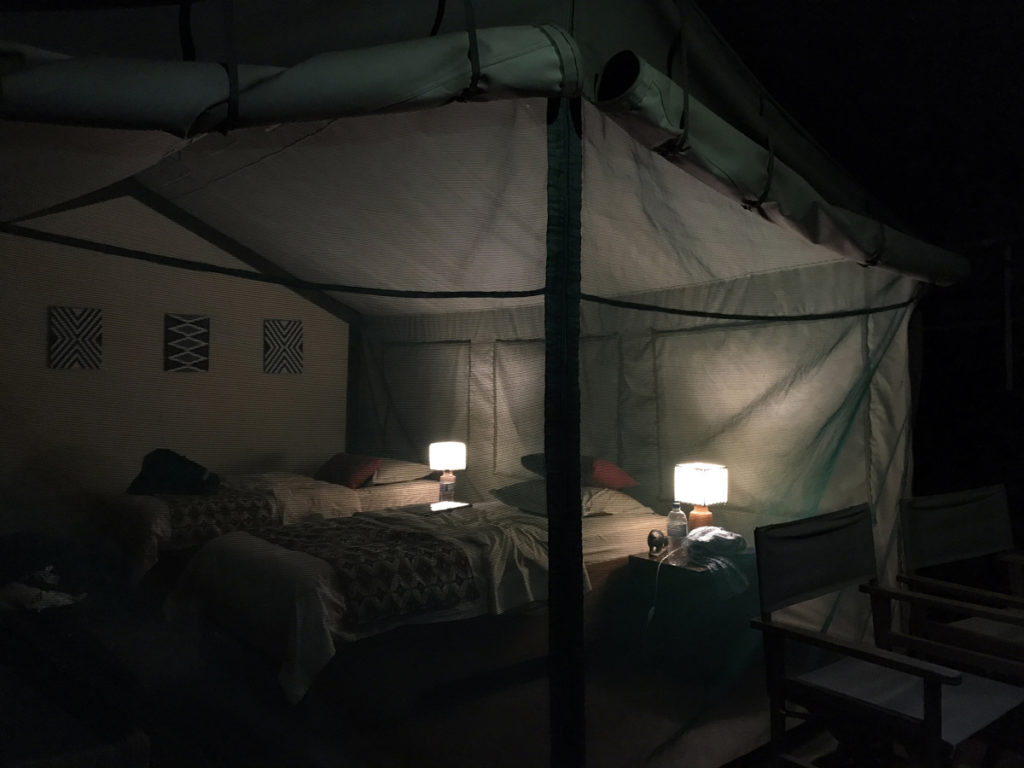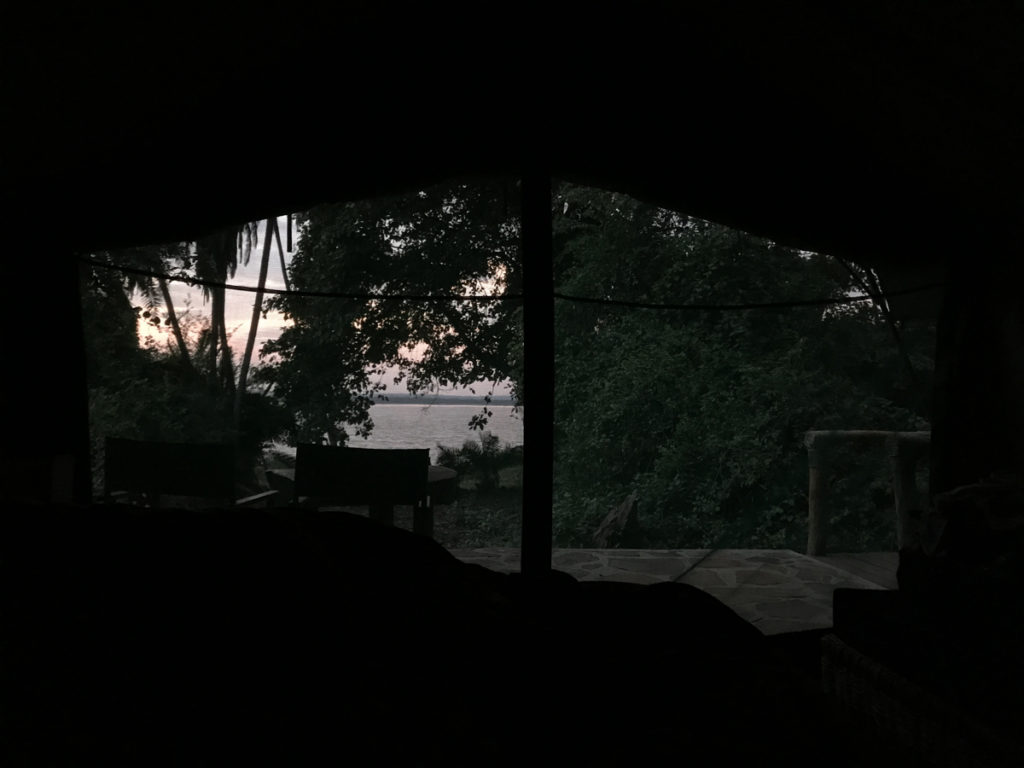 In the morning the chap on reception said to me, 'You slept well!' I must have looked puzzled, wondering how he might know. 'When you arrived here you looked like –' he did an impression of a miserable hunchback. 'Now you look –' he stood up straight and smiled.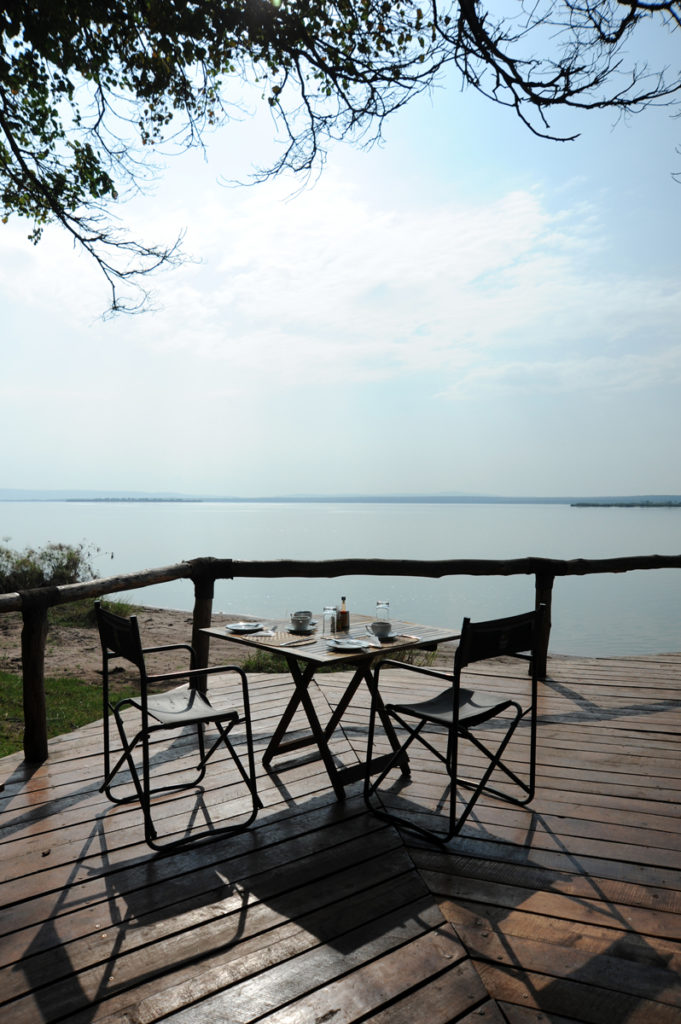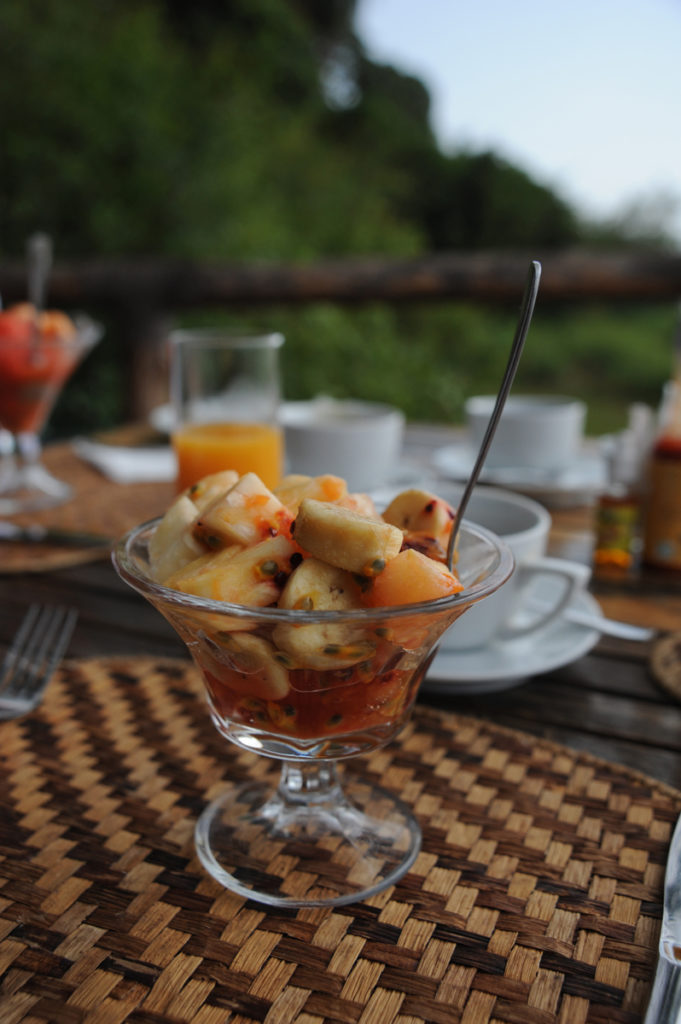 I sat on the veranda overlooking the lake, for a while I was in so much peace, watching a cormorant dive for fish, and hippos bob up and down. 'Crocodile!' shouted the Americans on the next table. Sara joined me for breakfast, fruit salad with tree tomatoes, pancakes with ginger syrup. Thank you world!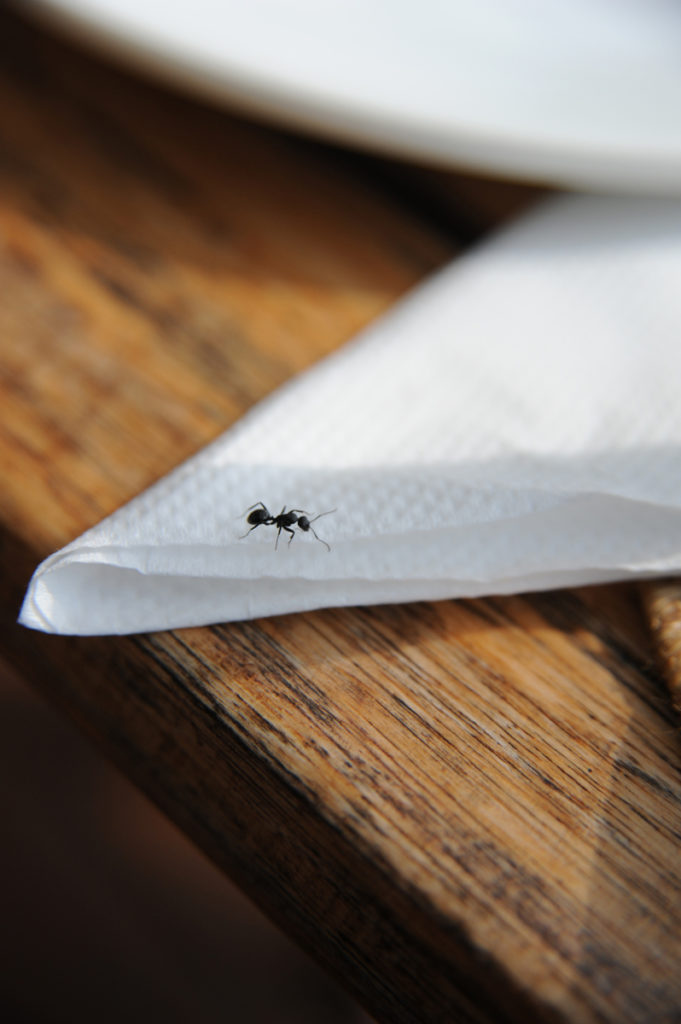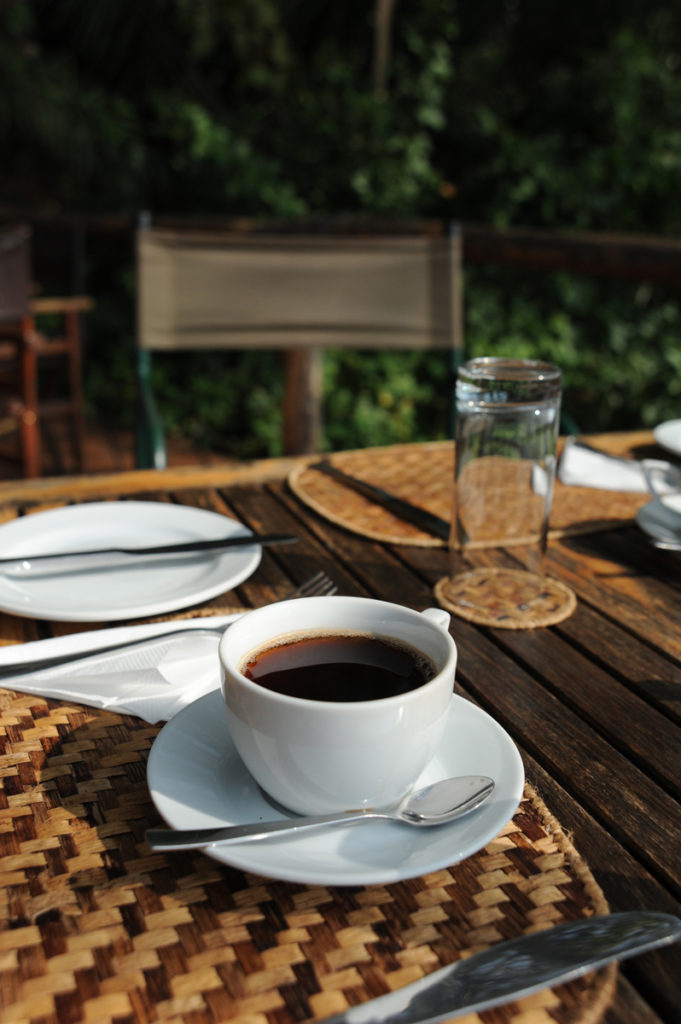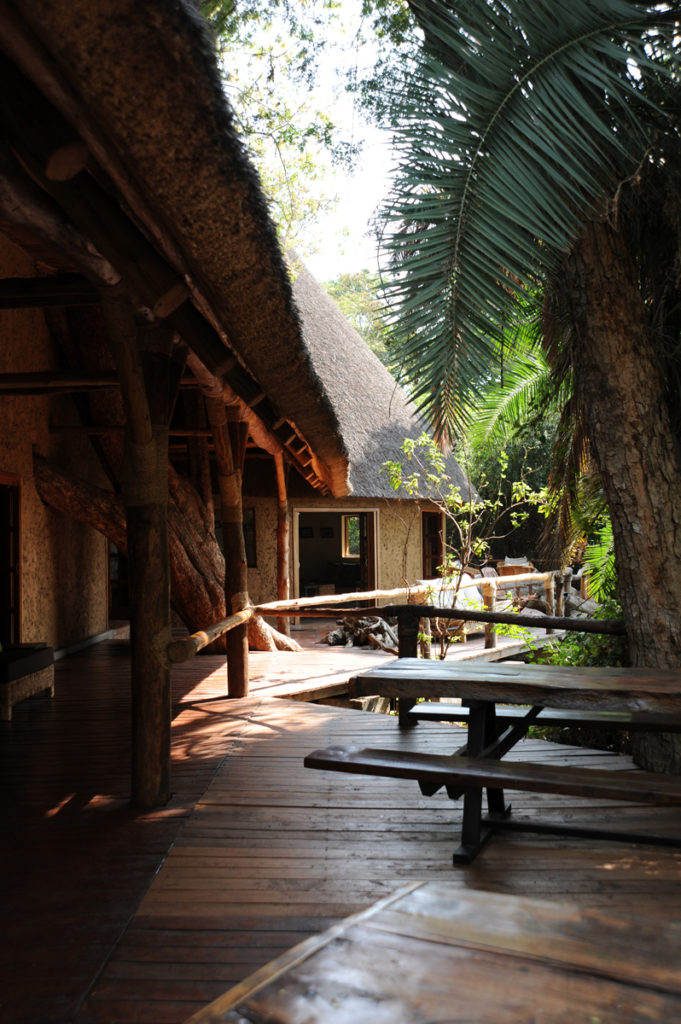 We packed up our bags. I'm far from a seasoned traveller, but I would always recommend packing plenty of medical supplies, sunglasses, a warm shawl, portable phone charger and a small mini bar in case you need to appease your travel buddy. I think it's wise.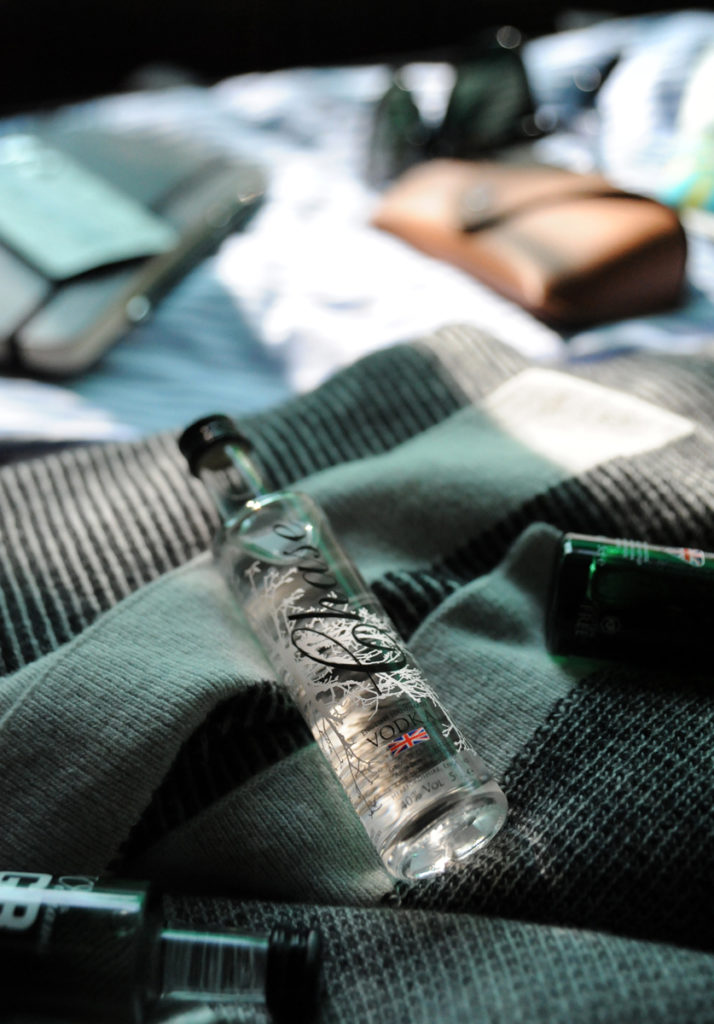 I drove back to Kigali feeling much more confident on the roads. Gladly so, as we reached the city in rush hour and it was hectic. Arriving early at the airport, after the engine bay was searched and we put all our things on the pavement for a dog to sniff, we waited for the car to be picked up and watched yet another storm, thunder and lightning. And I saw a domestic cat.
We flew home through the night. Sara slumbered, snored and shuffled beside me, I jotted notes and watched Suicide Squad, wide eyed and wondering about the next adventure.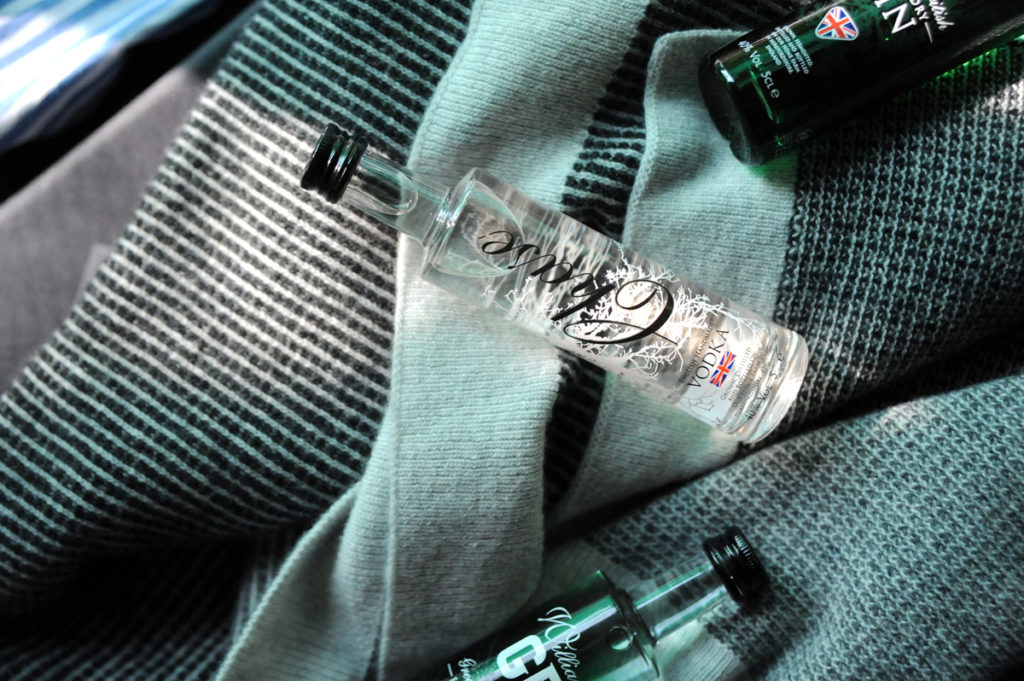 Huge thanks to Sarah Hall and Jess Gruner from Akagera National Park for all their hospitality and knowledge, and to Away, David Bath, Rebecca B, Carrie Betts, Kevin Betts, Phill Capstick, Camila Cavalcante, Kate Chase and Chase Distillery, Collingwood Norris,  Petra Dumbrell from Adjustus V, Juliet Ferguson, Ian Foulsham, Rachel Gill, Dil Gladwell, Paul Golding, Emily Kate Holmes, Averil Deirdre Hume, Juice, Anita Kerai from Anita's Kitchen, Penelope Marshall, Stephen Mason, Aoife Maxwell, Annie McCredie, Alan McCredie, Patrick Minee, Susie Moore, Phil Peek, M Perry,  Mads Petersen, Liz Roberts, Martin Roberts, Shade Station, Wendy Stevenson, Miriam Winsor, Laura Ward, & those cheeky anonymous donors, for their amazing support and generosity.