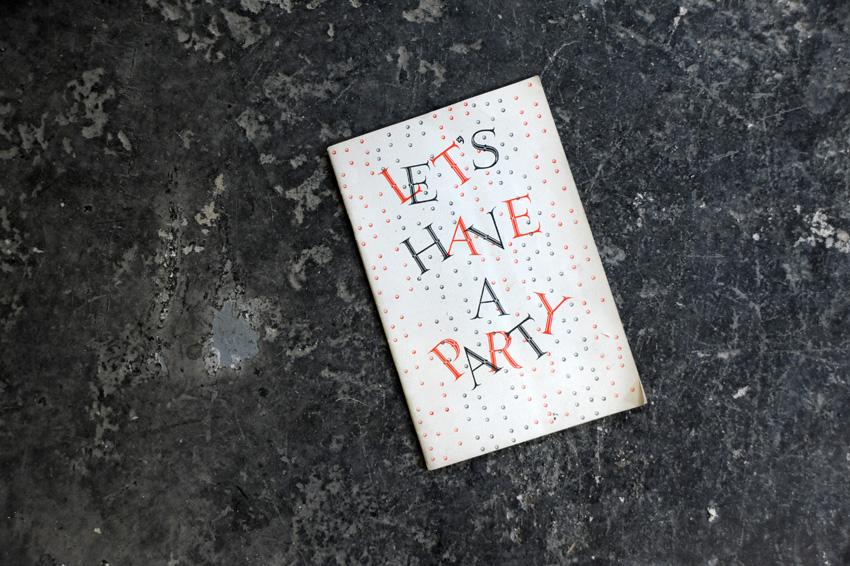 As we drove down the long steep drive to Cae Dai, wondering if there really was a museum in the middle of nowhere or whether it was a trap and we were about to be killed, a large solid looking pig strolled nonchalantly across in front of our car and stopped still. As Adam gently rolled the car towards it, a man rushed out of a ramshackle shed, booted the pig up the bum, and ran back into the shed again. The pig strolled on at a very slightly increased pace.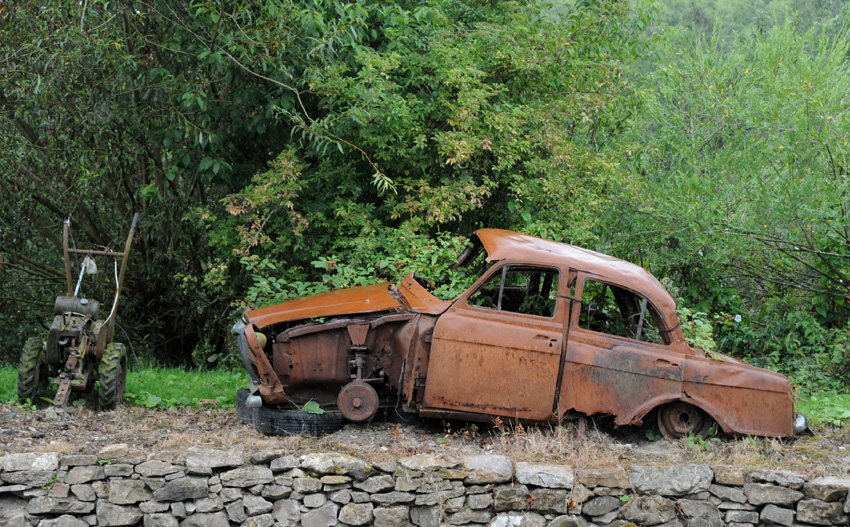 At the door we were greeted by the museum's founder, Sparrow Harrison. He showed us round with quick excitement, taking us from room to room enthusing and telling stories as if he was telling them for the first time. His eyes sparkled with delight and interest. He was cheerful, with an air of considerable positivity. He is what some people might describe as eccentric, and I like him very much for it.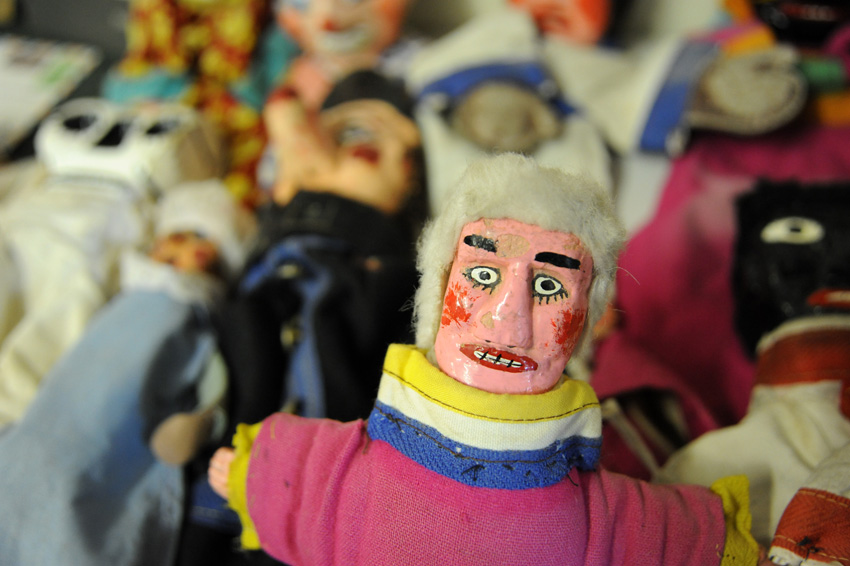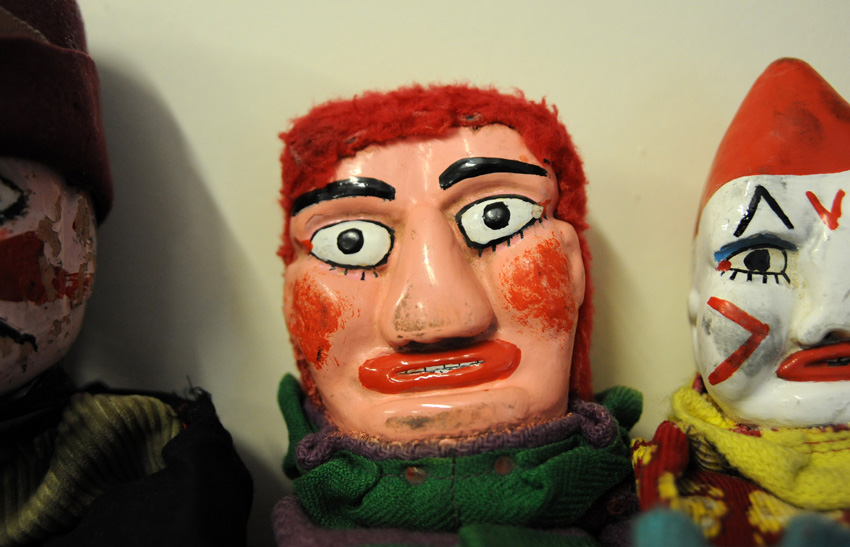 The museum was more than we could have ever imagined or hoped for. There was so much to see, and too much to take in all at once.
We marvelled at all the cigarette packets – all the beautiful and stylish designs, the bizarre Christmas gift packs, and the advertising to go alongside – 'Blow her in the face and she'll follow you anywhere!' and 'More Doctors smoke Camels than any other cigarette.'  I was reminded of an old lady at a nursing home where my grandmother had stayed. This tiny, folded up, fragile looking women spent full days shouting, 'Camel!' with a raspy voice and vigorous commitment. Somebody should have got her a cigarette, or a doctor.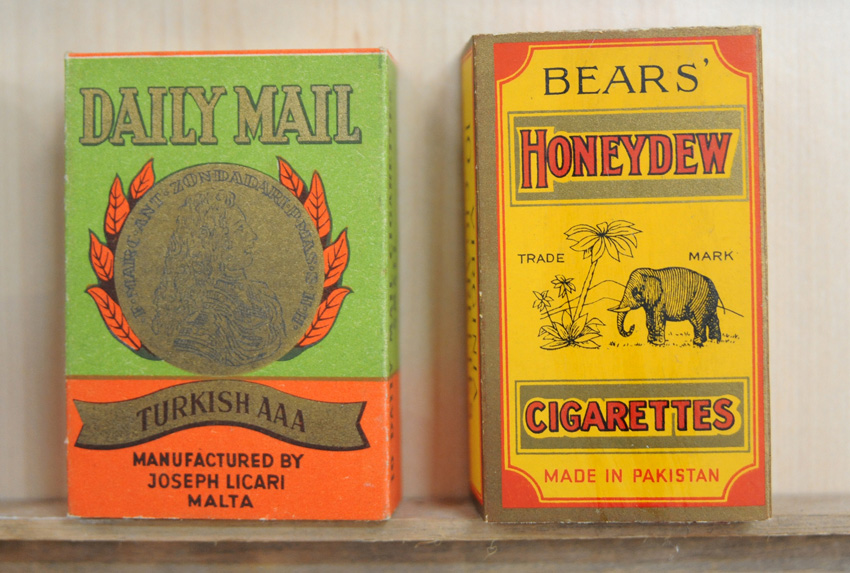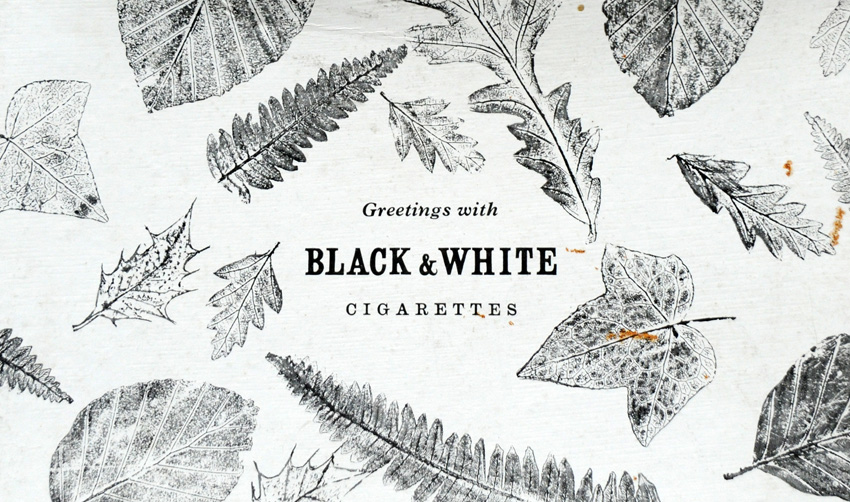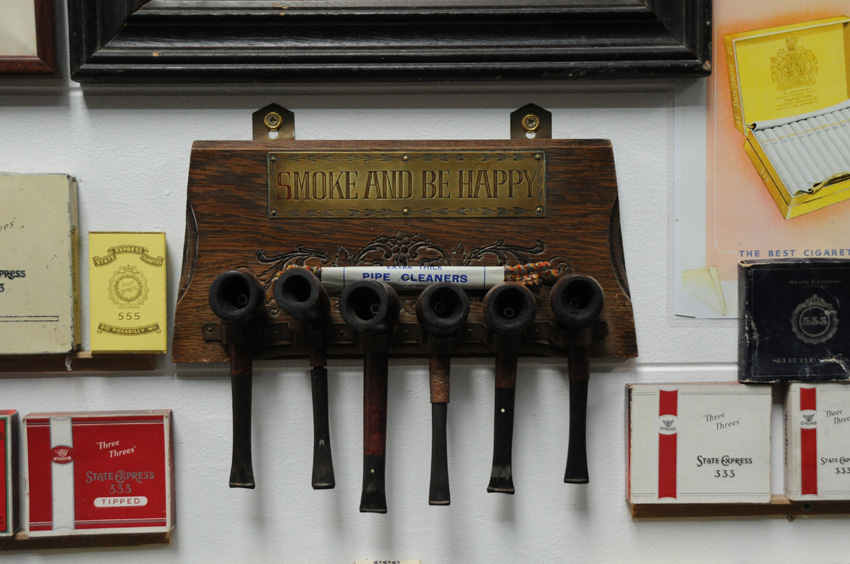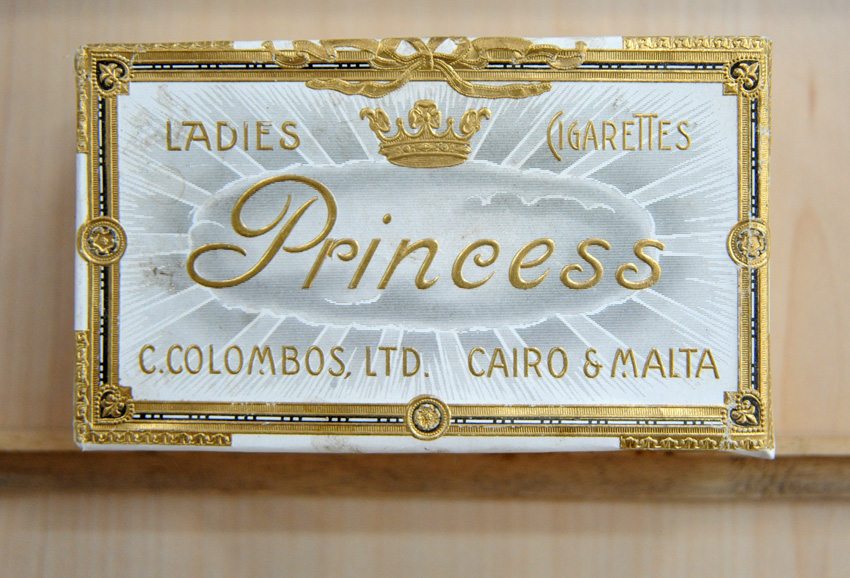 Sparrow was an aficionado of tobacco culture, he told us all about the aspirational marketing, the way the brands identified people's social standing and the importance of a decent looking lighter to impress the ladies with.
I must admit, it all made smoking sound very sleek and glamorous. Of course, I know different! As a teenager, my friend Emma and I used to frequent the old arcade tobacconists and buy Cocktail cigarettes. Pastel coloured, gold tipped, beauties, bought just for the visual delight. They tasted rank.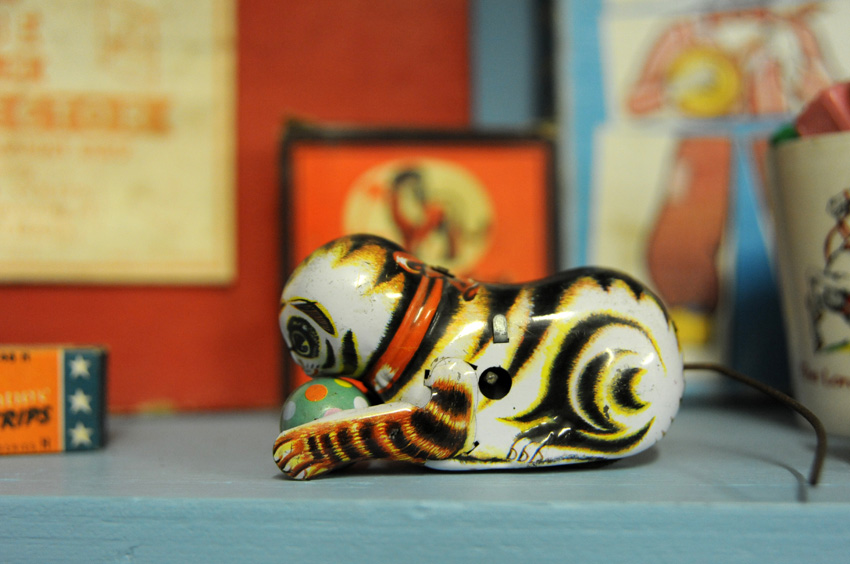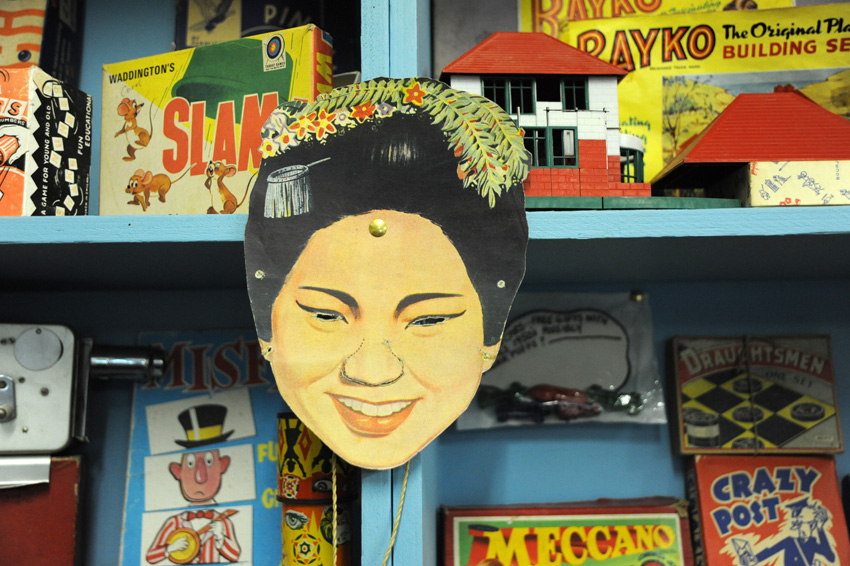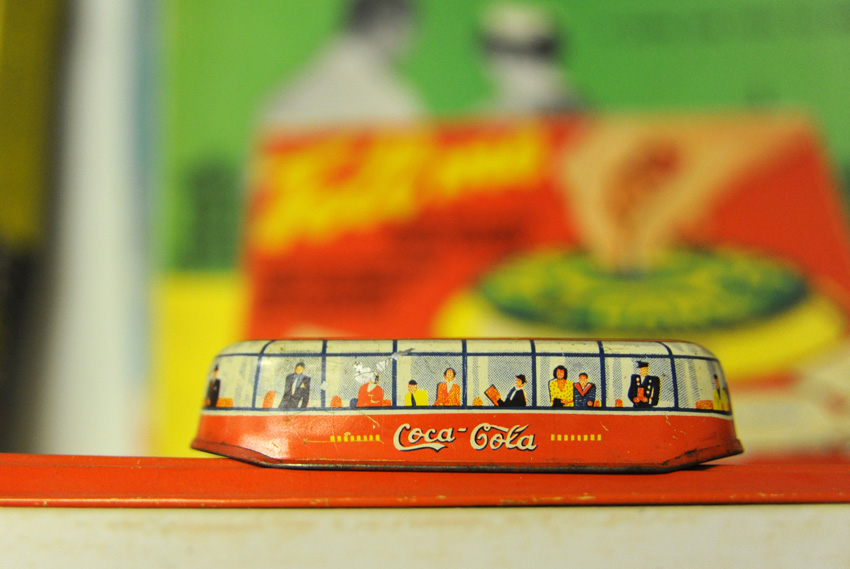 The museum was full of such lovely things. Things that I have never seen before, things that I have heard about, and even some things that I own – like the tea tin I attached my taxidermy crow to!
The collection of tins was marvellous, I love a good tin! The plate display was also pretty magical. It looked like a scene from a 'smash 'em up' stall at a 1980s village fete!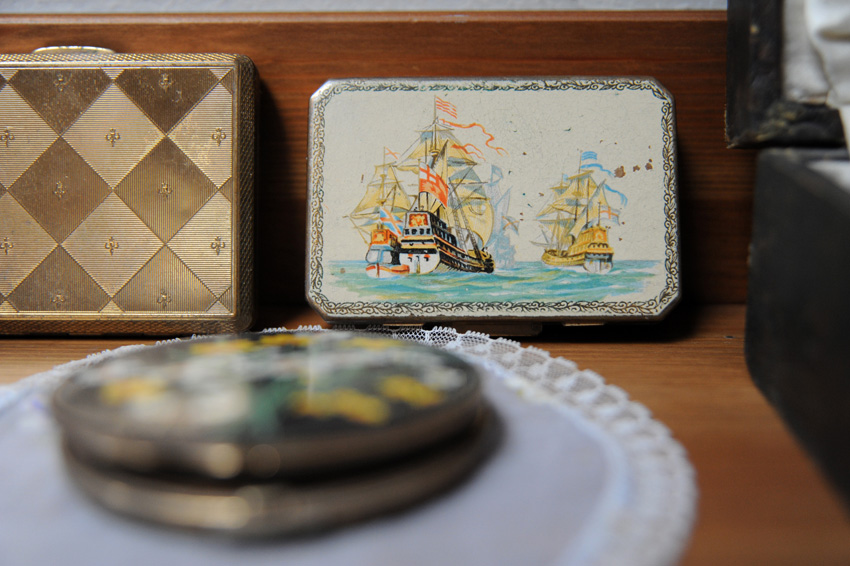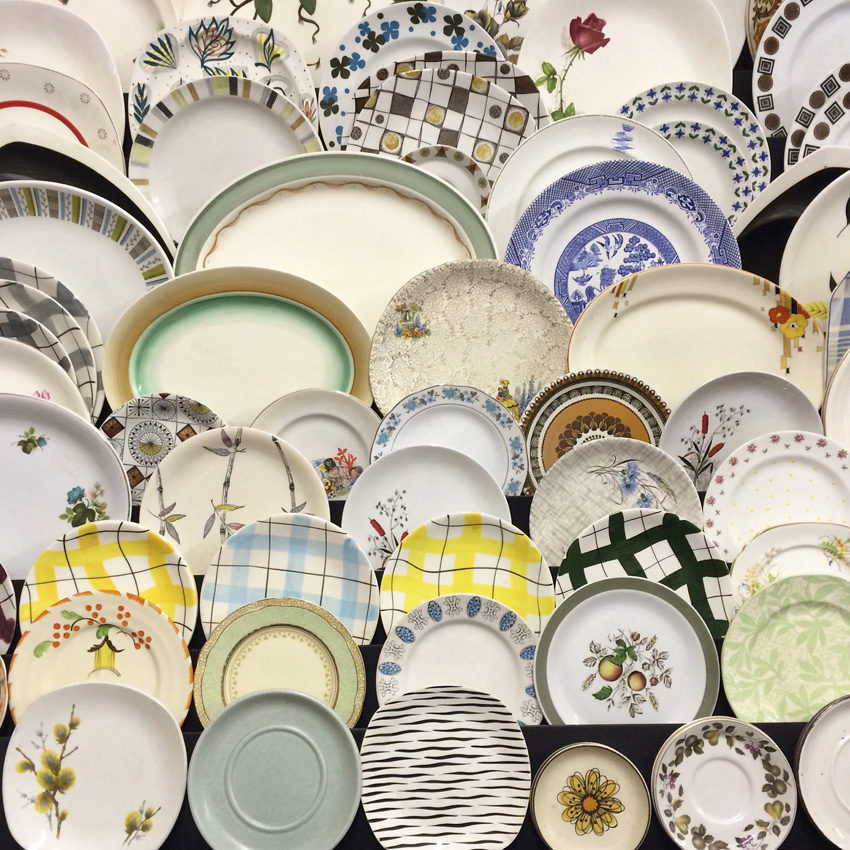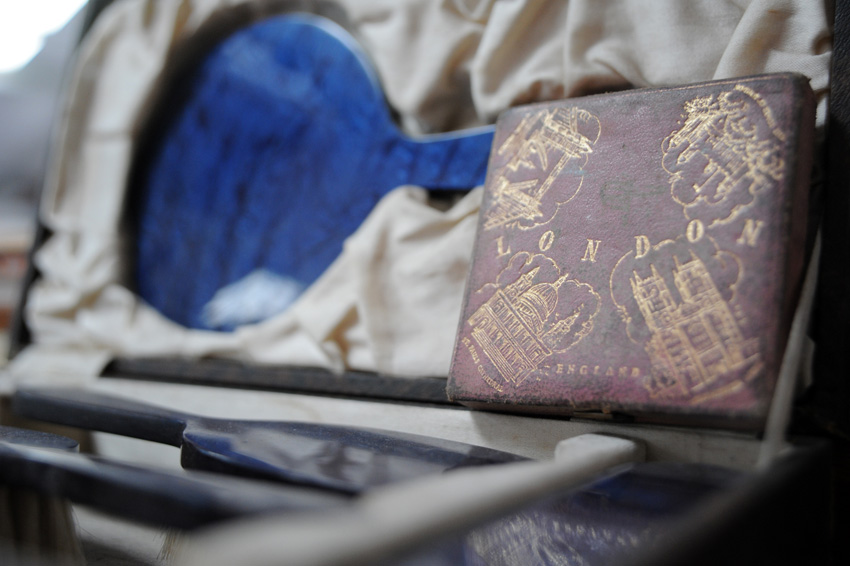 There was a small cabinet full of Ridgway Homemaker. I remember my first, and only, piece of Homemaker. I must have been about fifteen, and I came across a small side plate in an old junk shop. The print was blurry, it was obviously a second, and although it wasn't perfect I still wanted to own it, to start my collection. I paid the grand sum of 15p and put it away, safe. The price of Homemaker went up, and my tastes changed (although I still love it, it's just too fancy for me to eat off!) so fifteen years later I decided to part with the plate. Apparently misprints of Homemaker are rare, and there was a market for them, a market that willingly paid £50 for my little plate! Good times. Almost as good as the time Adam's mum was going to chuck out a rare Clarice Cliff dish.
We rushed round, calling each over to look at things. 'Wow! That looks just like my Nanny! I am sure she had that coat and hat!' I exclaimed. Adam agreed, he'd thought the same thing, and was just about to say so.
Turns out we were both looking at different things though!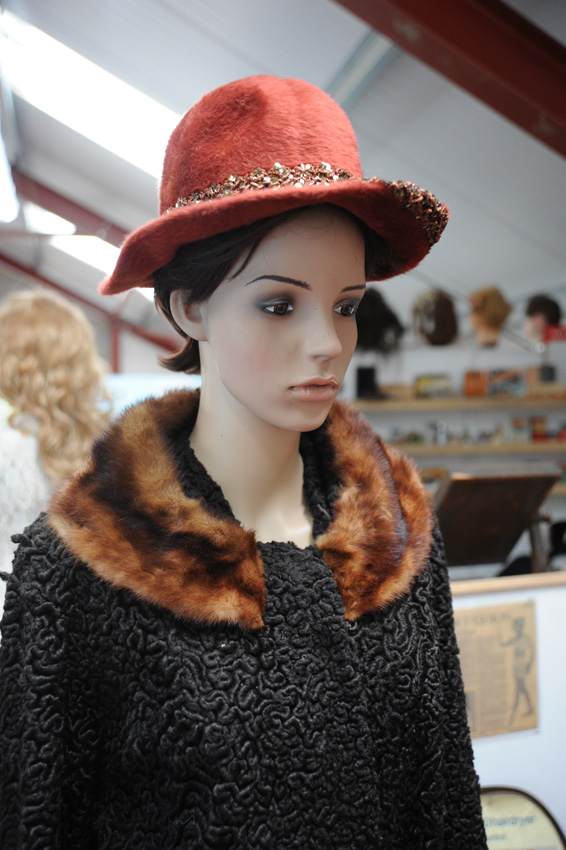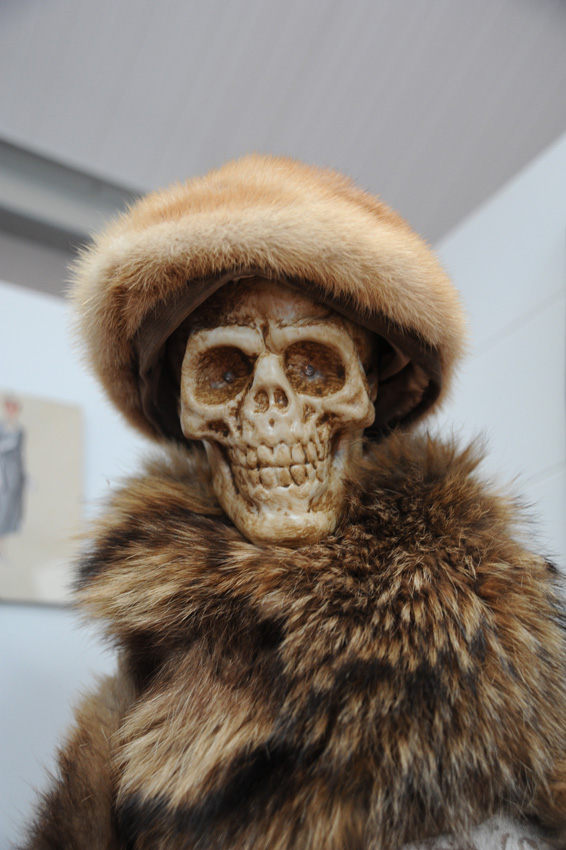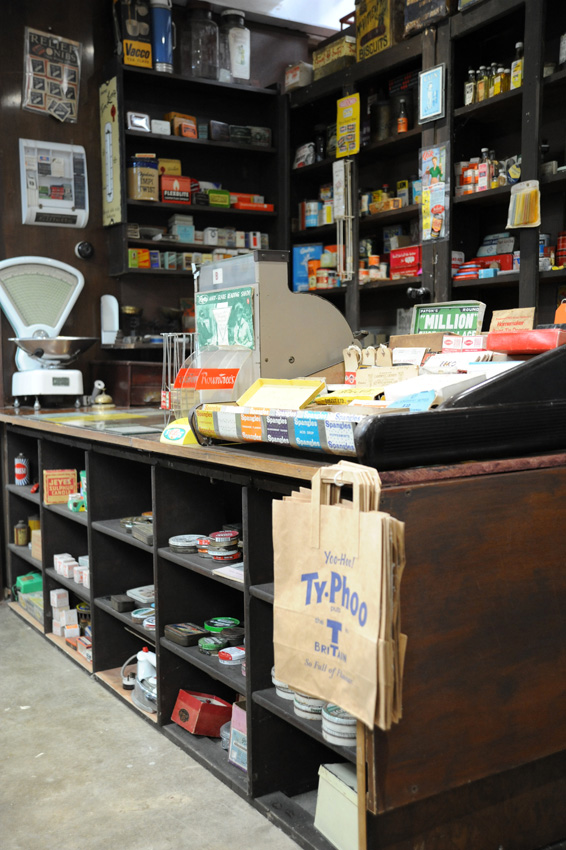 There was a real shop set up, a replica of the old 'Tin Shop' that had stood in Denbigh for over fifty years. Of course I had to pop behind the counter and pretend I worked there. 'Fork handles?' 'No, four candles!' I said to myself, jauntily.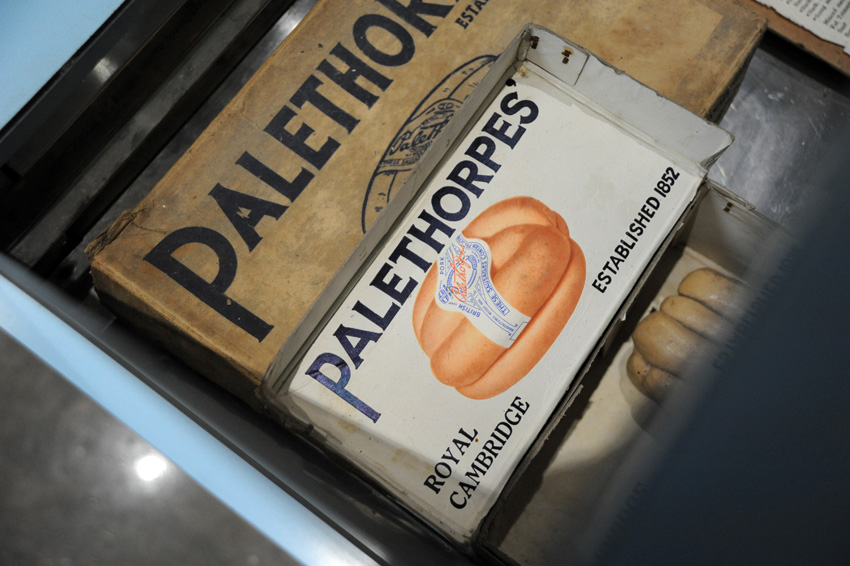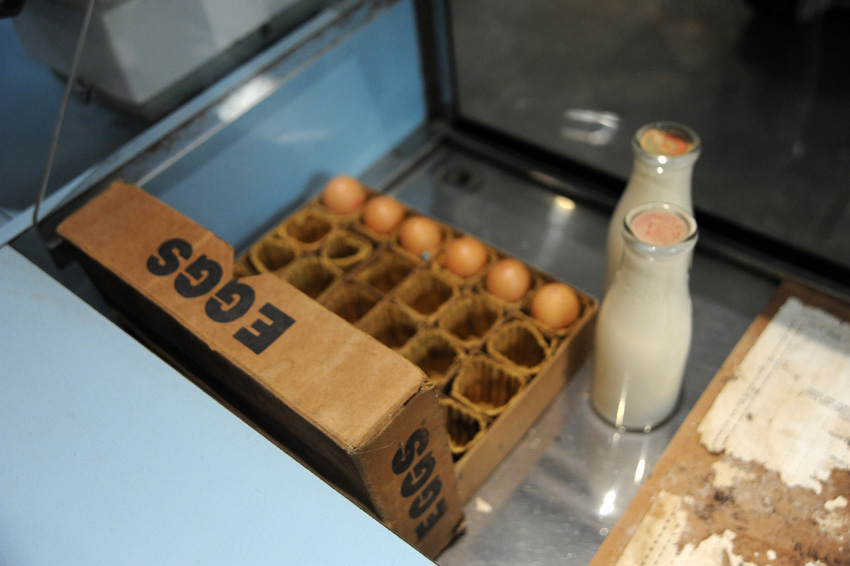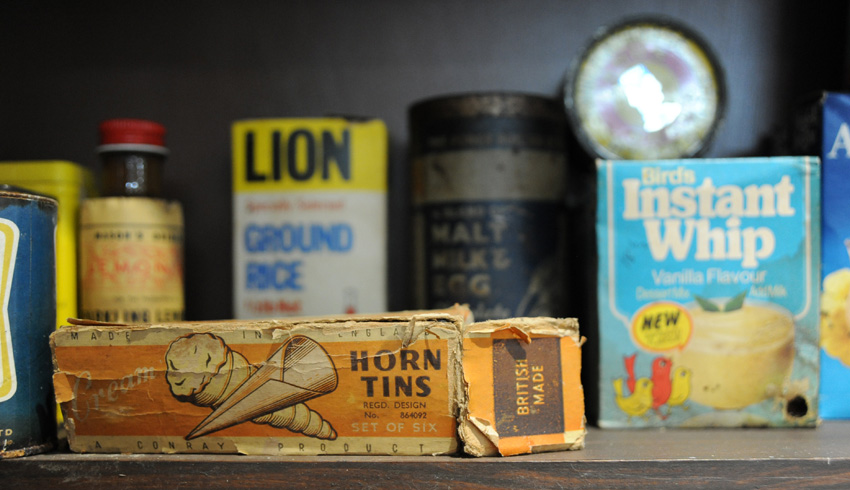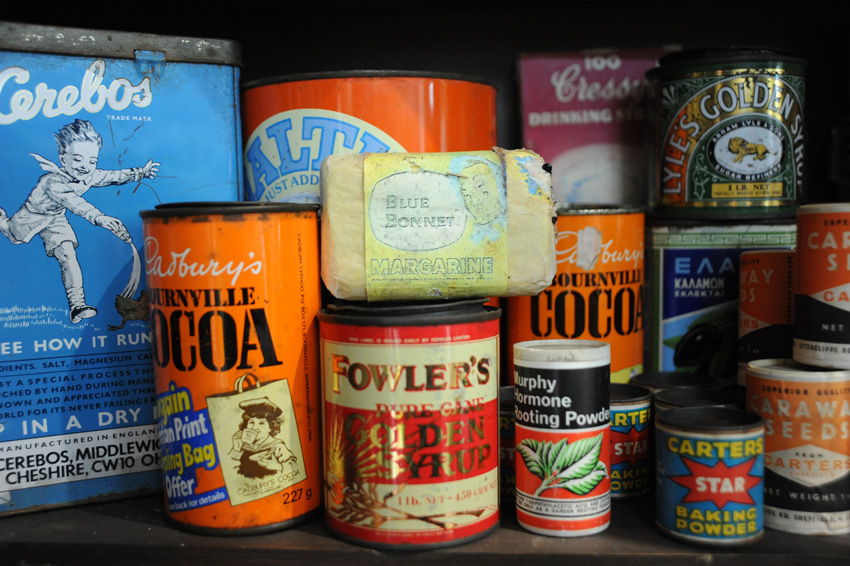 The shelves were lined with the most wonderful and interesting things. Birds Instant Whip, Andrews Liver Salts for inner cleanliness, Black Magic chocolates. I was particularly impressed by the surviving block of Blue Bonnet Margarine – this is why we don't eat margarine, people!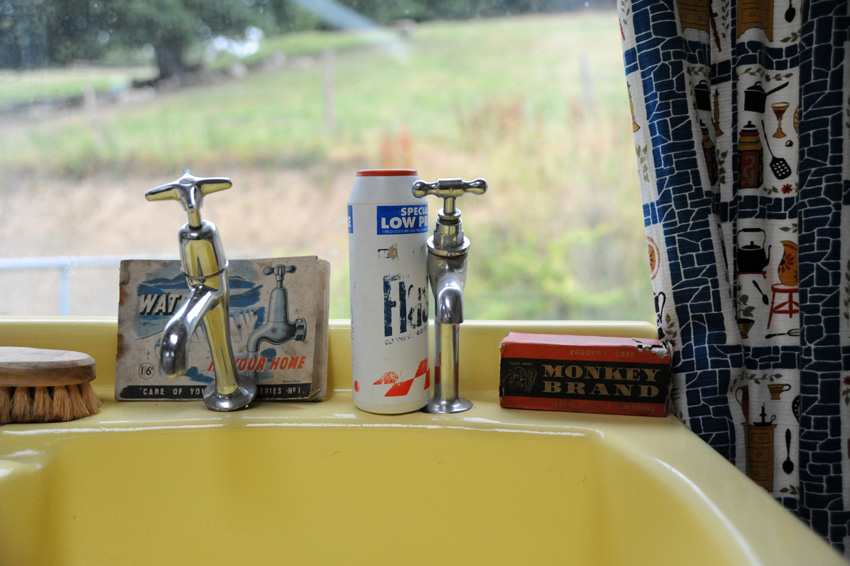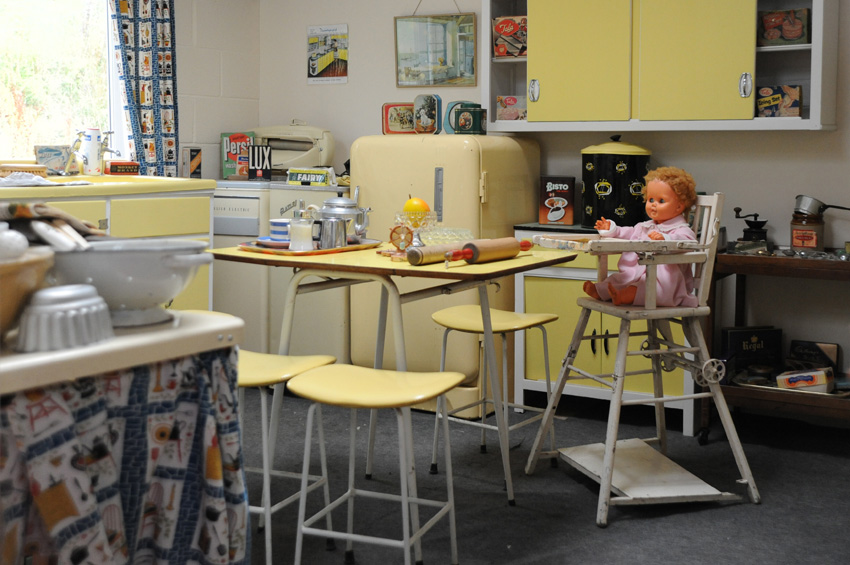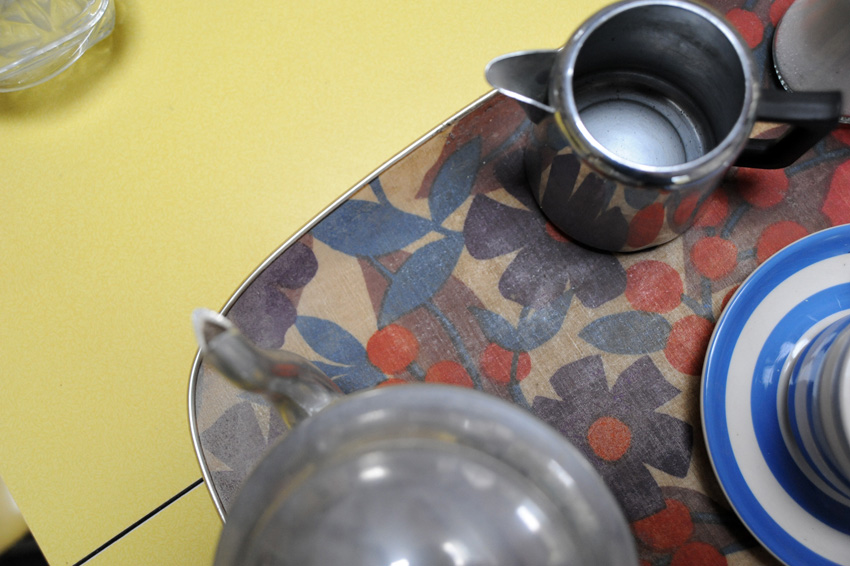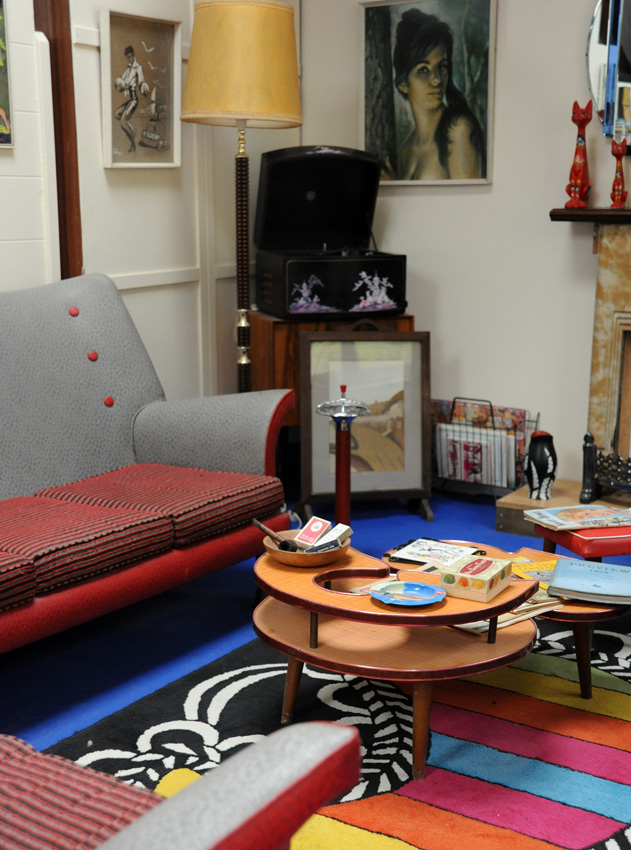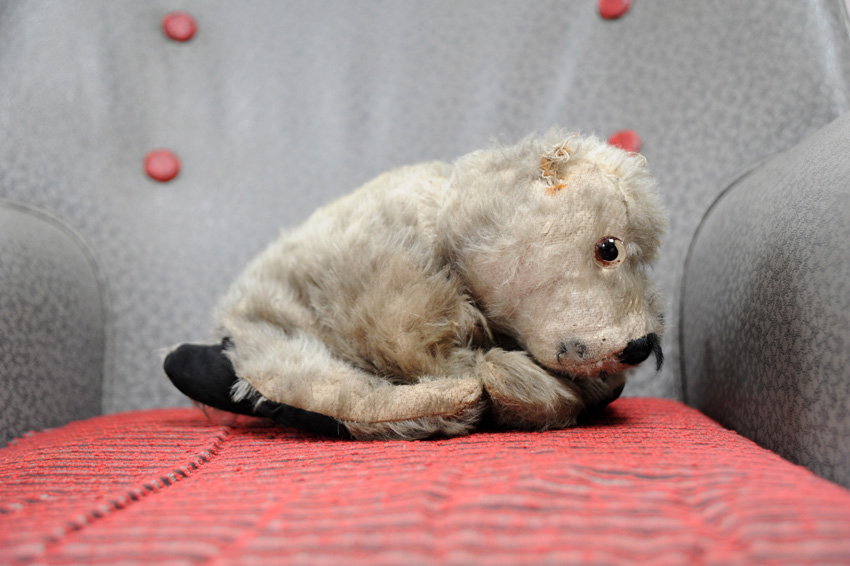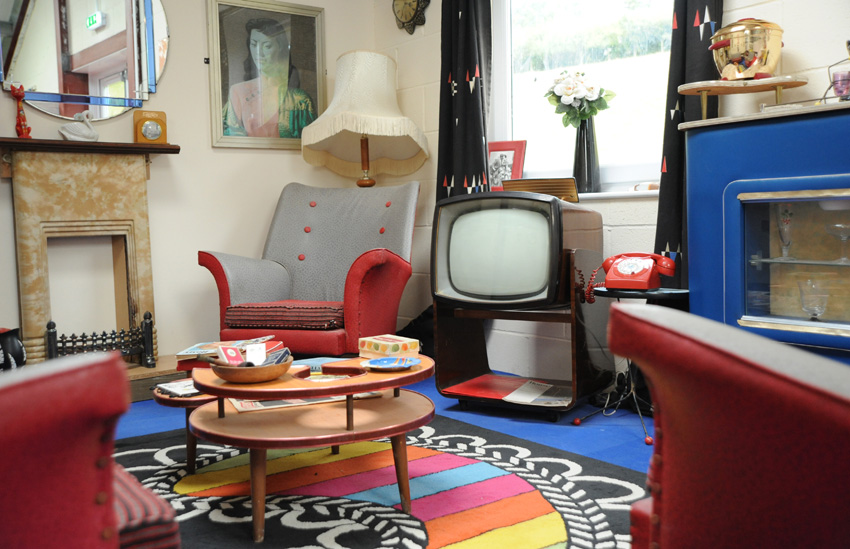 I was enthralled by the realistic room sets, the amazing yellow kitchen, the living rooms, the bar set up with the superb cigarette dispenser and selection of fruit shaped ice buckets.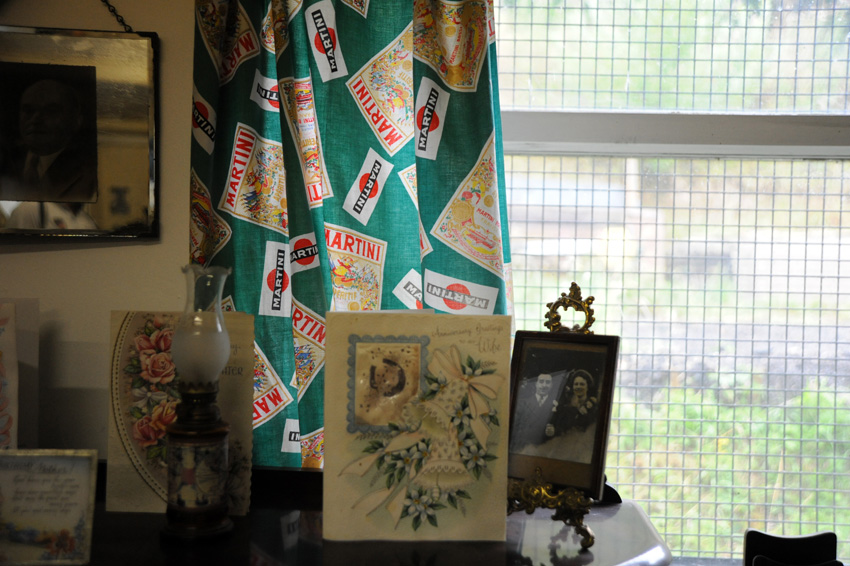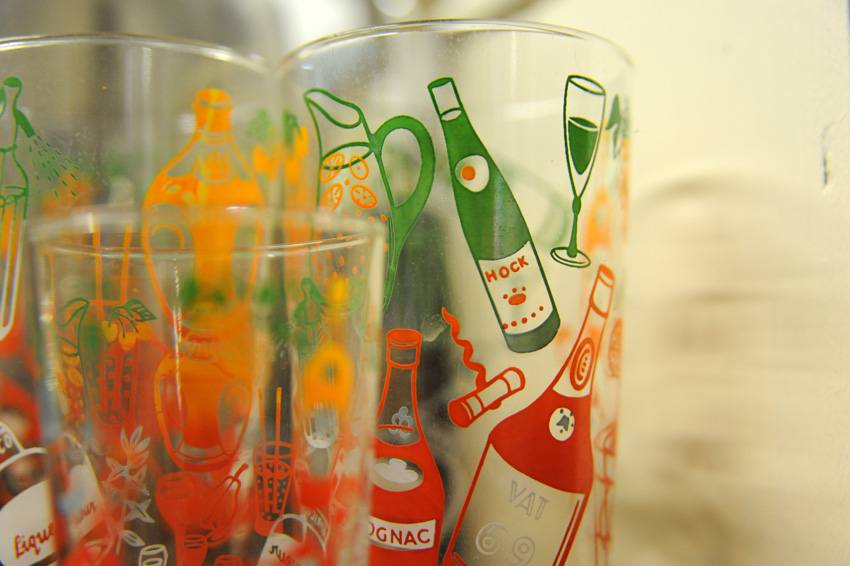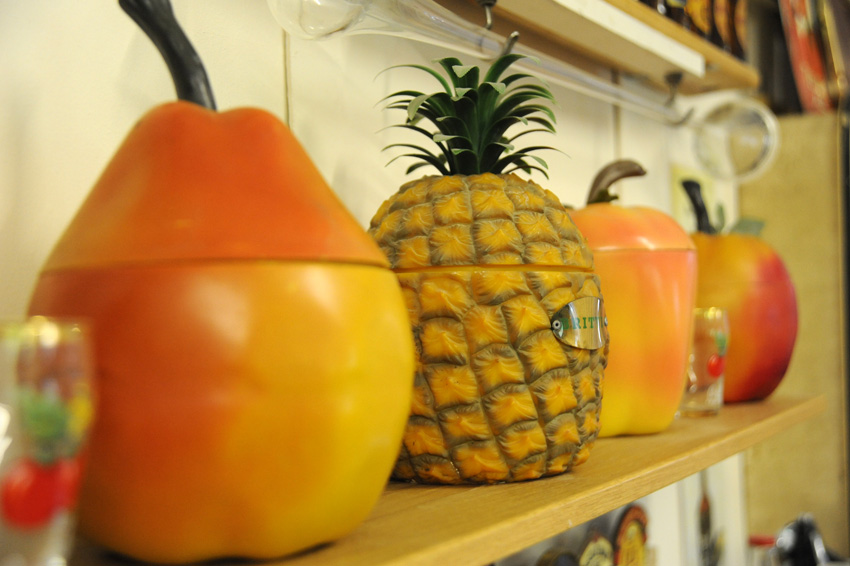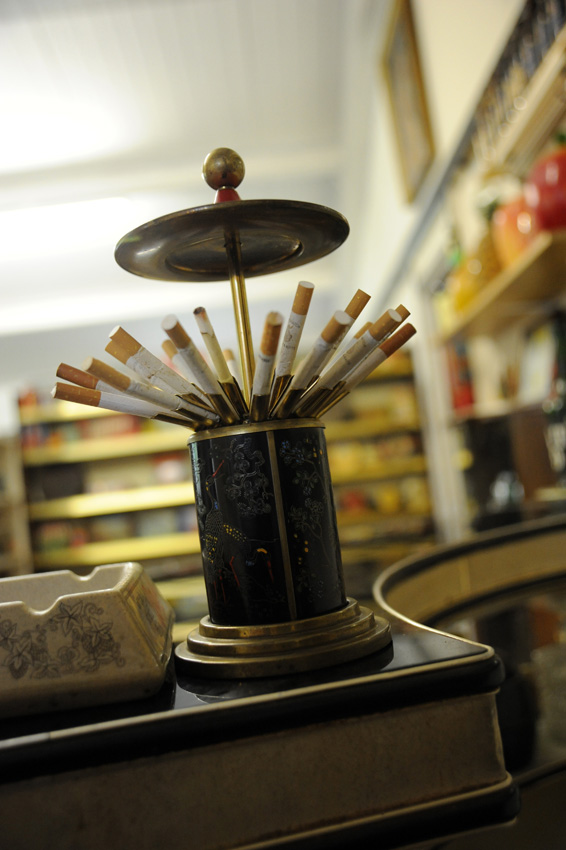 There was an area dedicated to just a few cars, those that were most popular in the UK in the 1950s, and a massive pink cadillac that was itself as big as four cars!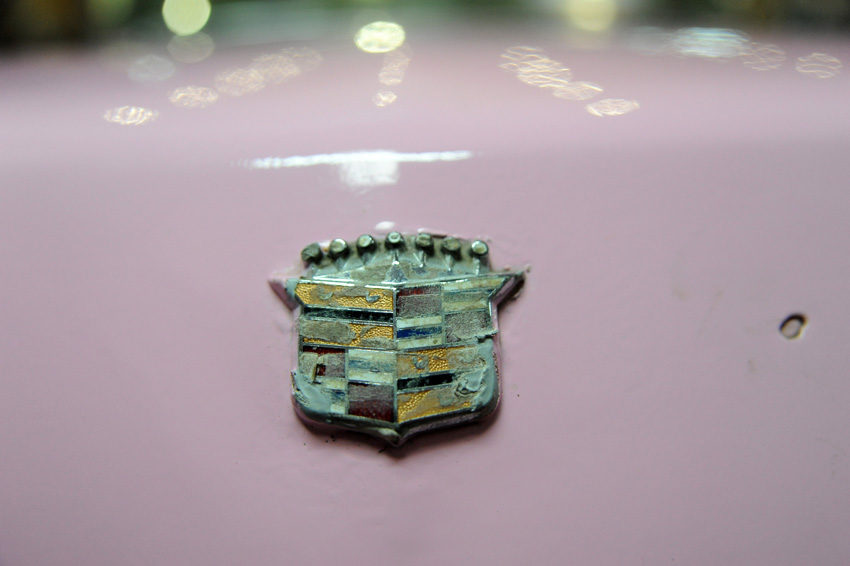 There was also a 1980's Ford Fiesta that had belonged to Christine Keeler, the model who came to fame for her part in the Profumo affair. Having her car in the museum seemed a bit weird to me, and a bit sad, but the mannequin really did look impressively like her.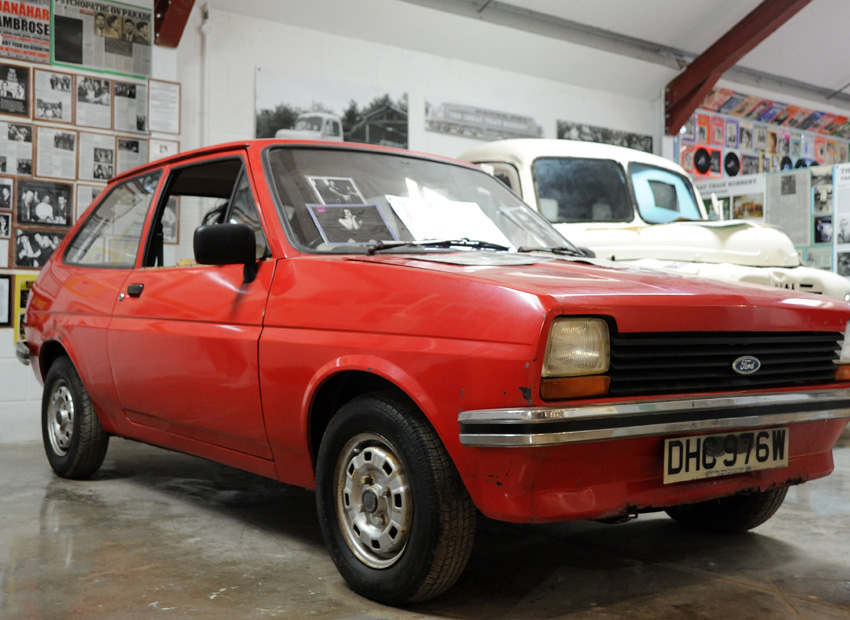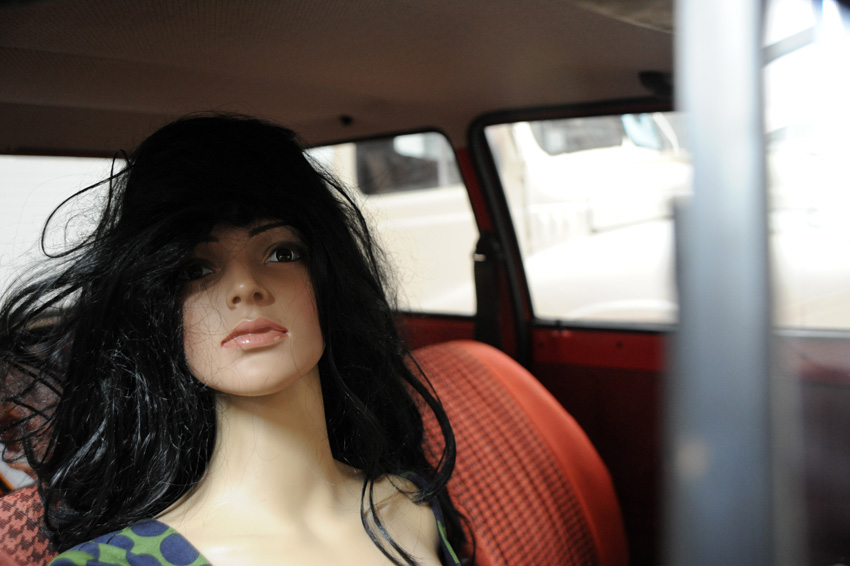 Across the yard, passed the ducks, turkeys and pigs, the barn door was half open, allowing a glimpse of the old lorry inside. The actual lorry from The Great Train Robbery. This place is just amazing!
The museum is part of the Cae Dai Trust, a charity set up by Sparrow Harrison in the mid 1990s to provide sheltered accommodation after the North Wales Hospital closed and left many vulnerable adults homeless. The museum and farm now provides a place for people from all walks of life to rebuild their lives and make a fresh start.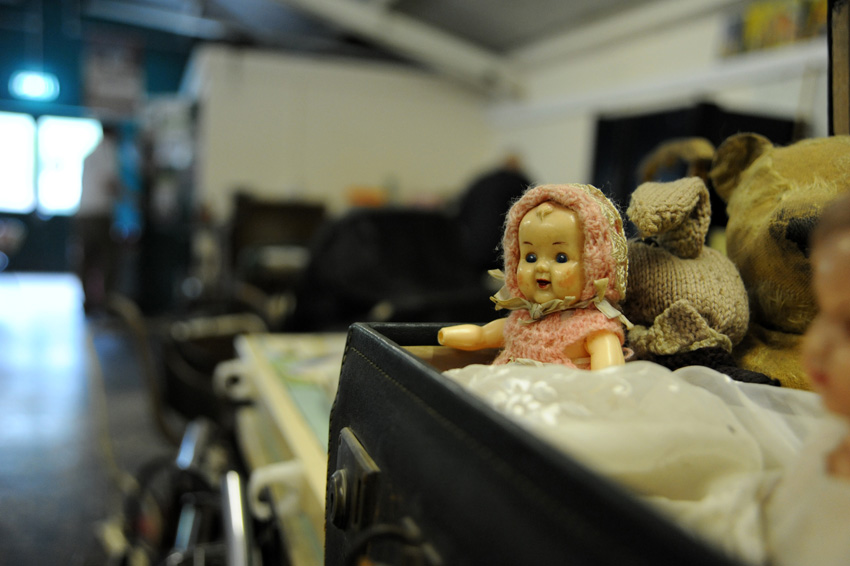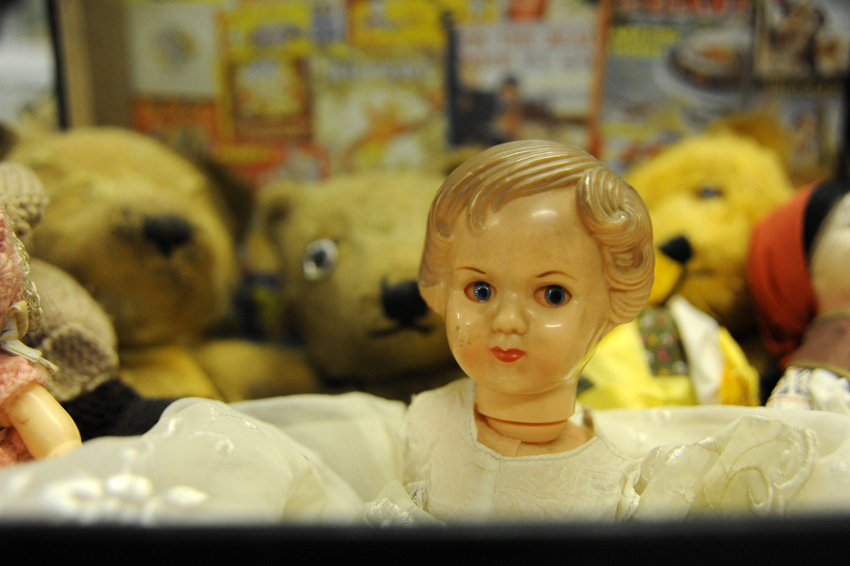 Denbigh Boxing Club is also based on the same site as the museum and has an interesting display of items, pictures and press-cuttings.
Look closely and you'll read that charming Mr Harrison who has shown you around is also a champion amateur boxer, having fought over 200 fights, and at 75 he can still pack a punch. He didn't punch either of us though, which was nice.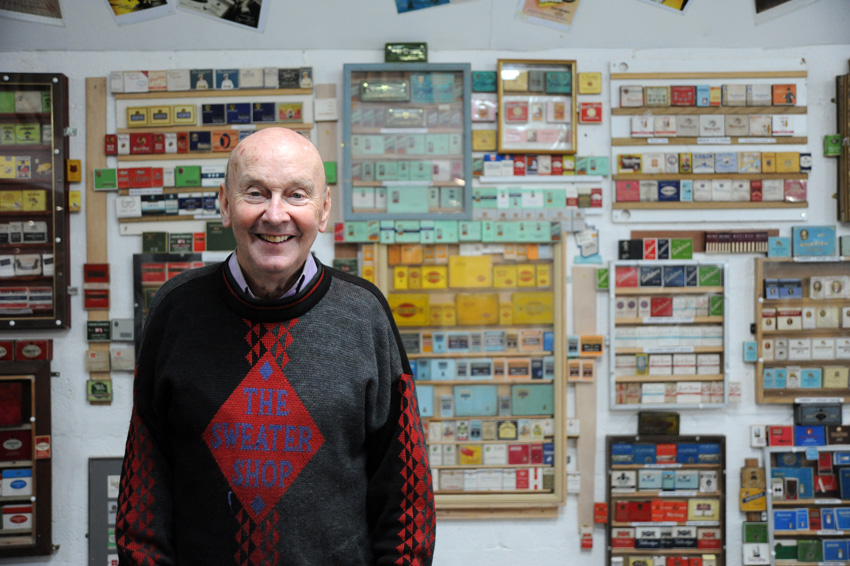 As soon as I met Sparrow I instantly liked him, and having spent time talking to him I liked him even more. Coming home and using the power of the internet to find out more about his life just made me feel overwhelmingly in awe of his wonder!
Sparrow Harrison is brilliant man with a rich and colourful history, from playing in his band Sparrow and the Gossamers, to running a nightclub for the Krays, being a good friend of Bruce Reynolds – the brains behind The Great Train Robbery, and best friends with John Peel, co-founding the British Stammering Association and setting up the Cae Dai Trust, to recently receiving an MBE – some of which he failed to mention whilst recounting his delightful tales, like the bit about the MBE for example!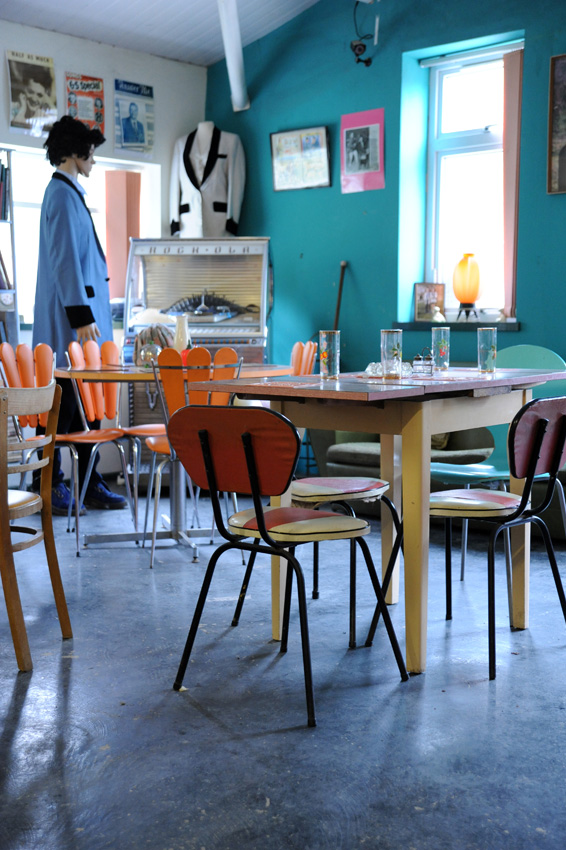 The Fifties Museum was rebuilt after a fire a few years ago, and you'd never tell – the collections are vast, displayed in such a way that it feels okay to touch them and be part of the experience, and kept perfectly in place by the team of volunteers, which includes Eric, who only put his fabulous yellow feather duster down so that he could make us a cup of tea.
All of that for just £5.00 each!
Do you know what was missing though? More information on the great work that the Cae Dai Trust does (because it is brilliant, and exemplary), and, donation collection points. We would have been happy to give more than our ticket price and feel positive that other people would too. So, with that in mind I'm off to post them a cheque, (old school!) and I'm also planning on donating some of my precious 1950s things to the museum.
If you are planning a trip to North Wales then I thoroughly recommend adding the Fifties Museum to your 'Must Visit' list. You'll not regret it, seriously.
The best place to find out more is on facebook (and give them a like and a share if you can!)
The Fifties Museum . Open 11am – 4pm, daily.
Cae Dai on the B4501 road to Nantglyn, Denbigh, LL16 4SU