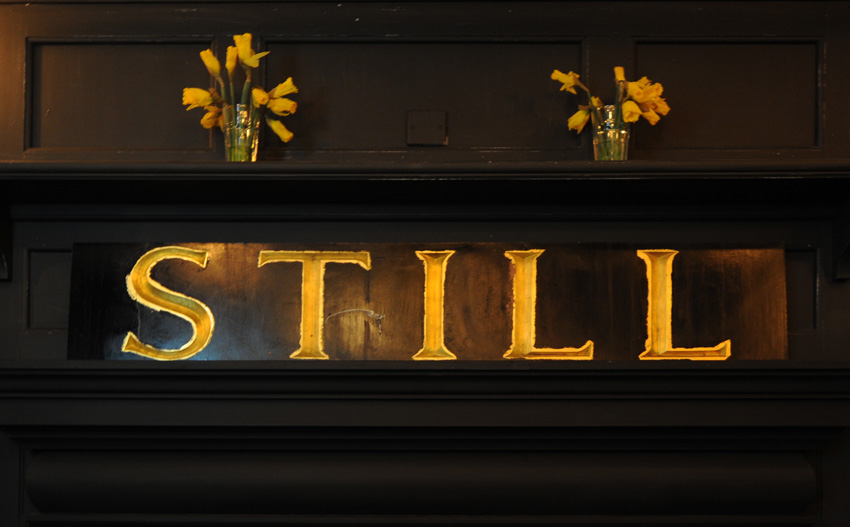 We left the house with high expectations and elasticated waistbands, slid into the car and headed off to Peterborough.
Handmade Burger Co have now opened a restaurant at The Old Still, and I was invited to take a party of 10 friends to enjoy a night of food and drink at the pre-opening dining event. At first I thought, 'Ten people! Where will I find them all?!' and then I realised that pretty much everyone I knew would appreciate this treat, so I needed to narrow it down rather a lot.
As I often do, when it comes to food related concerns, I turned to Facebook and asked the question, 'Who likes burgers?' – probably not the most profound or descriptive question I've ever come up with, but it was enough. Many people expressed their hatred for McDonalds, which was pleasing to me as I've pretty much boycotted them since the 'roundabout hedgehog trapped in a McFlurry cup' incident of the early 2000's.
This dining event was not a Ronald McDonald mega party. The burgers at Handmade Burger Co are far removed from anything that filthy clown knocks out.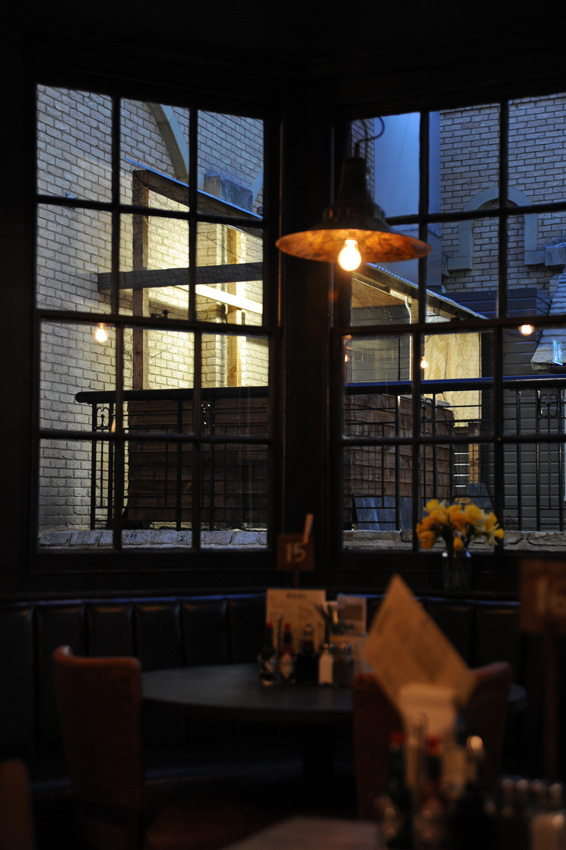 We were a little late to arrive, half of our guests were already inside waiting to be seated and a queue of eager people streamed out of the doorway. We joined the back of the line, but once spotted, the front of house staff beckoned us in. The dense queue parted for us to enter, and I was somehow compelled to attempt the sounds of ethereal angel song as I glided by the unamused burger lovers.
We were united with our group, the minced-meat massive, and were soon seated.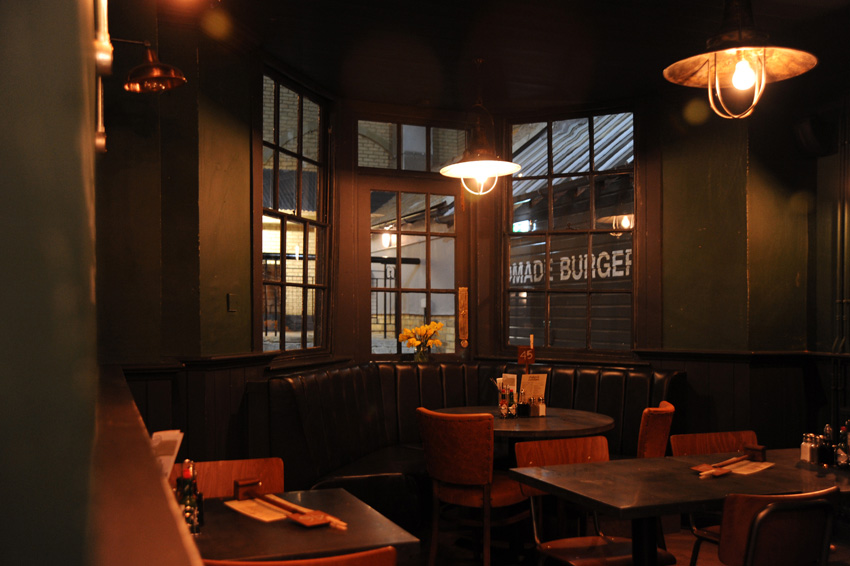 Immediately the waiter announced, 'You won't find any microwaves here!' and I felt glad that we weren't looking for one – you won't find a microwave in our kitchen either. He continued to tell us about the menu, the way in which we could order, and how he really likes a squashed avocado on his chicken. As I took notes I drew a small bird wearing an avocado saddle.
We ordered all the food, and then wondered how we would cope, and if they'd have enough left for the following night when they opened to the public. (It's okay, they messaged me to say they'd re-stocked. Phew! I didn't want a peeved Peterborian pattie posse on my trail!)
The food formed a ridge down the centre of the long table, like a geological fault, tectonic plates coming together, sweet potato fries and onion rings, toppling over.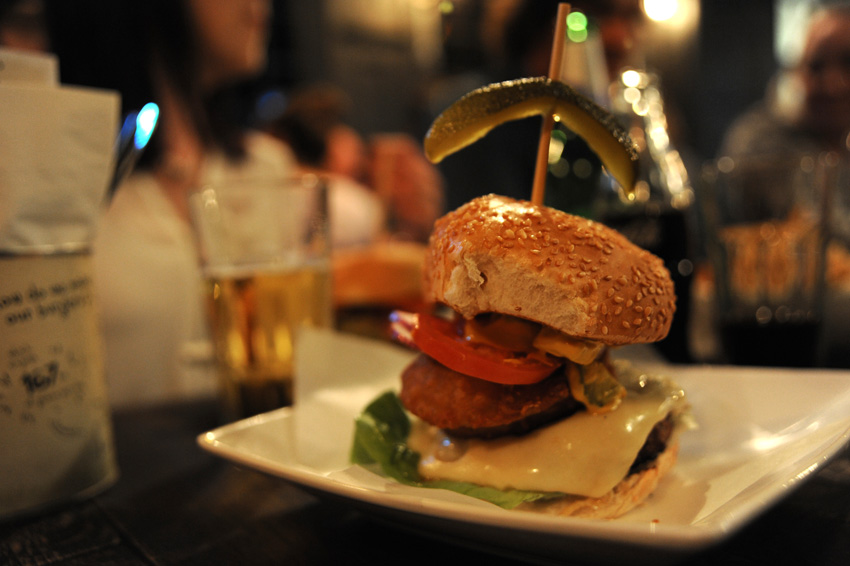 We ate… EVERYTHING! Well, that's not true, but I am sure it was close. The great thing was, as they make the burgers to order, we could mix and match our food to our own tastes, so where I went for a standard American Cheese, Neil was able to add extra Jalepenos to his Barbecue Cheese and Bacon burger – though obviously not enough because I did notice him adding a rather heavy dose of Tabasco sauce too!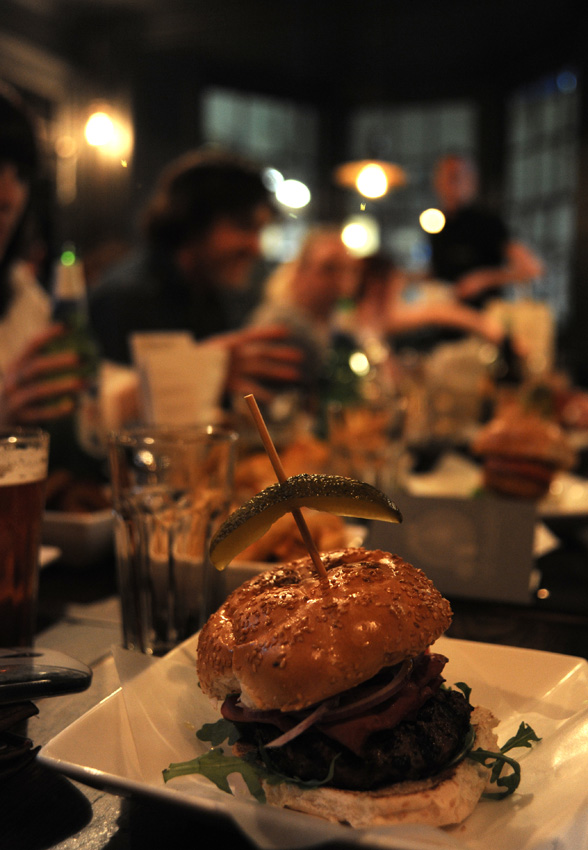 Everyone loved their burgers. Of the sauces, the barbecue was the favourite, like a sweet and tangy chutney, and I can highly recommend the Rosemary Salt chips which were lovely.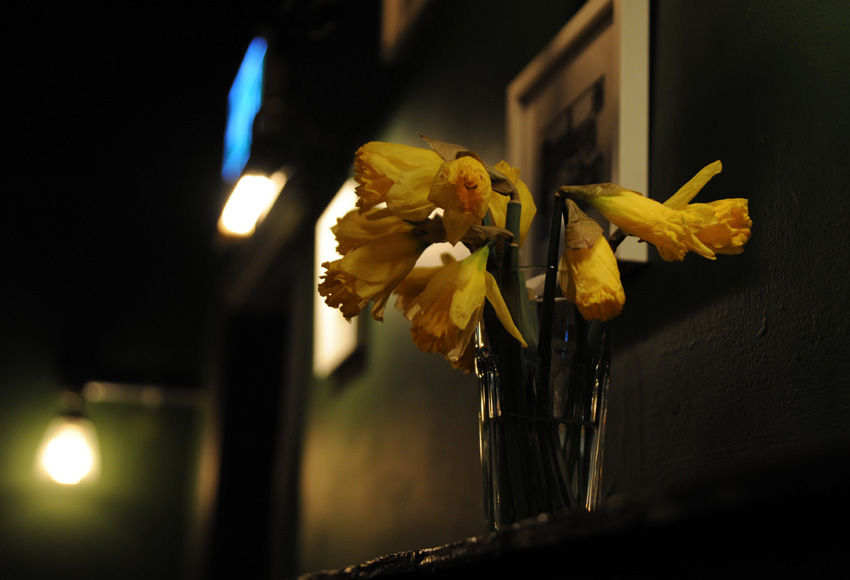 As we sat there and took in our surroundings I recalled buying two handmade tiles from a potter in the very room we were sat, they were propped on the mantlepiece there, when the building was being used as an artist's space.
Before that I remember The Old Still as a pub, the upper floor of the building is apparently haunted by a lost woman, also Adam once played in a Stereophonic's covers band there – I don't know which is more frightening, an upstairs lady ghost, or the Stere-faux-phonics!
All burgers eaten, all plates cleared, all waistbands expanded to maximum capacity and belt buckles moved to the next notch, we waited.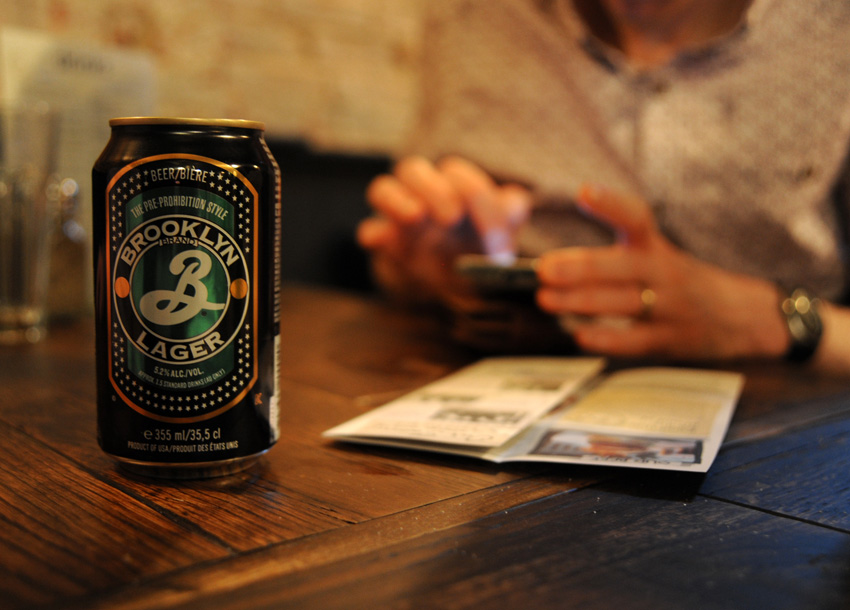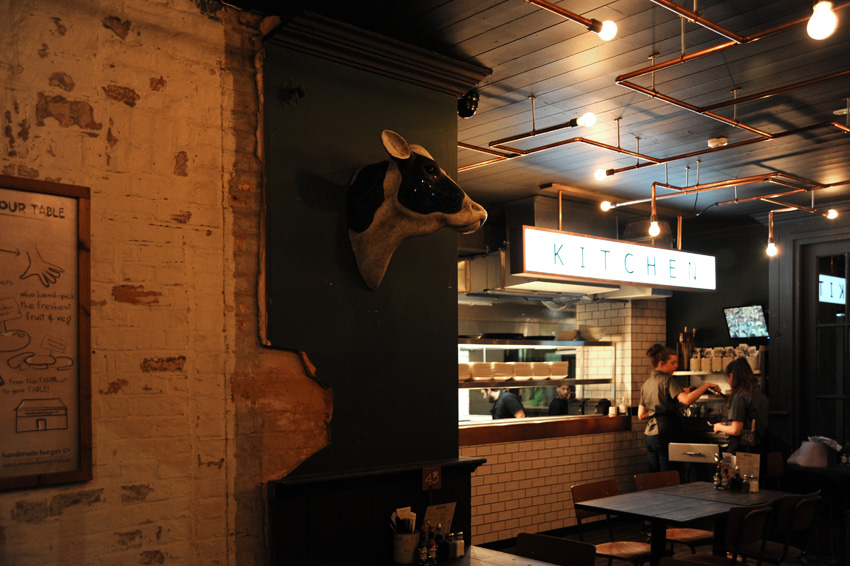 Eventually I went to ask about puddings, I didn't realise we were supposed to, and although the bar and kitchen had just closed, the Manager very kindly allowed us another round of drinks and a set of desserts for the guzzle gang. In the rush, the waiter spilt a bottle of coke over my seat and the table, I was luckily elsewhere, wandering around looking at the fixtures and fittings, prodding the exposed wattle and daub.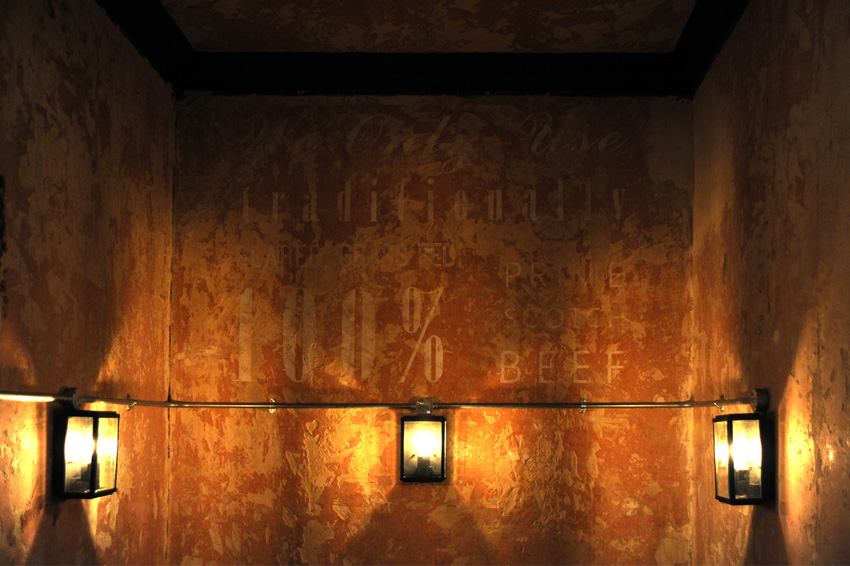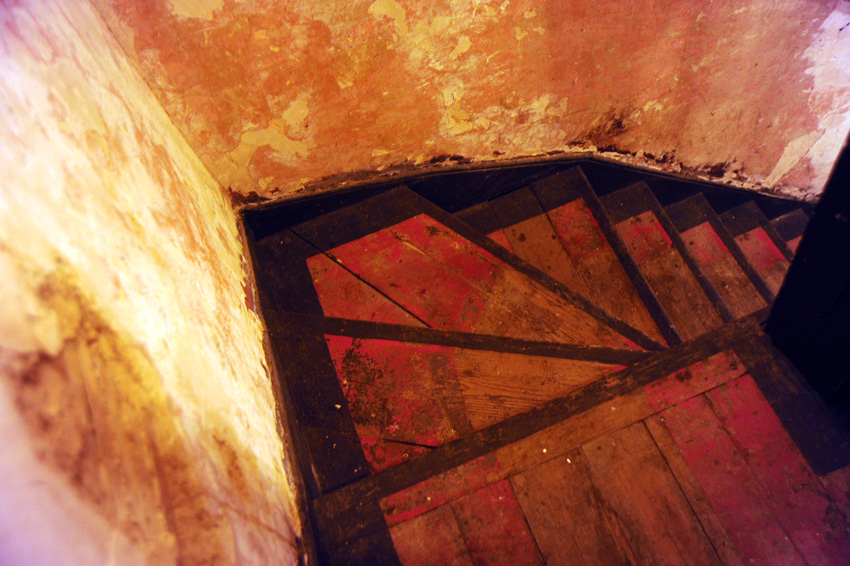 Laura still wanted a drink, so reluctantly I went to the bar to ask if we could have a replacement Coca Cola, I didn't want to take the mickey, we'd been treated so well.
'Could I have another Coke please, to replace the one that got spilled?' I asked. I must have appeared rather sheepish.
'Why don't you give your friend a straw, then he won't spill his drink!' was the quick-witted reply.
'Oh no, it wasn't one of my guests, it was the waiter, but I'll take the straw anyway!' I said, clutching the straw and sloping off, smugly!
There were a couple of comedy glitches, as you'd expect at a pre-opening run through, and we certainly didn't mind. There was also the 'Come on guys, don't you know what you ordered?' 'Yes, its not that though!' moment, as they tried to deliver another table's food to us. It was good to test this all out on us, we were very happy and grateful to be well-fed, lucky guinea pigs.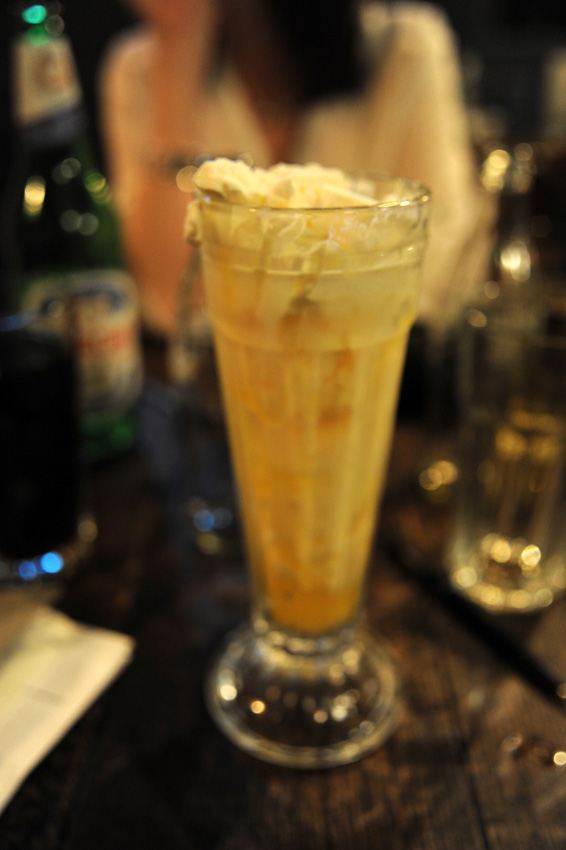 We all had sundaes. I had a Lemon Meringue sundae and it was quite refreshing. Jane and Tim both had lucky dip sundaes, it's not a thing, but they made it one!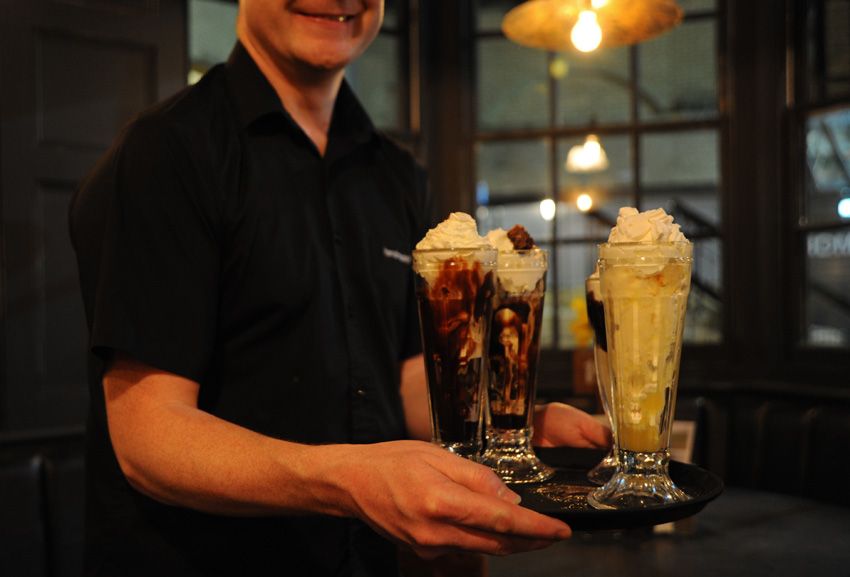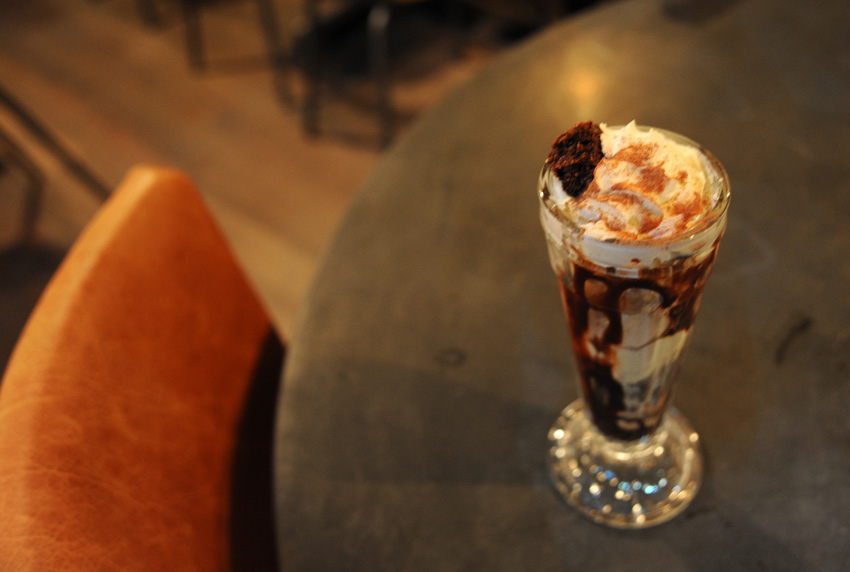 We thoroughly enjoyed our dinner at Handmade Burger Co, and we all agreed it's another good thing for Peterborough and it's developing city centre.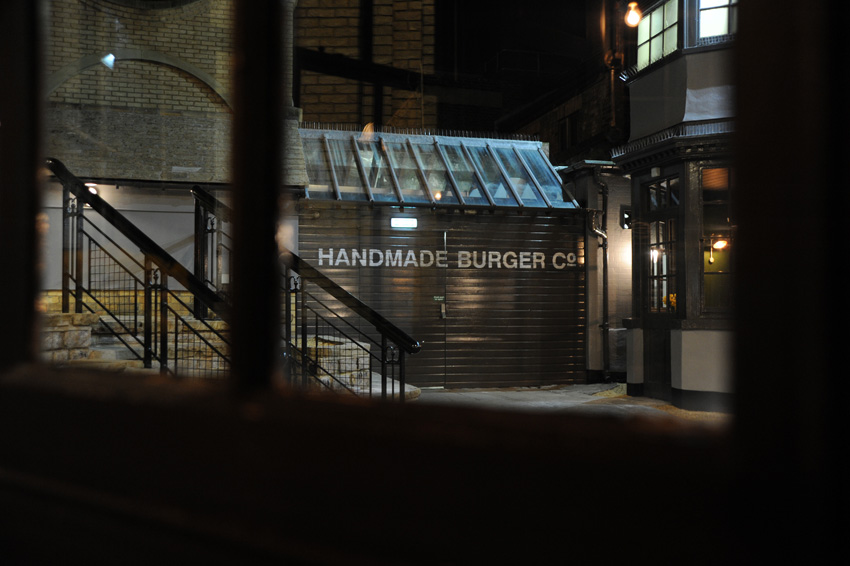 Full of food and fun, it was time to go home. We came out just as the Queensgate security gates were being closed, said our hasty goodbyes whilst keeping an eye on the exits, and went our separate ways across the city.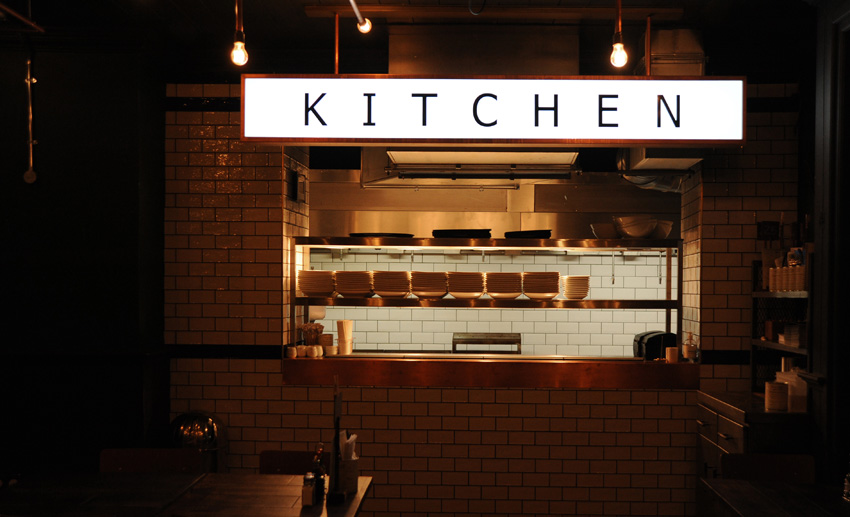 The Handmade Burger Co kitchen is fully viewable from Westgate Arcade, burgers get flipped behind the old glass shop front. As we walked away I wondered – how many people are going to push their bulging bellies up against the cold glass as a gesture of burger appreciation? I mean, I was tempted.