It is absolutely, most definitely, soup season, and, (when I've not been eating biscuits or rice pudding) most days I've been enjoying a lunch of hot comforting soup – my recent favourite being Mumbai Lentil and Chickpea, discovered after that picnic where I unsuccessfully attempted to force people into photographing soup – every cloud has a silver lining hey? I've tried several of the Glorious! recipes, and this is the one for me – substantial enough, no need for bread and suitably flavourful. It's amazing how thoughtfully-used flavours can take you on an exotic journey, even in your own home!
Living out in 'the sticks' I can't easily access a great deal of outsourced deliciousness at a whim. Sometimes I wish I could hop on a plane, sleep, and wake up to a meal of real delight. I'm sure I've said it before, but of the many places I would love to be transported to, high on the list is The Garden Restaurant at Lodi in New Delhi, a little pocket of peace in the bustling city, a lovely place to be. (And Neemrana Fort Palace, so I could get some more of that amazing rice pudding. Yes, I am on about that rice pudding again!)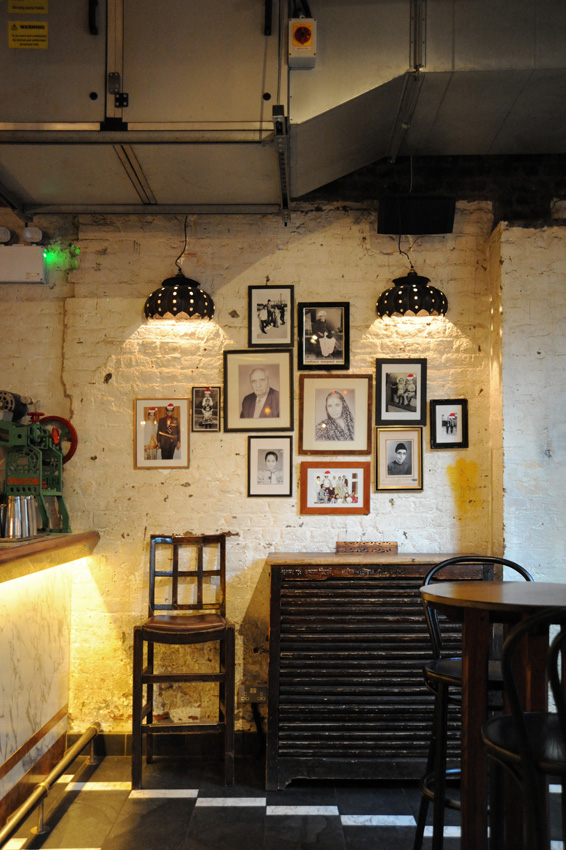 It was some years ago when we went to visit my brother in India, but the other afternoon I pulled the photos from the drawer to be reminded of things that we didn't even remember, and the details of everything else. There was a snap of the amazing monkey riding pillion on a motorcycle, tail tattered from dragging along the ground. There were photos of our visit to the Lotus Temple, the markets of Old Delhi, and Humayuns tomb – where we saw a cute little chipmunk get carried off by a buzzard. We remembered going to Rikhi Ram's sitar shop on Connaught Square, and Cottage Emporium where Adam ate neon yellow chips to 'settle' his stomach.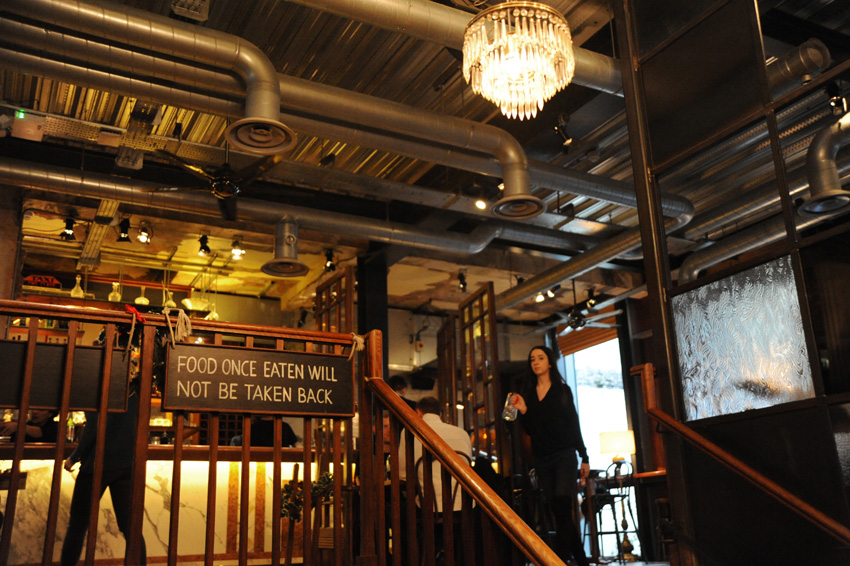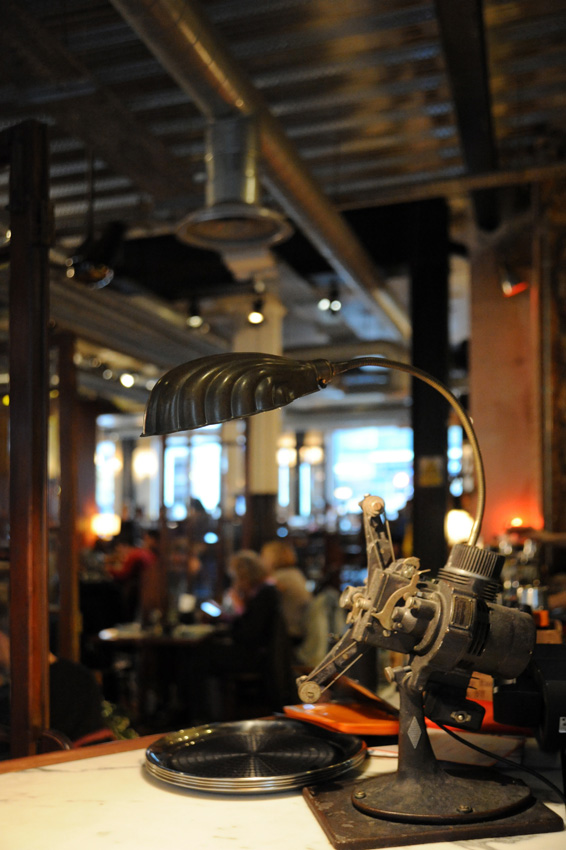 Some people say it's wrong to return to the same place when you've already visited it, they say there are more places to explore and you should, and I understand that, and maybe we are just different, but I'd return to Delhi in a heartbeat, and I think I could visit exactly the same spots over and over, and still see something new every time, still find a new experience, or a new perspective and still absolutely love it.
I remember Delhi so clearly, sometimes through hints of flavour or wafts of spicy scents, but mostly through the memories of the feeling of the air.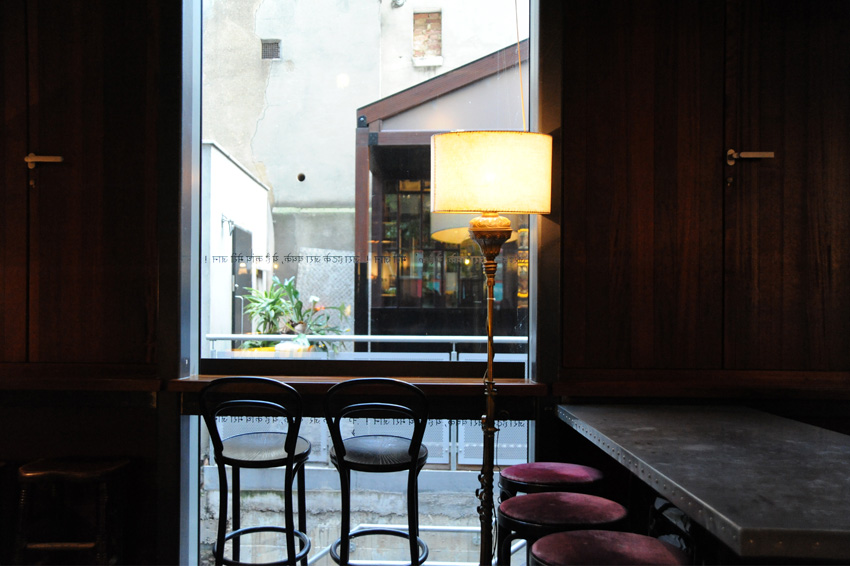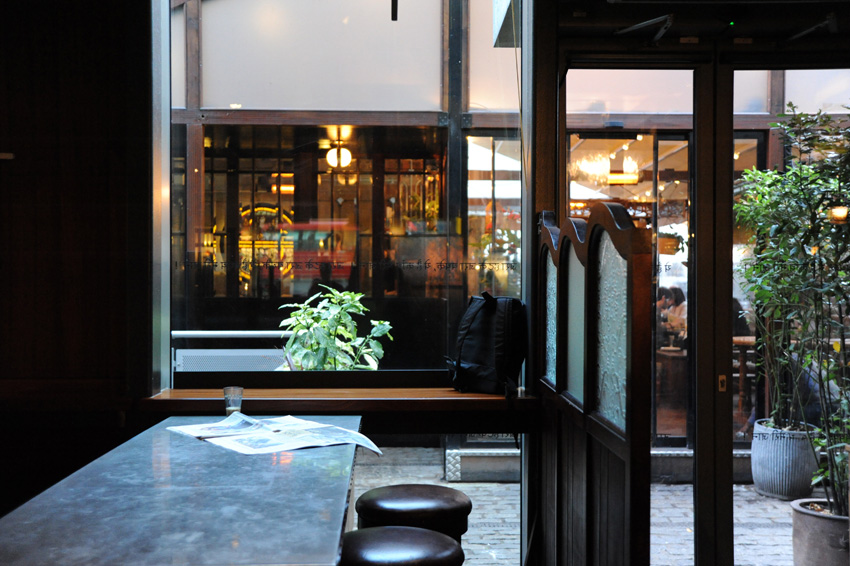 I've been working in and around London's Brick Lane a lot recently, and, as I pass by quickly, I look in the windows of the restaurants, at the diners, the food, in the sweet shop windows and takeaways, and I wonder, if and where, if I wasn't rushing from place to place in such a hurry, I could find the best little taste of India.
Then a window appeared, an afternoon-sized window in my diary, a gap between taking down our 'Do You Like Love?' exhibition and attending the Vuelio Awards, there was an opening and I knew it needed to be filled with spice, and joy, and good hours with my dear friend Bethe.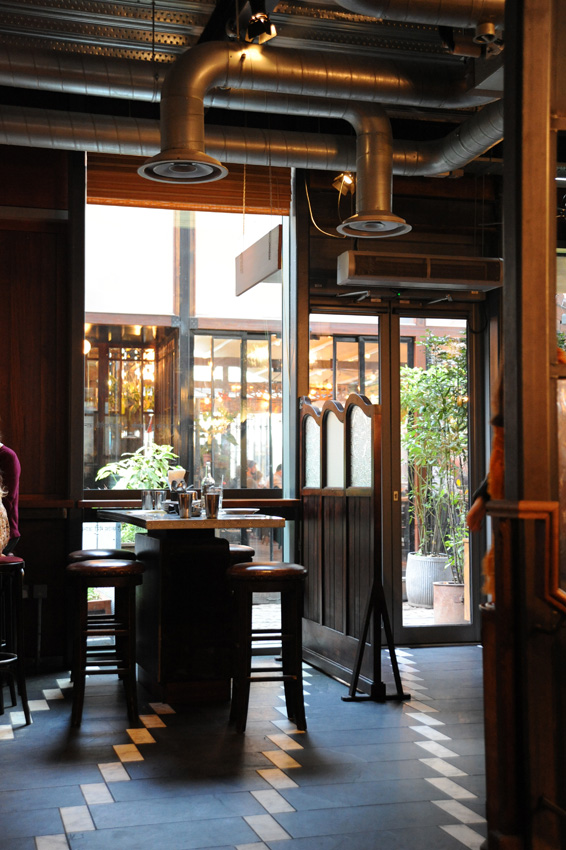 So, we went to Dishoom in Shoreditch, and why not? Described as a 'Bombay Cafe in London', promising faded elegance, bentwood chairs and sepia toned family portraits, there was no reason not to.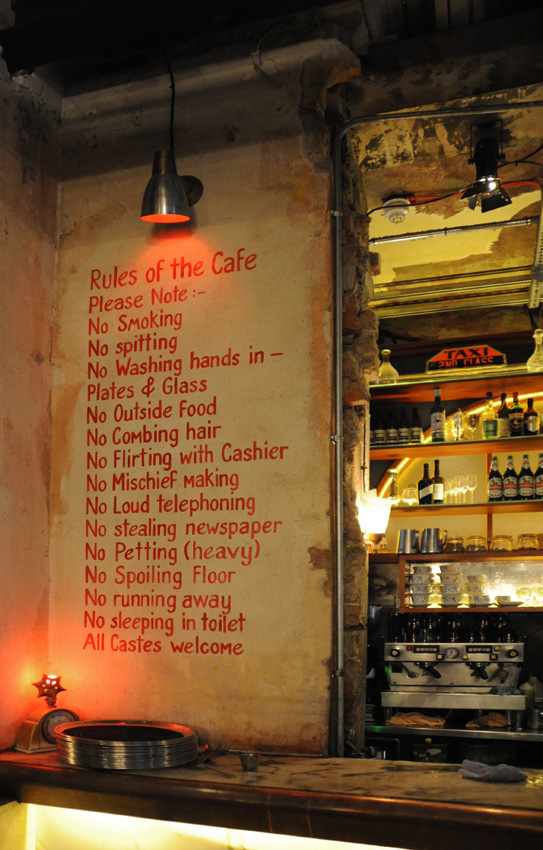 The menu was immense, there was so much to choose from and it all sounded amazing. We had to make a decision, and I could only do that by telling myself that I'll be able to go back another time for everything else!
We drank delicious Virgin Chaijito's  made with sweet-spice chai syrup, and muddled with fresh mint, coriander, ginger and lime. I asked for more mint, less coriander. I love a minty drink. I love a gingery drink. I don't like coriander in anything, unless it's for someone else.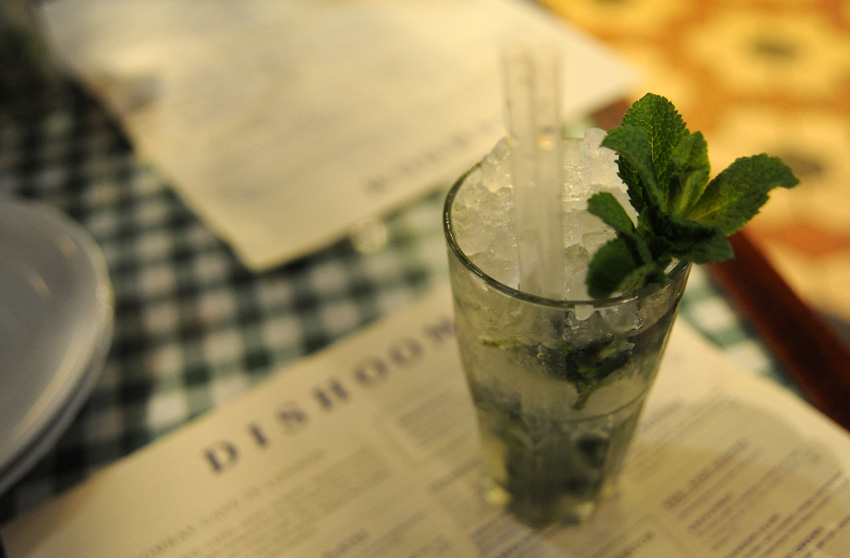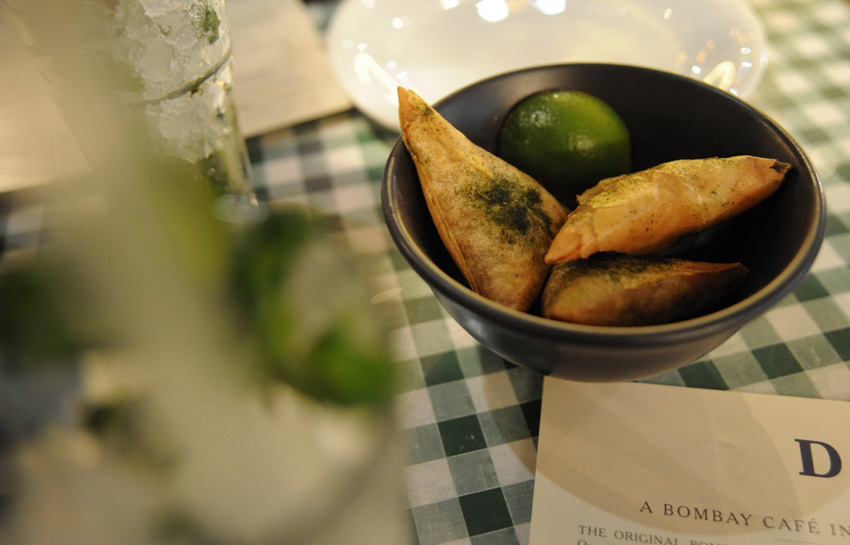 The Lamb Samosas were delicious, the best I've had.  Gujarati filo (not Punjabi shortcrust) stuffed with minced lamb, onions and spices, with a squeeze of lime they were perfect.
We followed them quickly with Pau Bhaji – A bowl of mashed vegetables with hot buttered pau buns. The menu said 'No food is more Bombay' – if this is true then get me to Mumbai right away, because this was a perfect dish, comforting and wholesome. The soft little bouncy buns are made fresh on site. (So soft – someone should start making beds out of them!)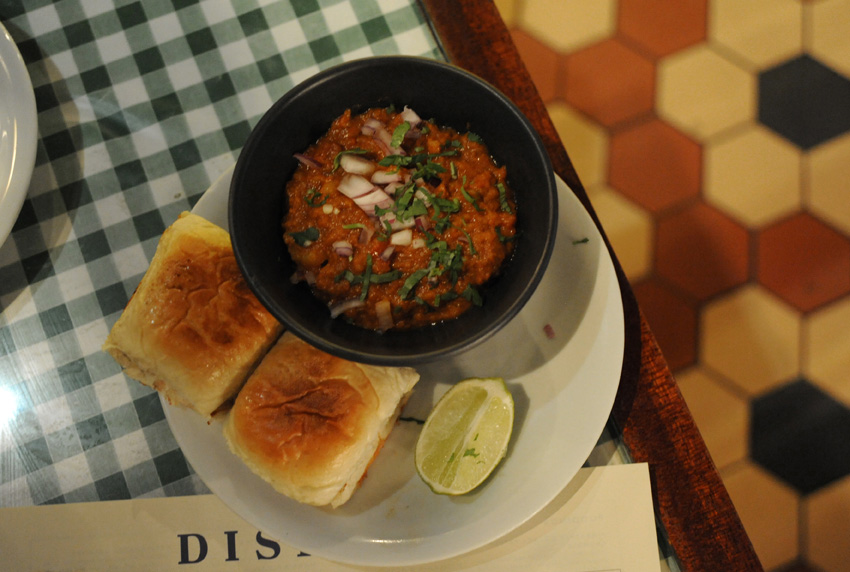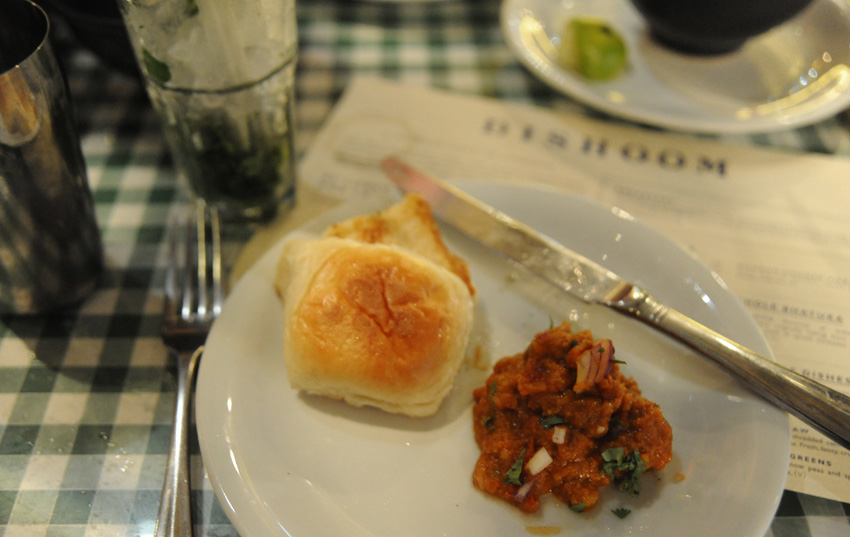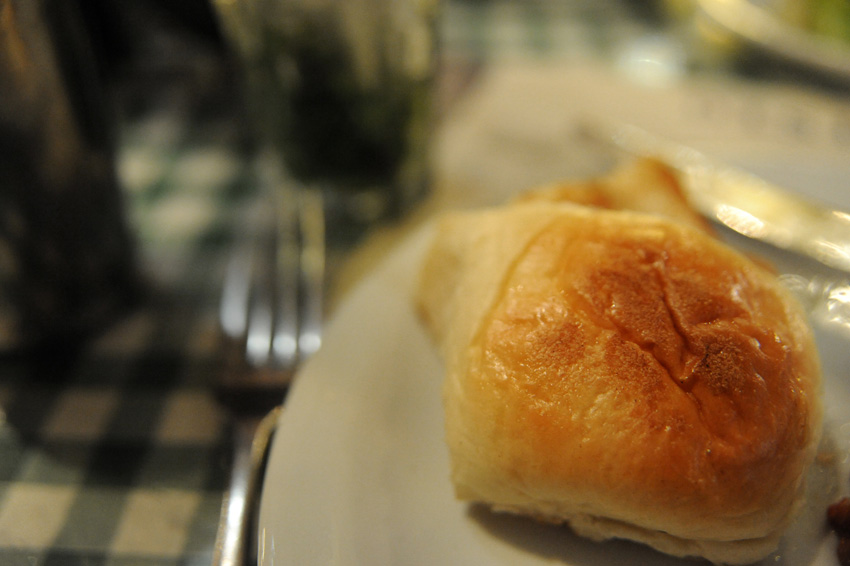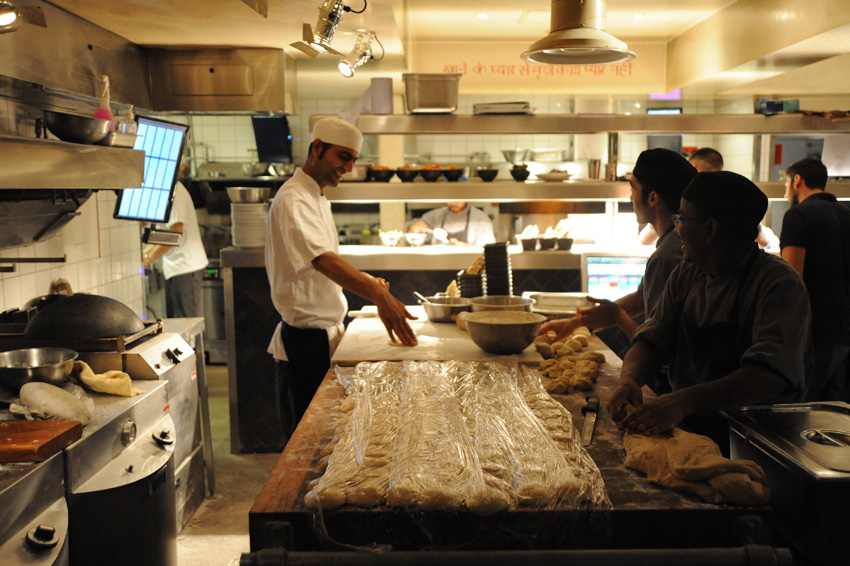 We ate smoky-grilled Gunpowder Potatoes tossed with butter, crushed aromatic seeds and green herbs, with Dishoom Slaw sprinkled with pomegranate seeds, and the Dishoom signature dish of House Black Daal which is simmered over 24 hours making it very soft, and creamy. The Daal was flavoured almost like condensed milk, it's apparently made with double cream and butter too.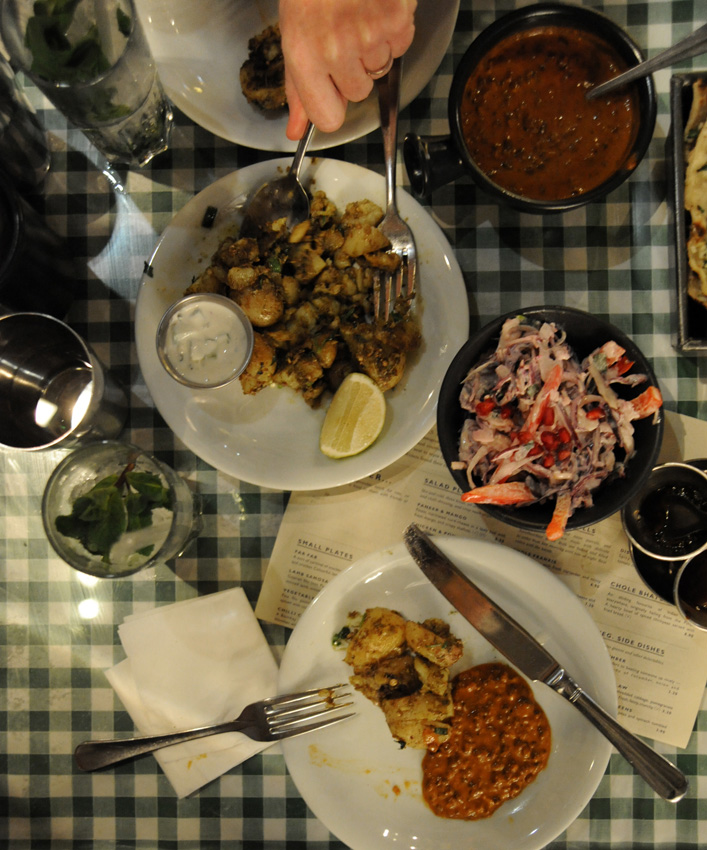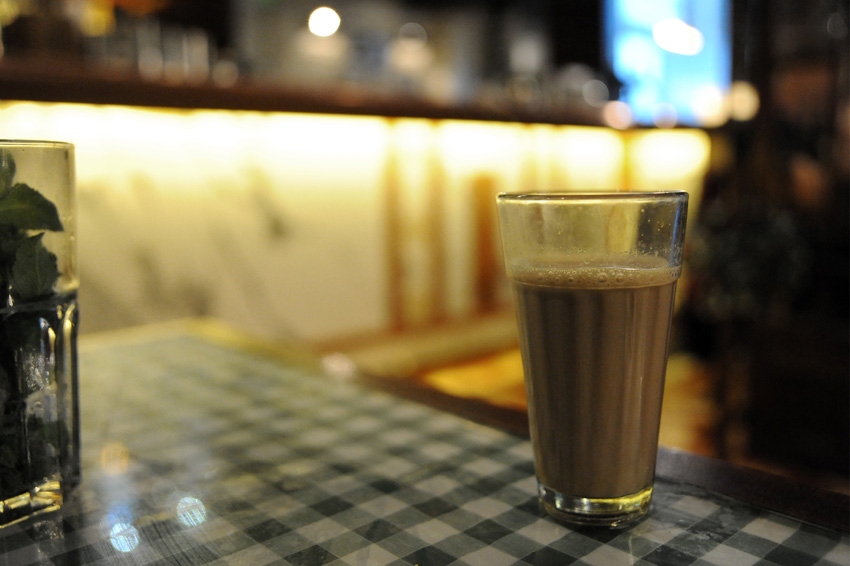 I would have happily had a pudding, but there was no rice pudding on the menu and there was no room in any part of my body or handbag for more food, so we finished with a glass of hot House Chai. Proper chai. Lovely.
We walked out into the bitter cold air and misty drizzle, out of India, back into London. I was surprised. I'd been lost in a delightful world of spice and laughter and forgotten where I was!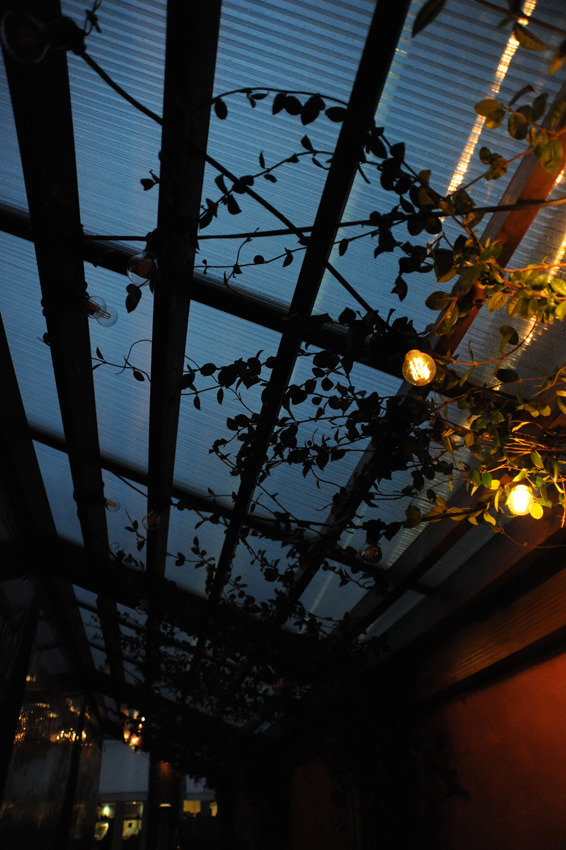 Ideally I'd like to be jetting off to Mumbai, smelling the spiced air, trawling the markets, eating and drinking in the warm sun, but, whatever happens, at least when I get home, whatever the weather, I know I can be comforted by some Glorious hot soup!

You can find Dishoom at four locations across London, including the Shoreditch restaurant at 7 Boundary Street London E2 7JE.
This blog post is an entry into the Foodies100/GLORIOUS! soup #GloriousAdventures blogger challenge. You can join in too, here.