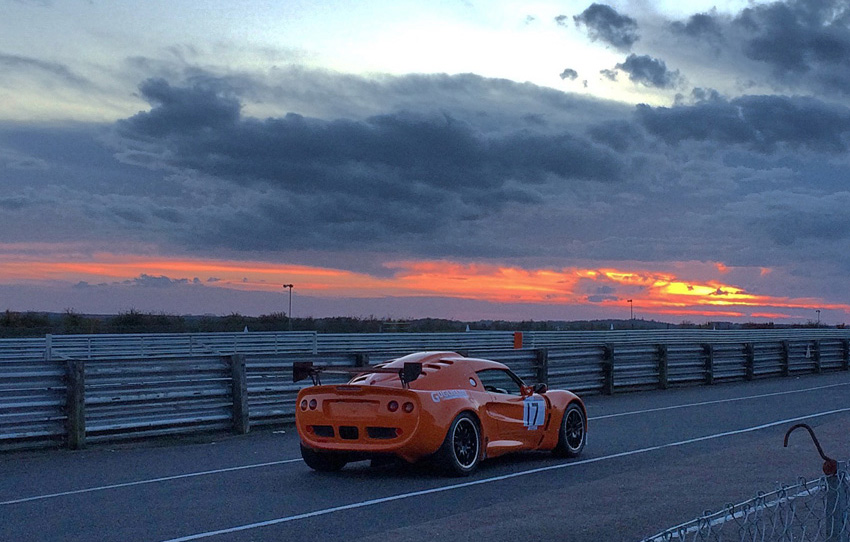 Garrrr! I have so much to say! That car, up there, that's John Taylor's car, I took that picture on Saturday at the Lotus Finals day at Snetterton. I don't use the word epic often, (and I've just read a Guardian article telling me that I should reserve it), but oh my goodness it was a good day!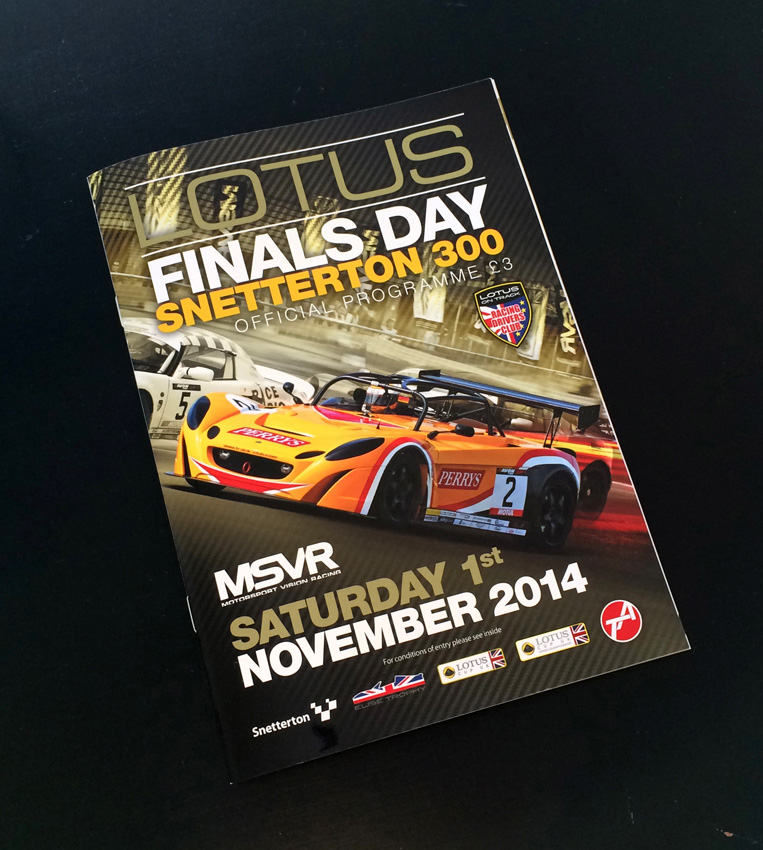 Alongside the Lotus Cup UK, Elise Trophy, Track Attack Autumn Trophy and awesome F1 demo, the good people at LoTRDC had arranged a special non-championship sprint.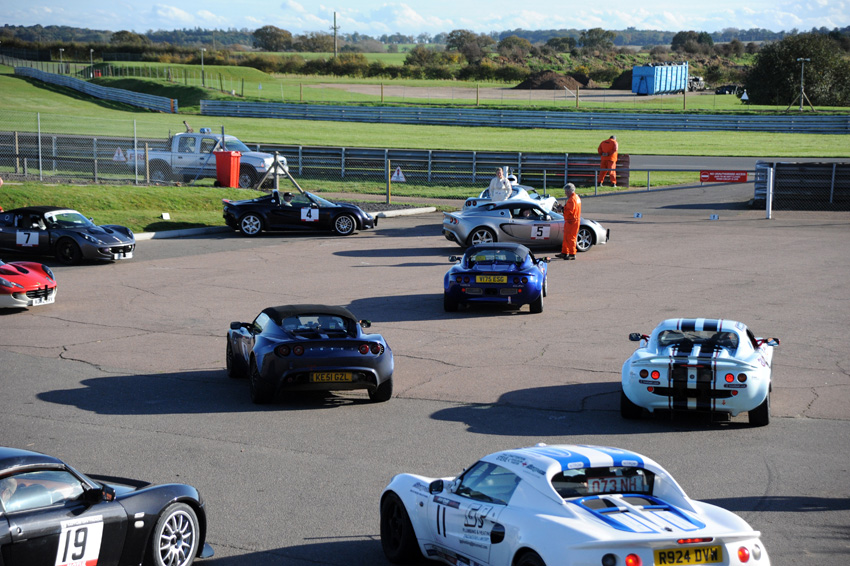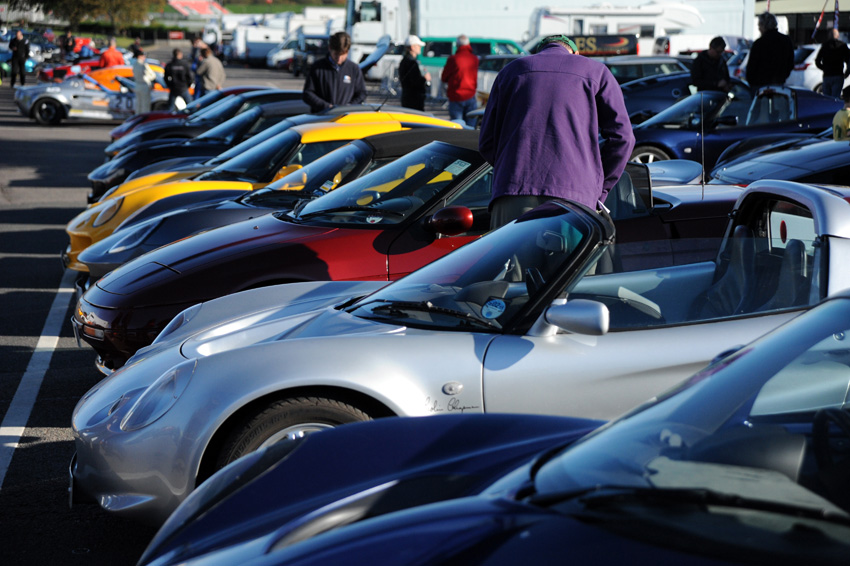 We had two practice laps in the morning and I was chuffed that with my first practice time of 150.7, I was already beating  my best time of 1.51.2 from earlier in the season. I do think I have improved a lot over the year, but also I have ES Motorsport to thank for doing the geometry on the car – it drove like a dream, or a new car, or a dream of a new car.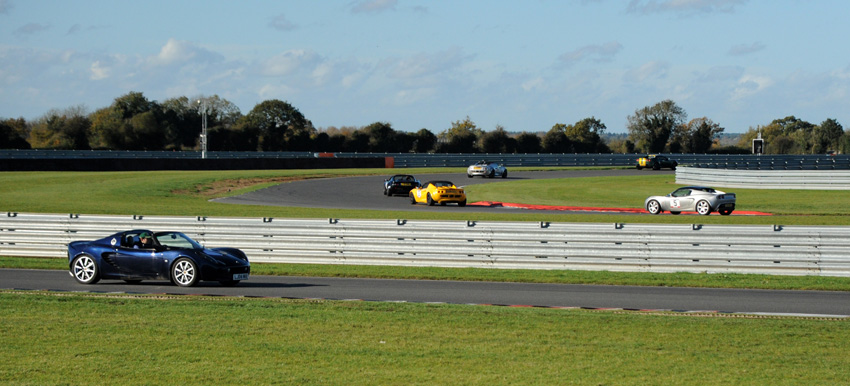 At lunchtime lots of other Lotuses turned up for a Parade Lap, and we all went out on the track to show some Lotus solidarity, or something. One chap was trying to show-off, just a lot, and he rather annoyed me. This may have been a good thing, a bit of rage. I was on a mission. I didn't have time to brake for corners!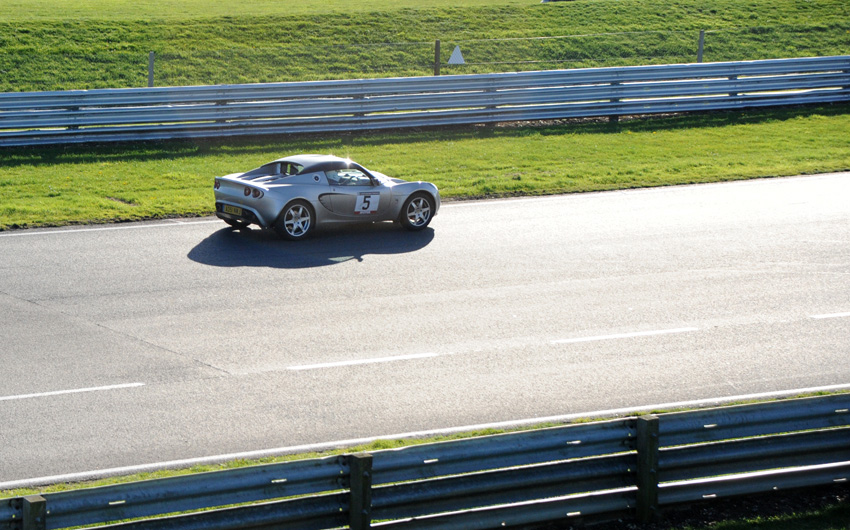 My first timed run was 1.48.7, then my second was 1.46.6 – at this point Adam was very excited, this put me in 9th position in my class, and ahead of other well-experienced drivers, drivers with more power than me! What?!!!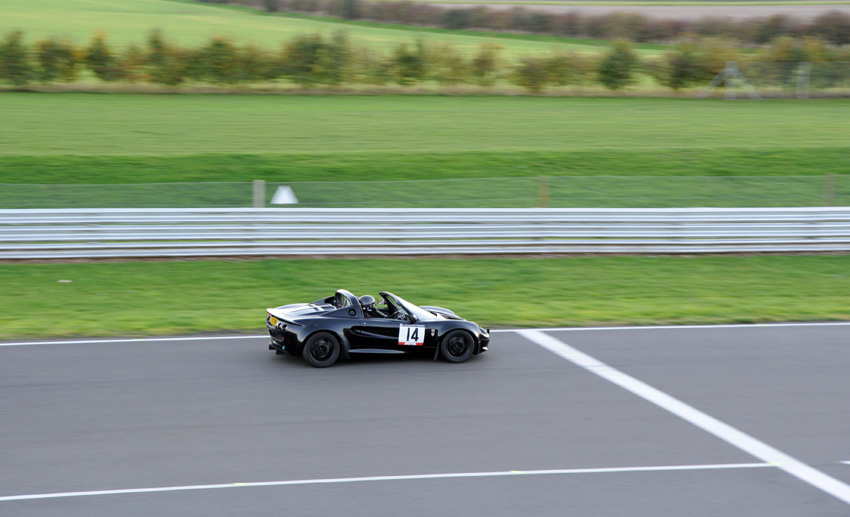 That lucky streak didn't continue, I lost the rage, (he left early). Gary tried to help me by saying he'd heard that he was on his way back with a bag of kittens and he was going to throw them off the bridge, but without a visual to focus on, the rage dispersed.  My third run was 1.46.7. Still for me, and my car, that's chuffin' marvellous.
At the end of all that I came 11th out of 14 in my Class, and 18th overall. At the top of the table was Stephen Morrison in Class 1, and Simon Oakley in Class 2 (that's Simon down there, in his 2-Eleven).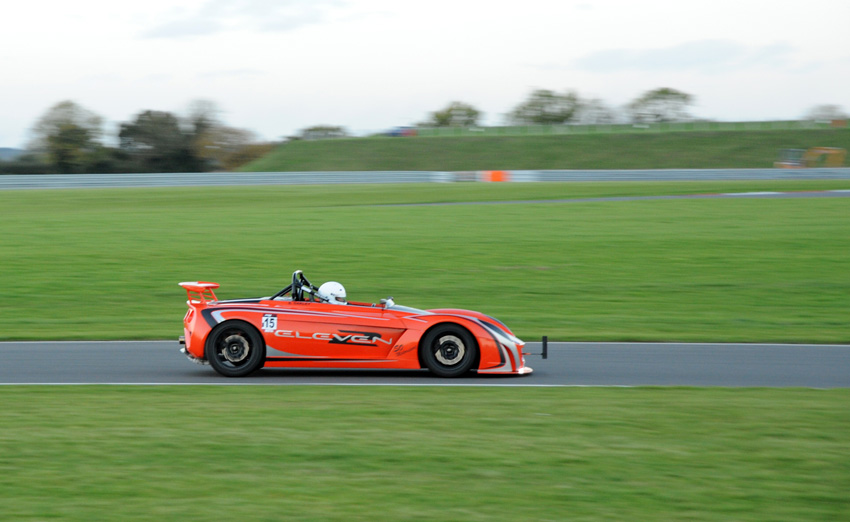 My ears are still ringing from the Formula 1 car demonstration. The sound was phenomenal. We stood at the pit wall and watched. I wanted to take a photo but it was so fast and loud.  It's passing must have triggered my finger as I scrunched up and double braced myself (like a tortoise, you know) because I did manage to capture this glorious blur.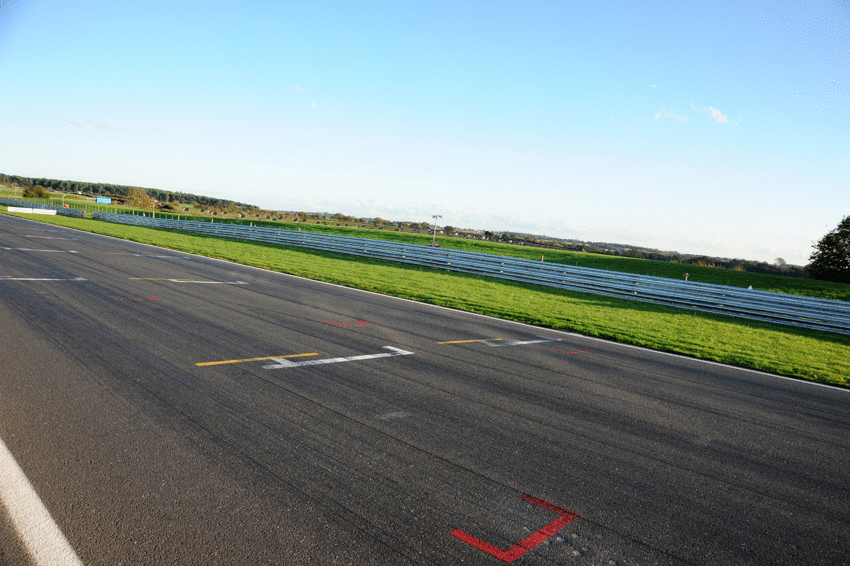 At trophy time I was there to represent Dave Mann and collect his massive cup for winning the SuperSport Class of the Lotus Cup UK Speed Championship 2014, from Rupert Manwaring, the Director of Motorsport at Lotus. At first I didn't realise what was going on, I was a little delayed in going up to get the trophy, so to show willing, for some reason unknown to any sane person, I started running on the spot. Then when I got to the podium I couldn't work out how to get up there, so I just kept lifting my leg up like a weirdo until someone (everyone) pointed out the steps! I hadn't seen the steps. Adam said I should have spotted other people going up the steps, but I was too busy clapping and smiling so much my eyes were closed.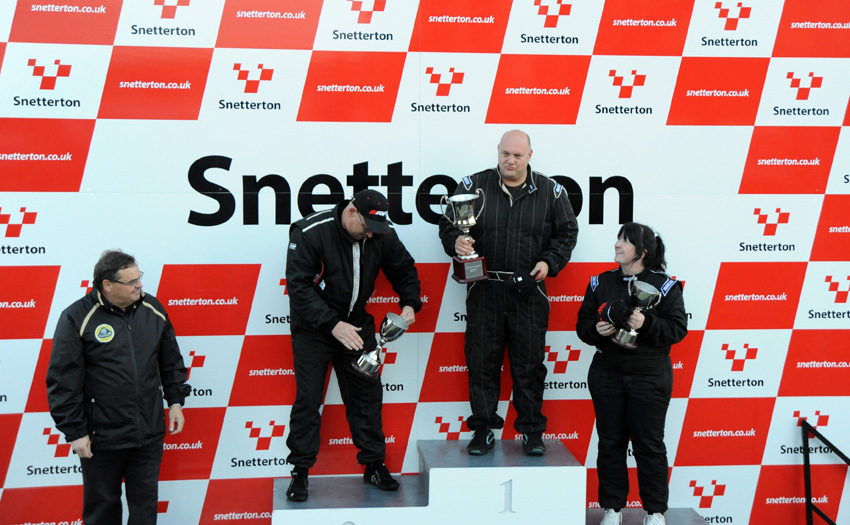 When I look at the photos it looks like Rob was definitely doing the robot dance. I would have joined in, if I'd have known at the time.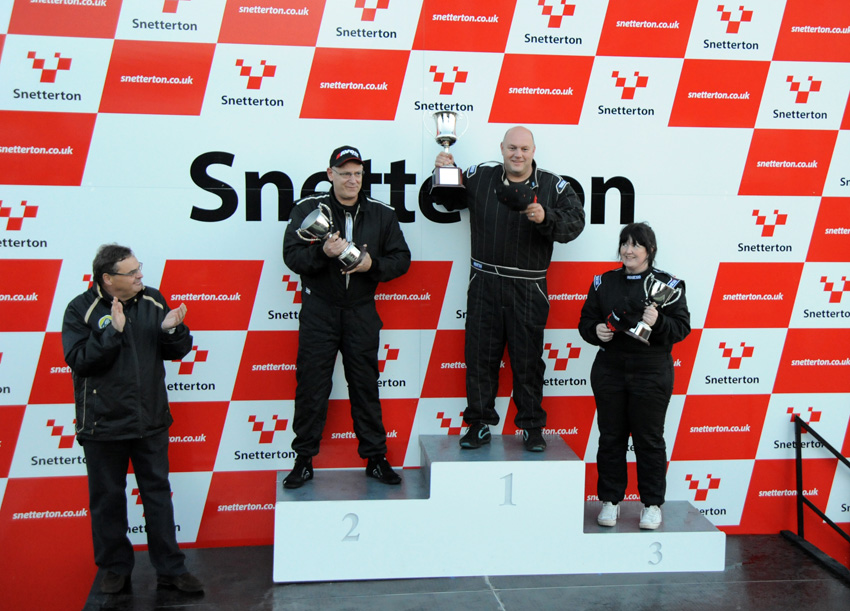 That's Rupert Manwaring from Lotus, on the left, then our Rob with his trophy for 2nd place in the Lotus Cup UK Speed Championship, and Xavier Brooke, the winner (or King, as this article suggests!) And there's me, feeling like an impostor, speaking in my deepest man voice, and wishing I'd printed off a photo of Dave's face to wear as a mask.
I didn't put Dave Mann's hat on, as a mark of respect to him… oh, no, I lied!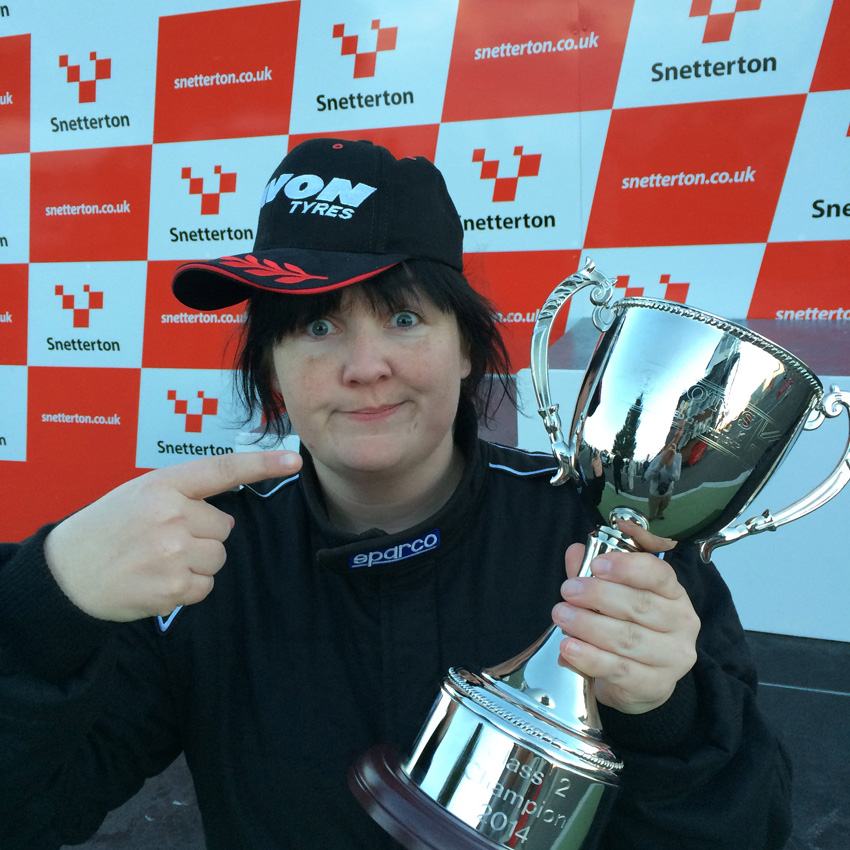 After this Rob gave me a hat, my own hat! Of course, I won't be able to wear it (just balance it) on my over-sized head, but I am very pleased to have it. It's a nice memento of a wonderful day and a great season. It's a reminder of the friendships we've formed and the fun we've had.
This was truly an epic day! Seriously. I even got a mention in the programme, in the same sentence as Rob, so now I am going to pretend we are team mates and ride off his glory ha ha!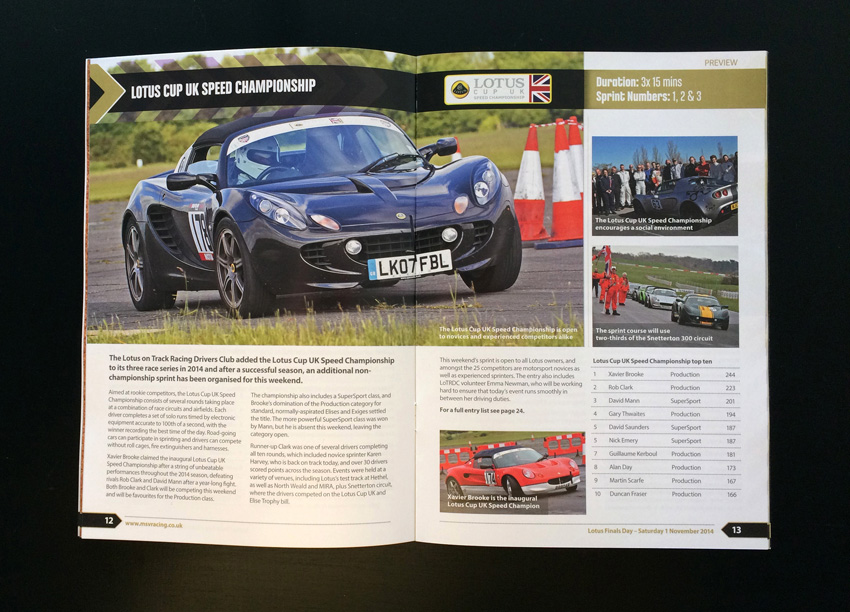 The day was an excellent send-off for Paul Golding, expert speech heckler, comedy insult provider, and foremost, the guv'ner of LoTRDC who, having done a cracking job building the Lotus Cup and Elise Trophy here in the UK, is passing on the baton to Track Club and speeding off to concentrate on Lotus Cup Europe. (He's keeping his mitts on the Speed Championships and Track Days though, which pleases me very much!)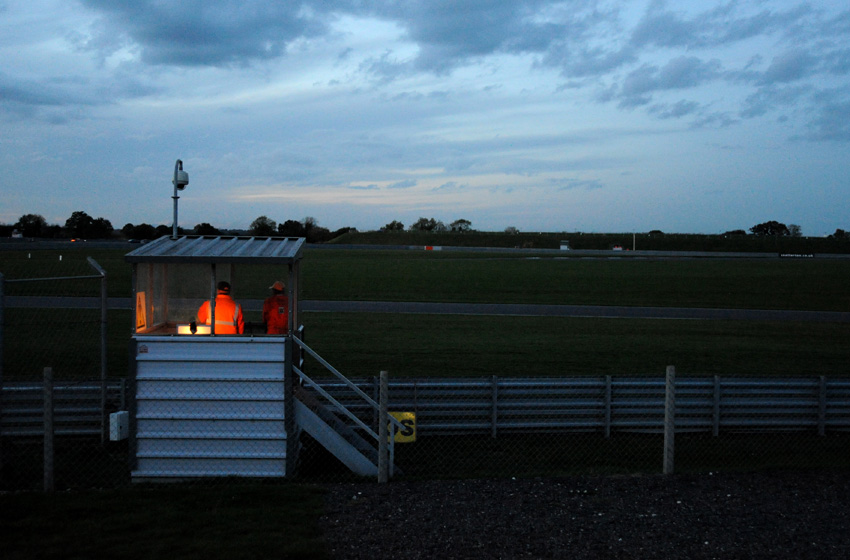 The last race of the day, the final of the 2014 Lotus Cup UK, was a two hour test of endurance. As the sun went down and the moon appeared, the cars raced into the darkness.
It was an exciting end to a terrific day. Without wanting to bang on about it, again, I know that I am really very lucky – partly because I get to take part in something that I find so awesomely enjoyable, but mostly because of all of the wonderful people I have met, fed cakes to and made friends with, this year.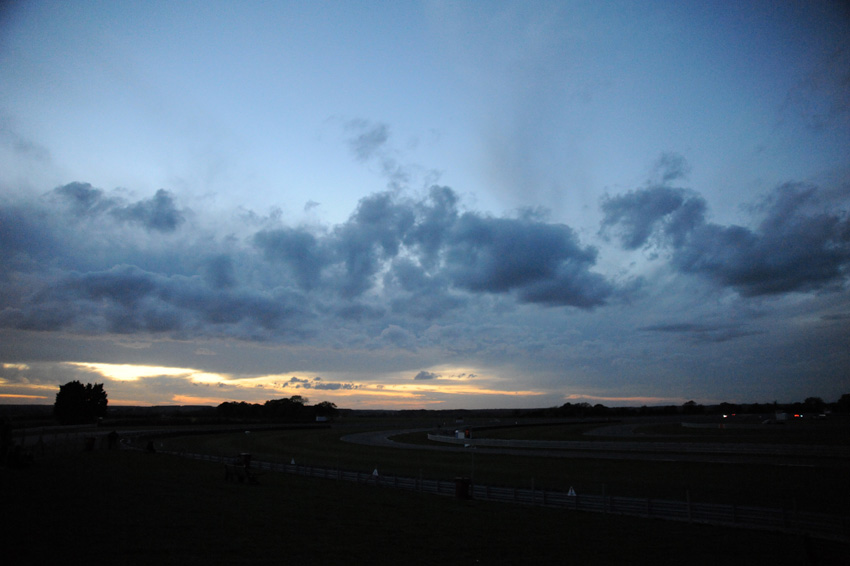 So, at the end of an excellent season, here are my results:
9th (of 19) in the Production Class and overall 14th (of 24) Lotus Cup UK Speed Championship
13th (of 22) in the SELOC Trophy
and 4th place in the Duckham's Trophy – Sprint, BWRDC (British Women Racing Drivers Club). I beat other women – does that make me a woman beater?

Toot toot!