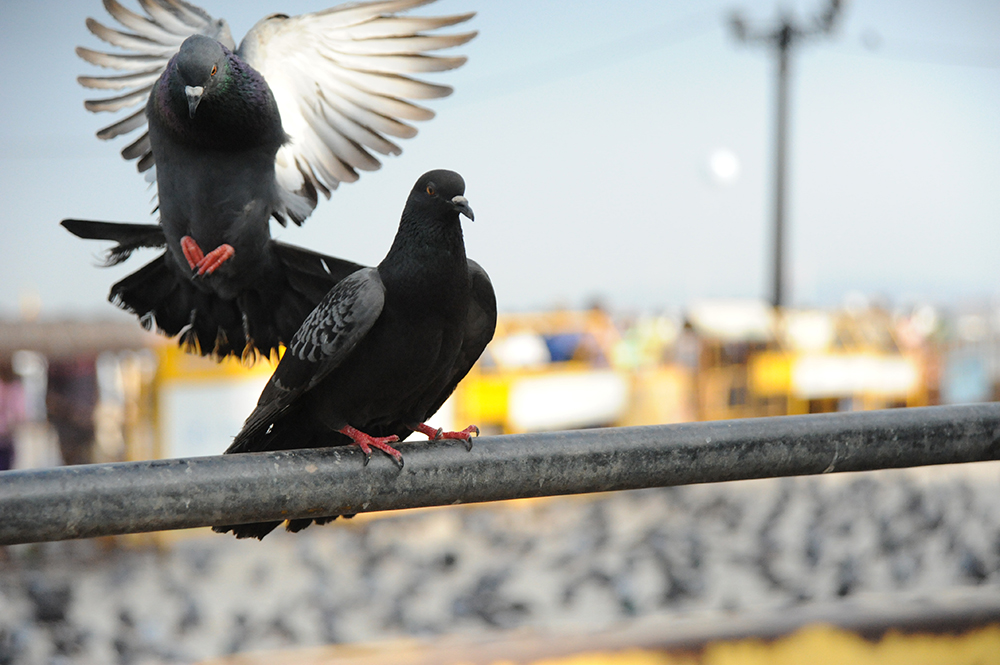 We headed over to Churchgate Station, stepping over sleeping cats and dogs sprawled across the pavements. A few green parakeets flew over, and nice black crows watched on from railings.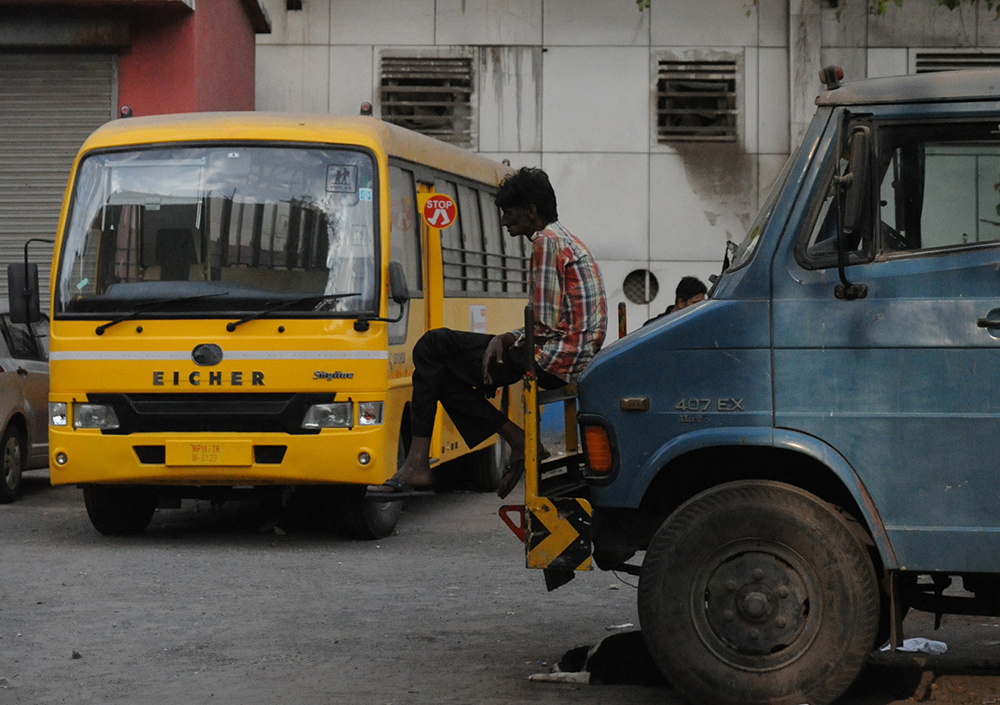 We met at Wheelers book store, under the shelf where the pigeon parents were feeding their oversized pigeon baby.
There were five of us, and our guide, Raj. We recognised him as he'd emailed a photo of himself to Adam already.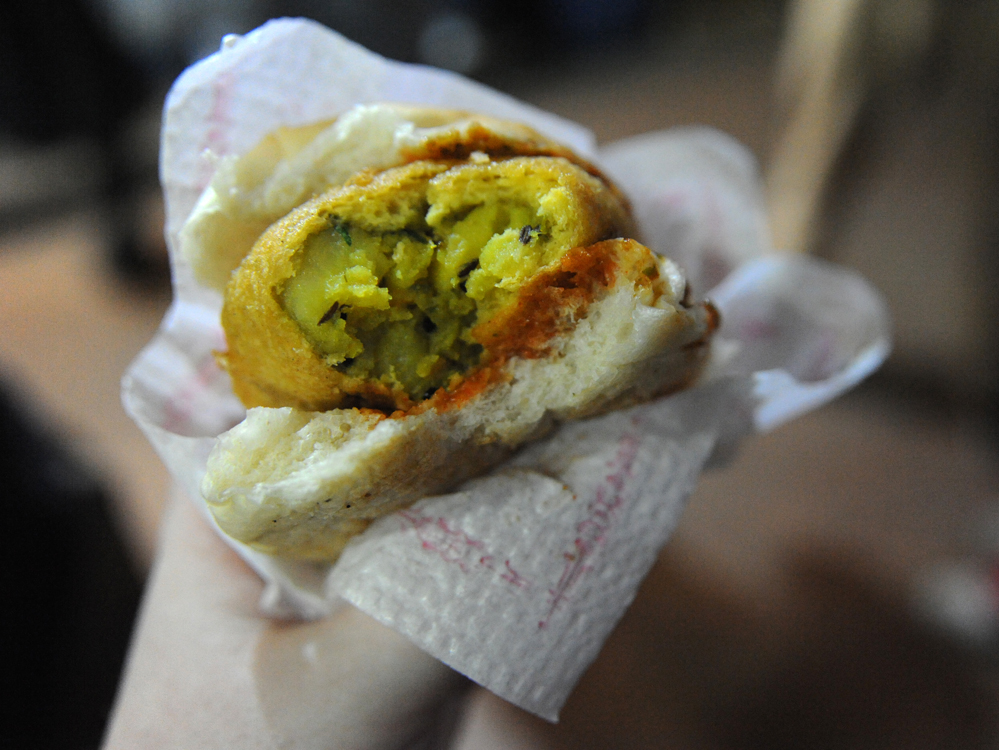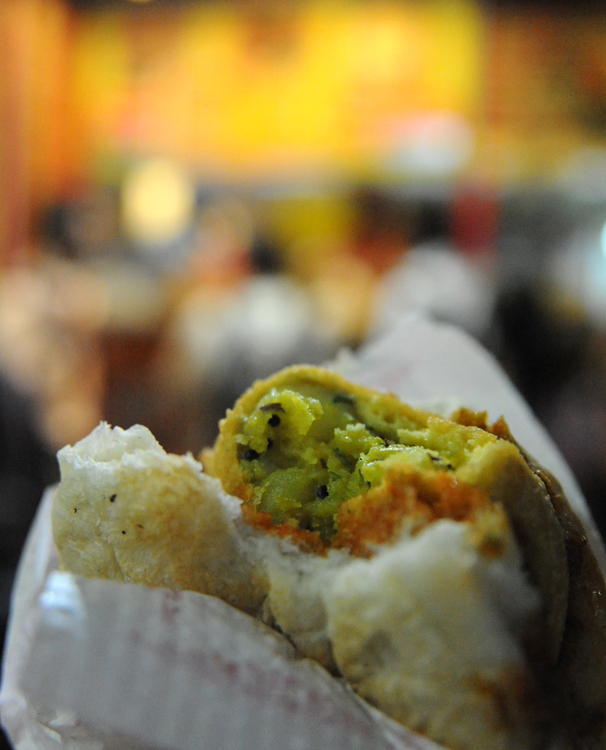 Our first stop, within the station, was Subkuchh for a Vada Pav (Vada meaning ball and Pav, or Pau, bread). Now, just you wait for my marvellously explanative descriptions. It was a potato thing with chilli sauce in a soft bun, and I liked it.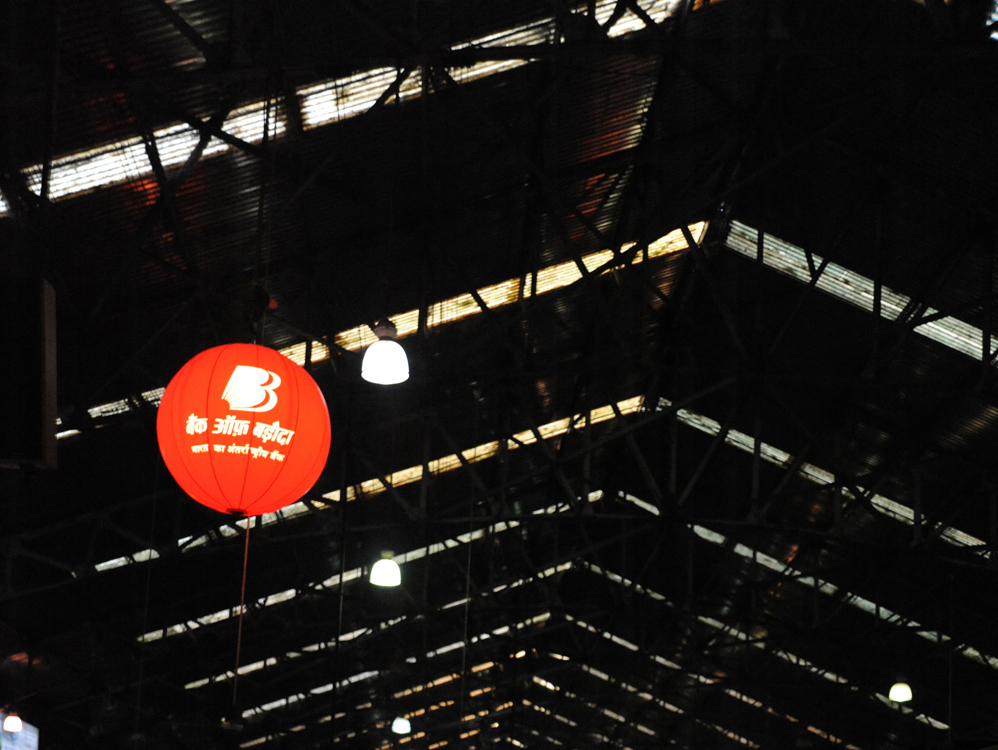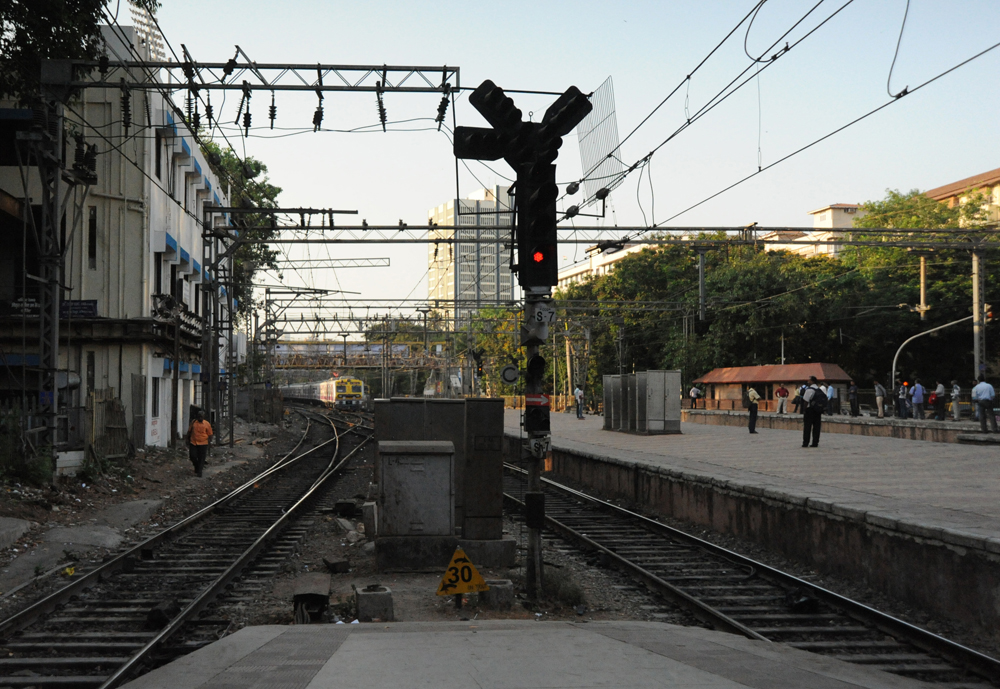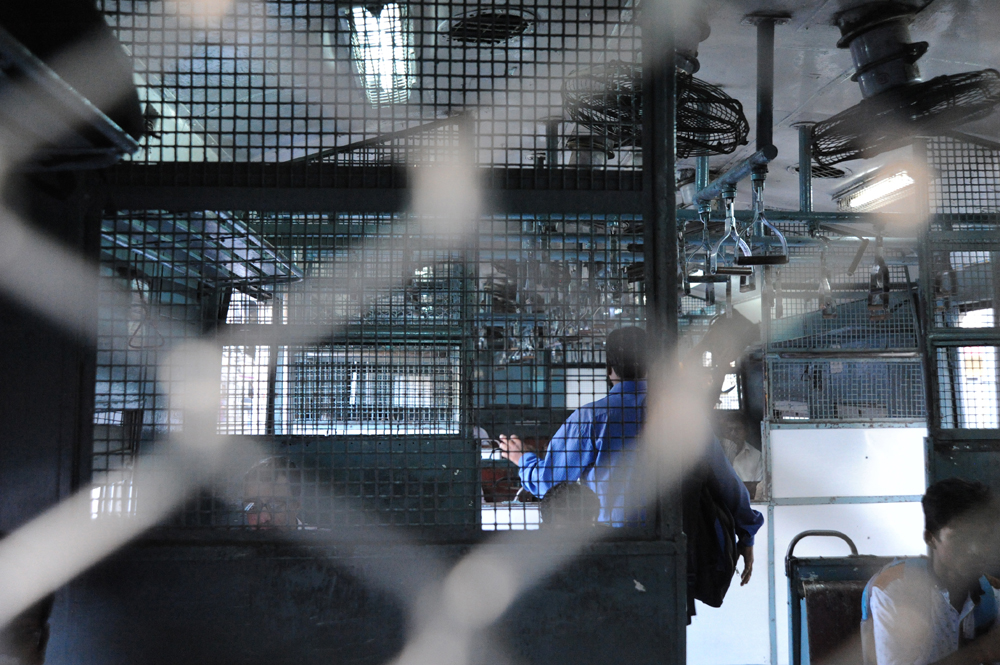 We hopped on the train to Chowpatty Beach. We were, apparently, travelling first class, I was told, the key teller being that there were fans on the ceiling. We stood near the doors and enjoyed the air and the views.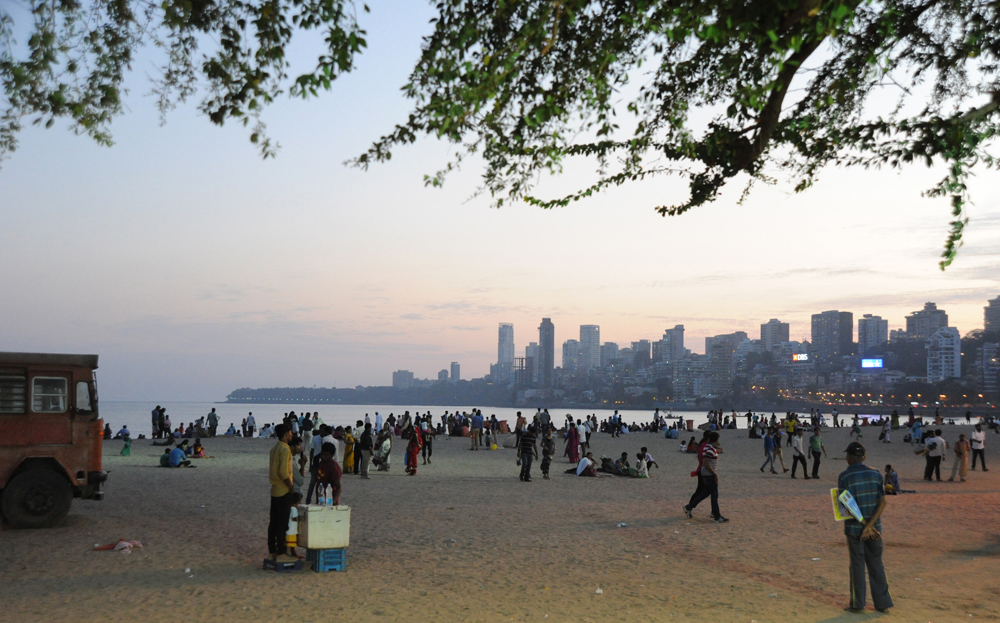 Arriving at Chowpatty Beach we marvelled at the clean fine sand and were reminded, 'No swimming!' Not everyone realises that the sparkling warm waters are also the recipient of the city's sewage outlets. It looked nice though.
Under the canopy of a tree, we signed our disclaimer form. There was no going back now!
Stop number two of the tour was Bhim Singh.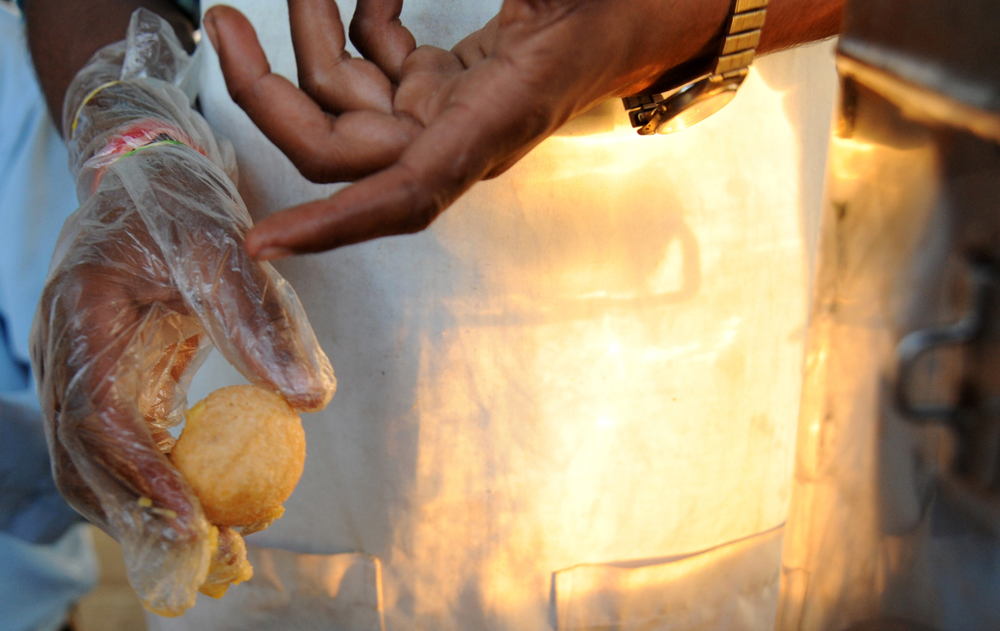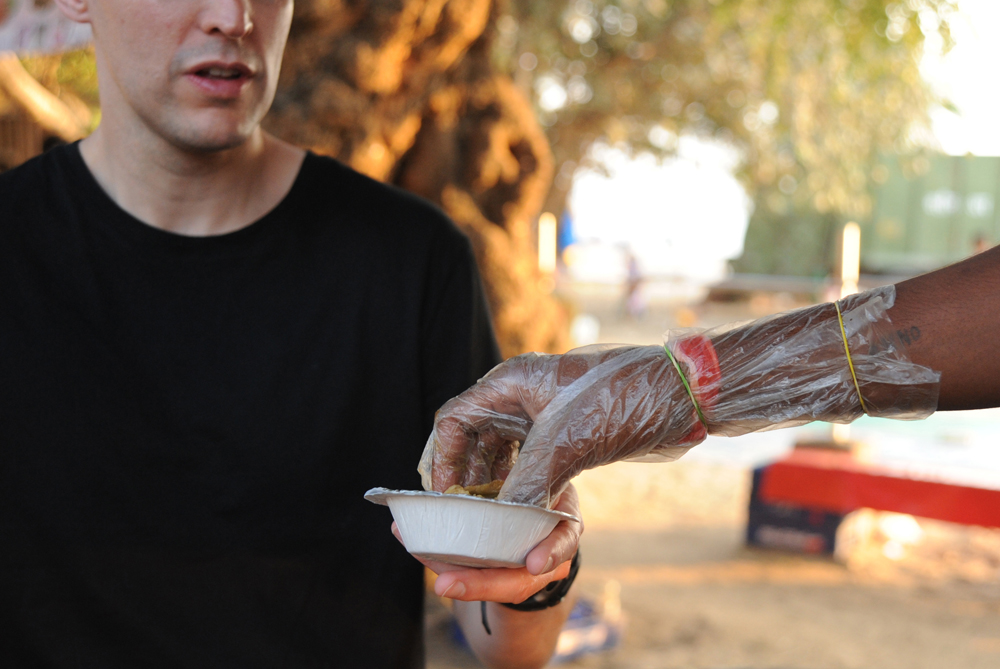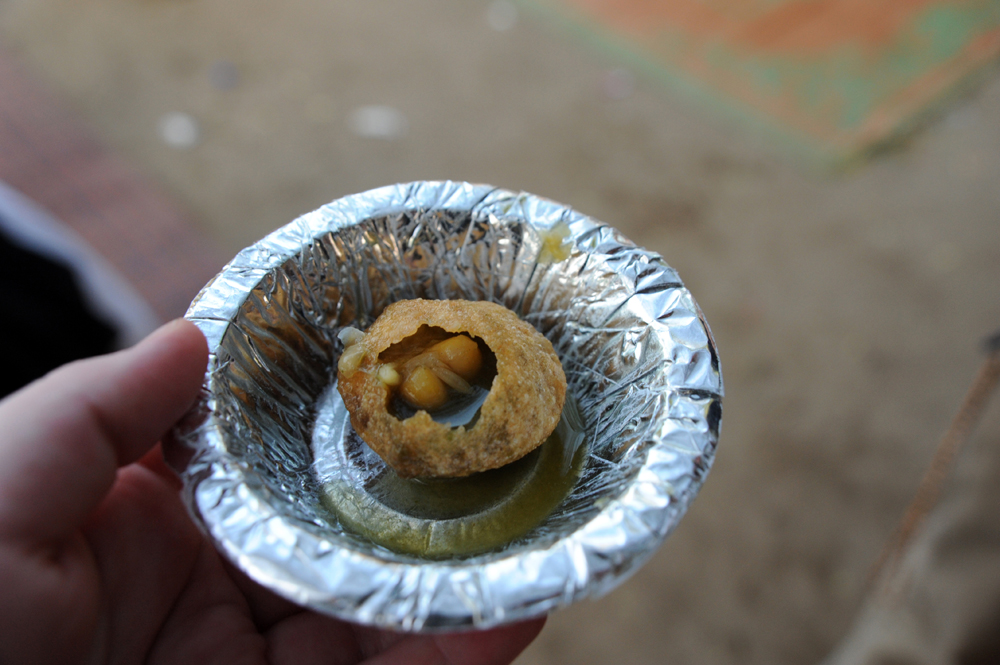 First we were fed a cold filtered Pani Puri. A small hollow ball made of corn flour with a hole broken in it, packed with chickpeas and two types of cold water – sweet water (date syrup and tamarind) and spicy water (chilli, mint leaf, coriander).
I probably could have coped if this was hot, but it wasn't. I'd already forgotten the tasty Vada Pav from the station and now had the fear that everything on the tour would make me gurn. The cold, almost sweet and sour mouthful was hard to swallow without a little gag, like eating some kind of plughole scrapings after the Sunday dinner washing up.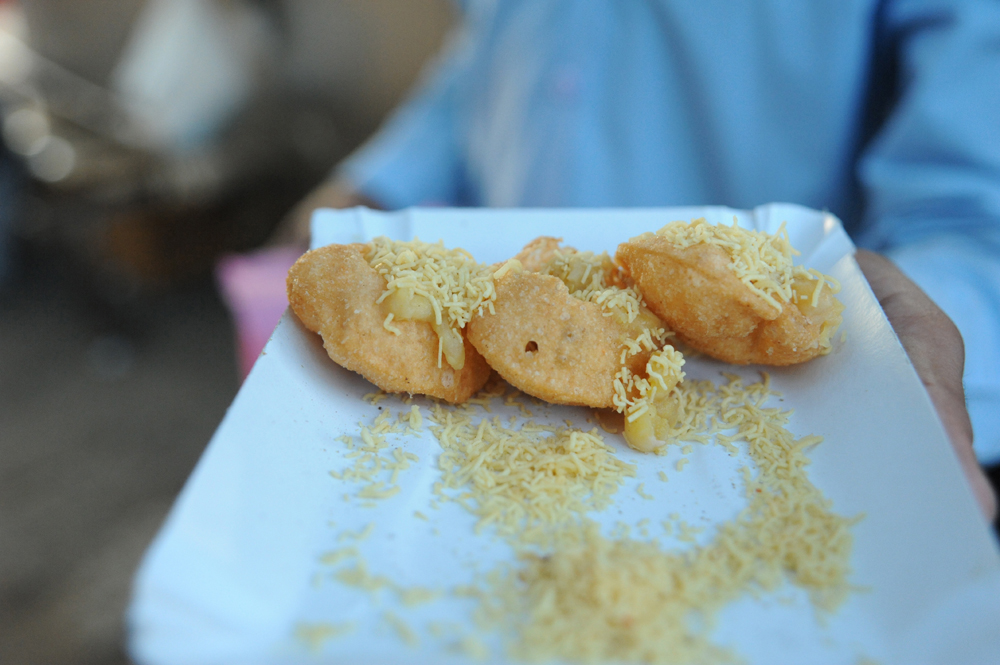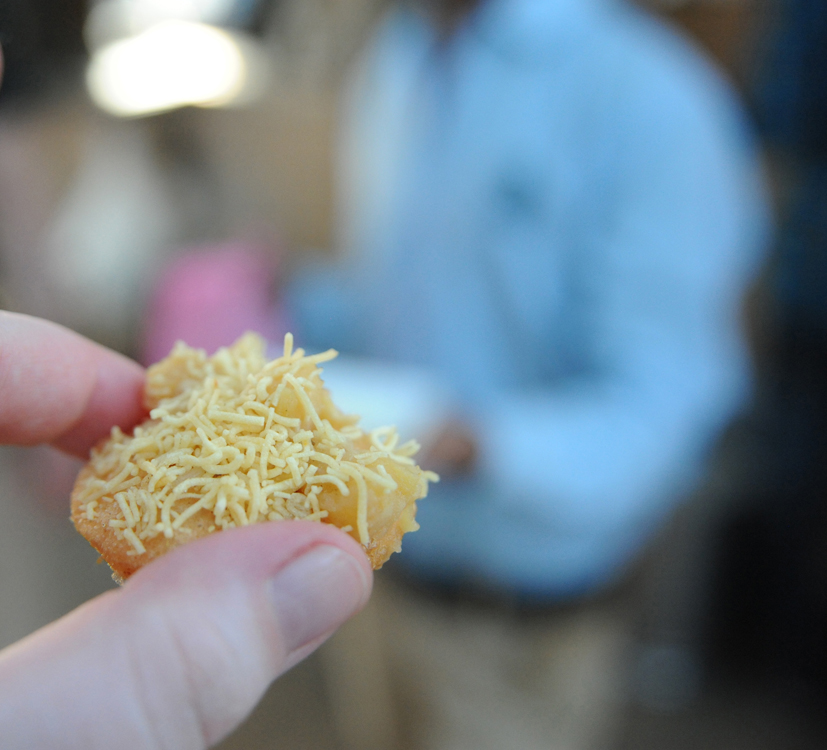 Next, we were given the 'complimentary gift' of a Sukha Puri. I did not gurn, all was well. This Puri was dry, no water (hooray!), savoury and tasty.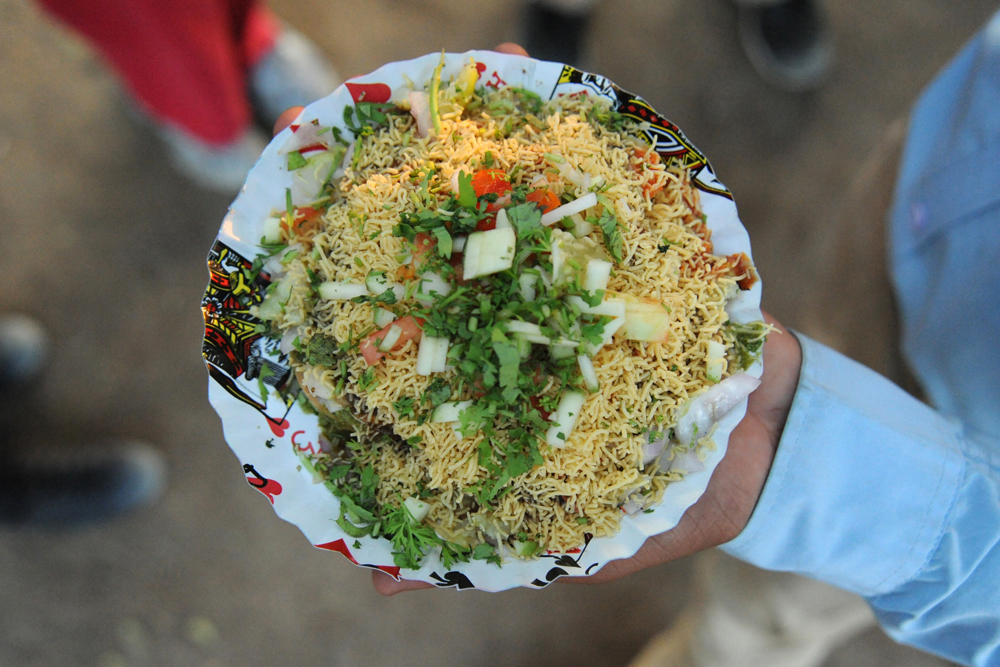 Things only got better, the Sev Puri with green mango, tomato, onion and coriander was really good (as was it's paper plate) and I could have quite easily eaten all of the Dahl Batat Puri with potato, mung bean and yoghurt.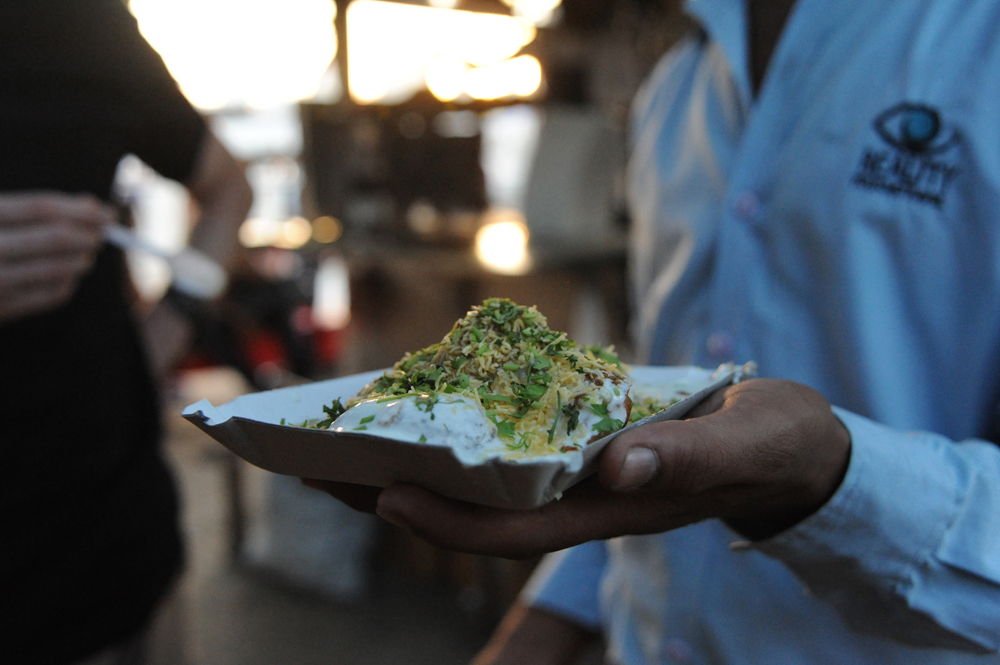 One of the lads came and talked to me, asked me what the words said in my notebook, practiced his English. 'Your name is?' 'Vijay' he said. My brother had a sponsored donkey in Devon called Little Vijay, I had to get Raj to translate, Vijay looked nonchalant, Raj gave me a high five!
We sat on a make-shift bench, whilst a mother cat washed and fed her kittens, and waited for the delicious Pau Bhaji to arrive from Sai Sagar Sharma. Soft, soft, buttered buns with the most flavourful vegetable curry – tomato, potato, onion and peas (!) smashed on a pan and cooked with spices.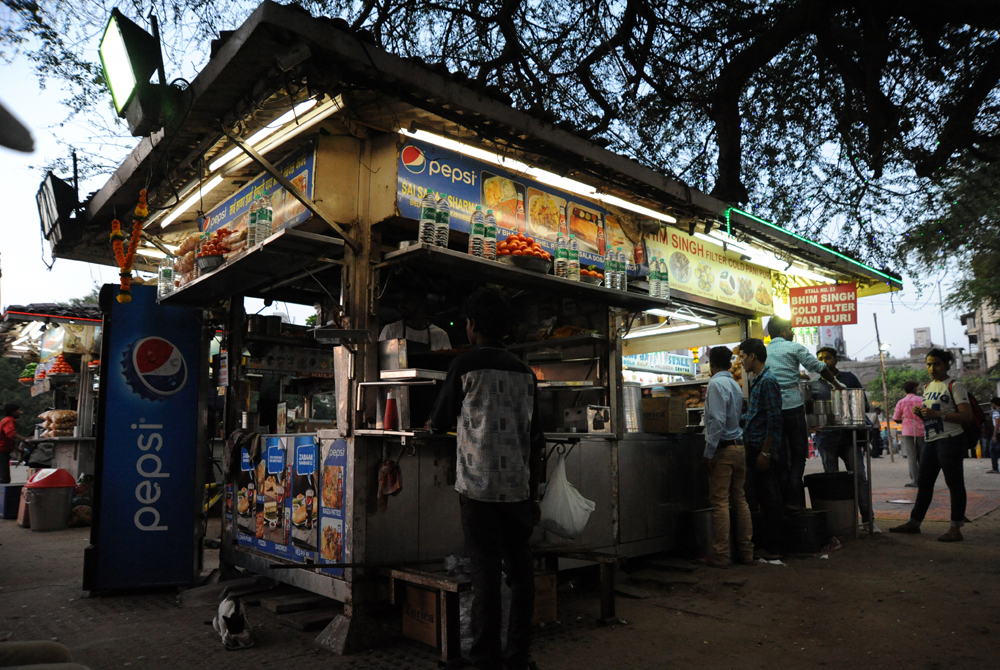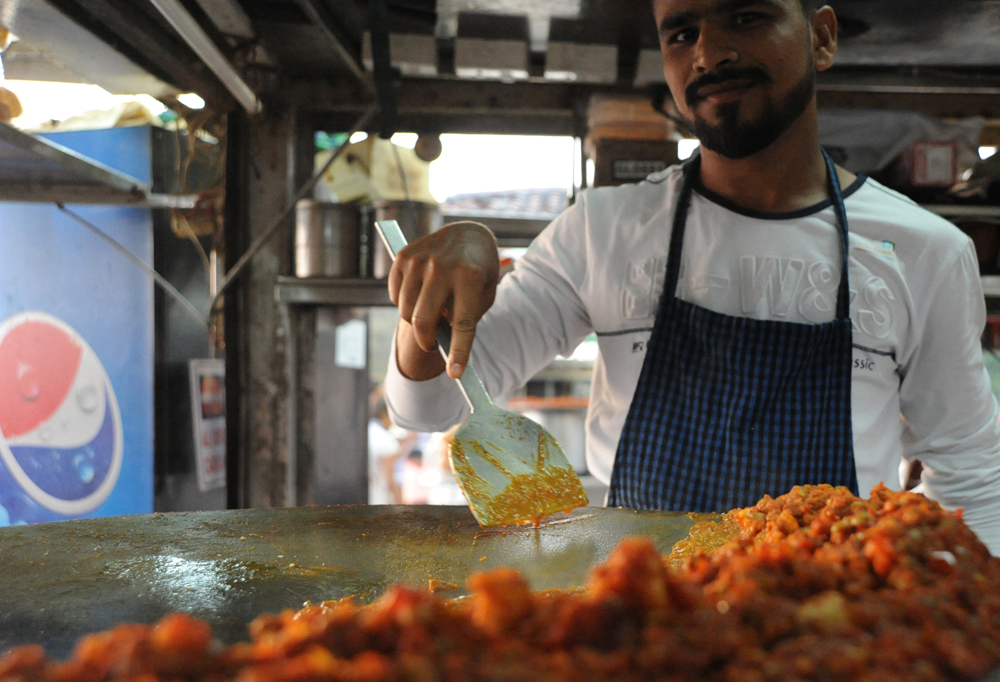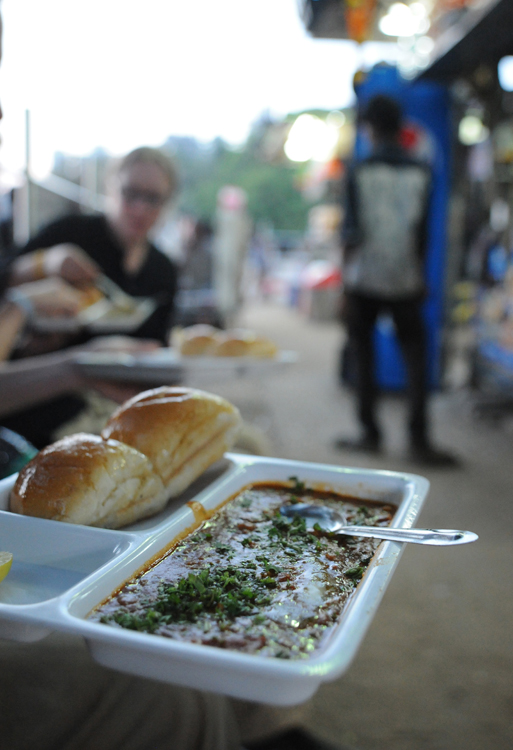 You know how sometimes flavours just hit you and take you back in time to another place, a partial flashback to a past memory? Well, sitting with my back to the sun, on the beach in Mumbai, I was reminded of London, of the restaurant Dishoom, the food I ate there, the Pau Bhaji – the thing that made me want to be rushed to Mumbai straight away, and most wonderfully, the absolute reason I was there! Full circle. Dots connected. Prophecy fulfilled.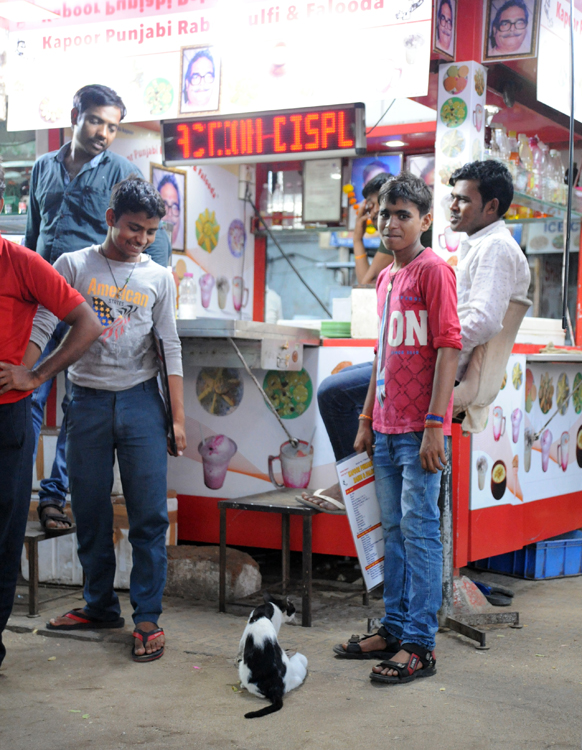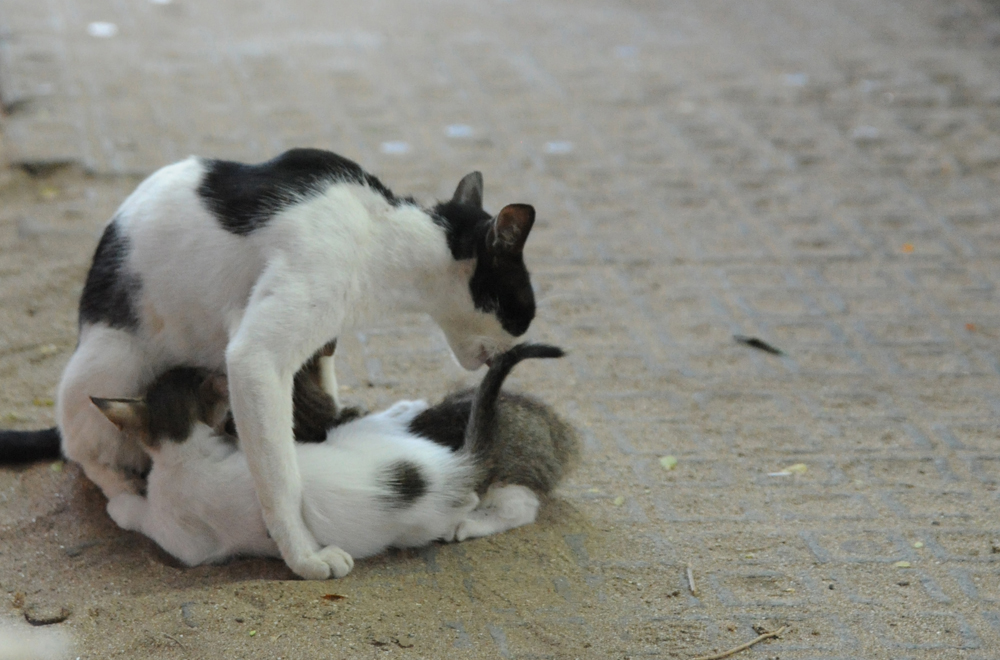 From our bench we were able to enjoy our next foodie treat, and when I say enjoy, I mean, I really did. I drew hearts in my notebook! Sweet, cold, creamy, perfectly textured Kulfi from Kapoor Punjabi Rabdi Kulfi and Falooda. I tried all the flavours – mango, pistachio, raspberry, orange, and Malai (milk) and I loved them all.
The Falooda, vermicelli noodles in rose water and milk, wasn't as favoured, but it was still good. I like puddings.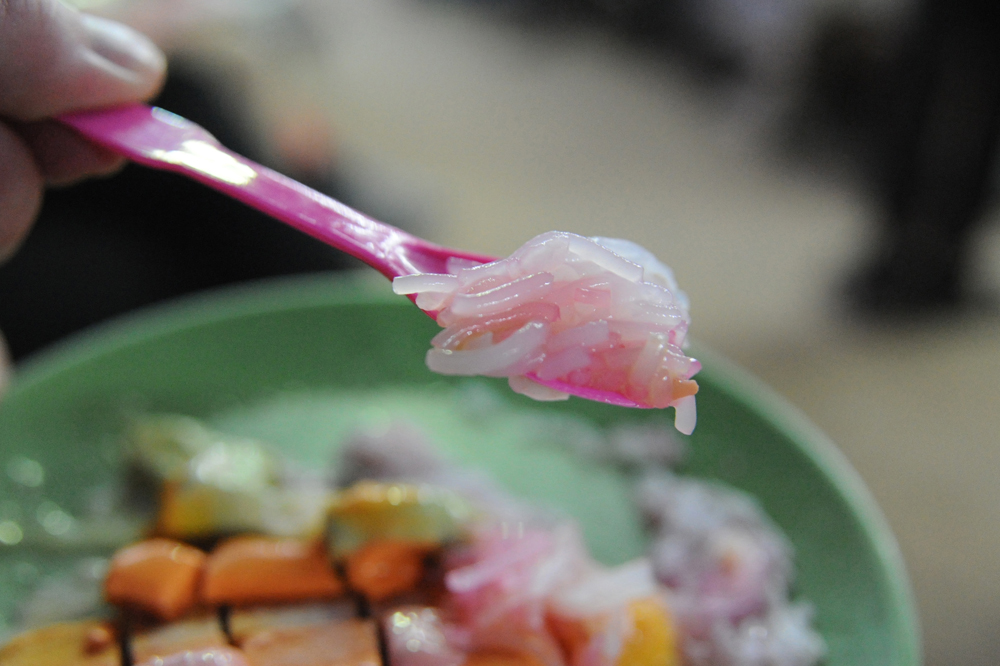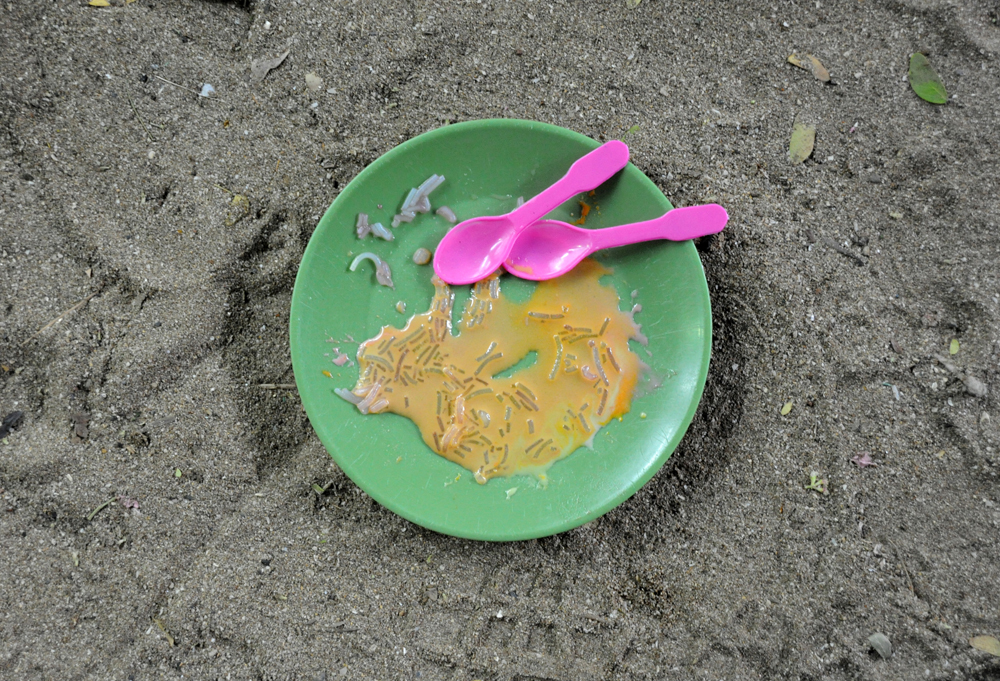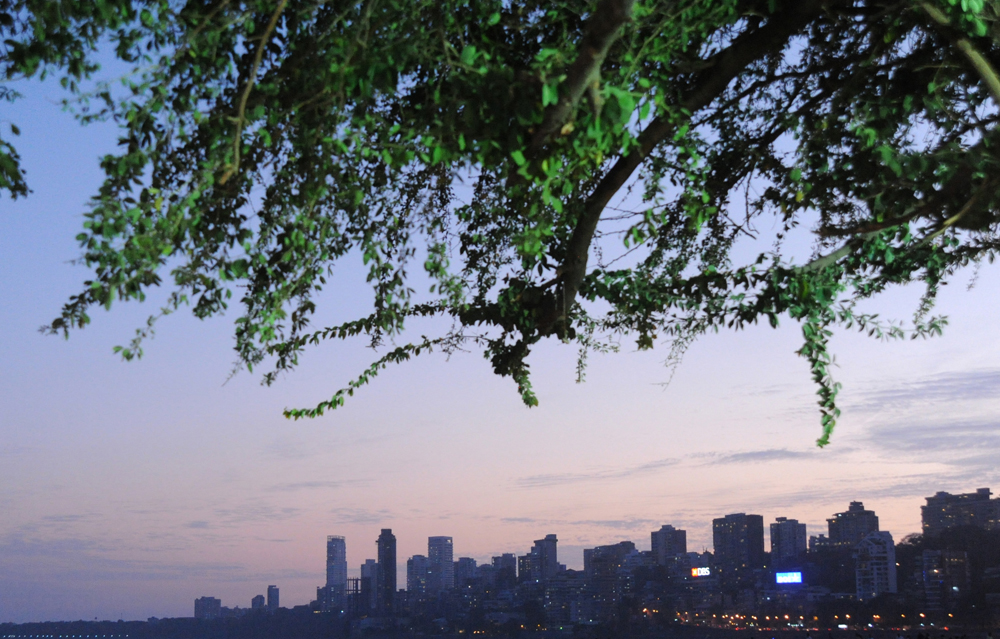 We stood, from our seat, full of food and in wonder of what might be next. Across the busy road of Marine Drive, we waited for a bus. Raj told Adam that in India his hat, a flat cap, was called a Romeo cap, he used to wear one himself.
Our bus ride took us to Kumbharwada, through busy streets with so much to see. At first the bus was so full that we weren't sure we'd all make it, Adam, as last one on, had to hang out of the door, holding on hopefully with one clammy hand. (It reminded me of the time in Delhi, where my brother insisted the four of us could fit in the tiny rickshaw, and we kind of did, apart from Adam had to sit with him bum out the window and it got dragged down the side of a bus!)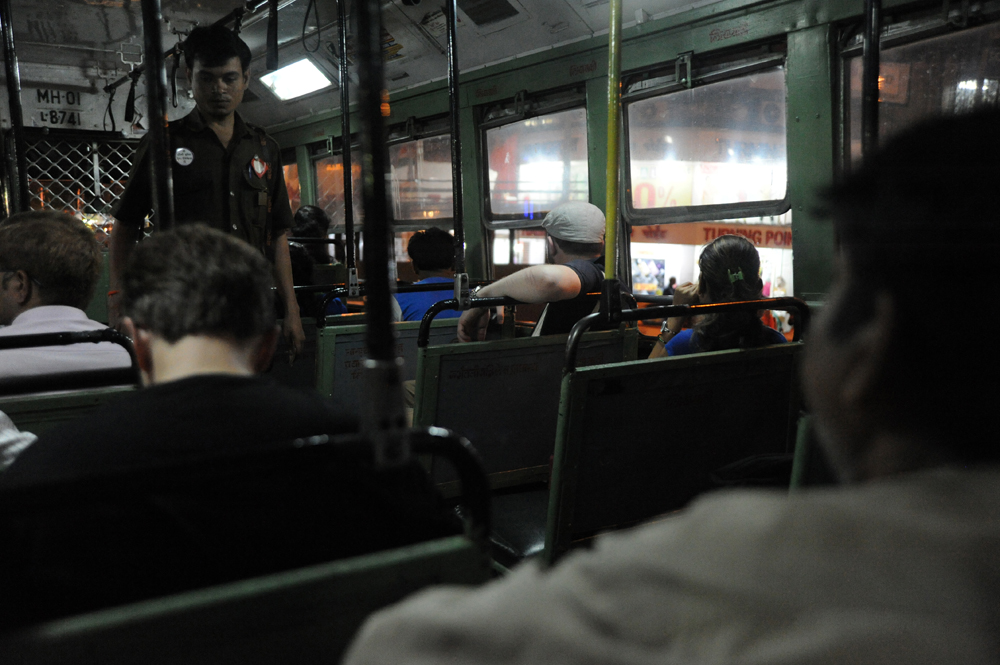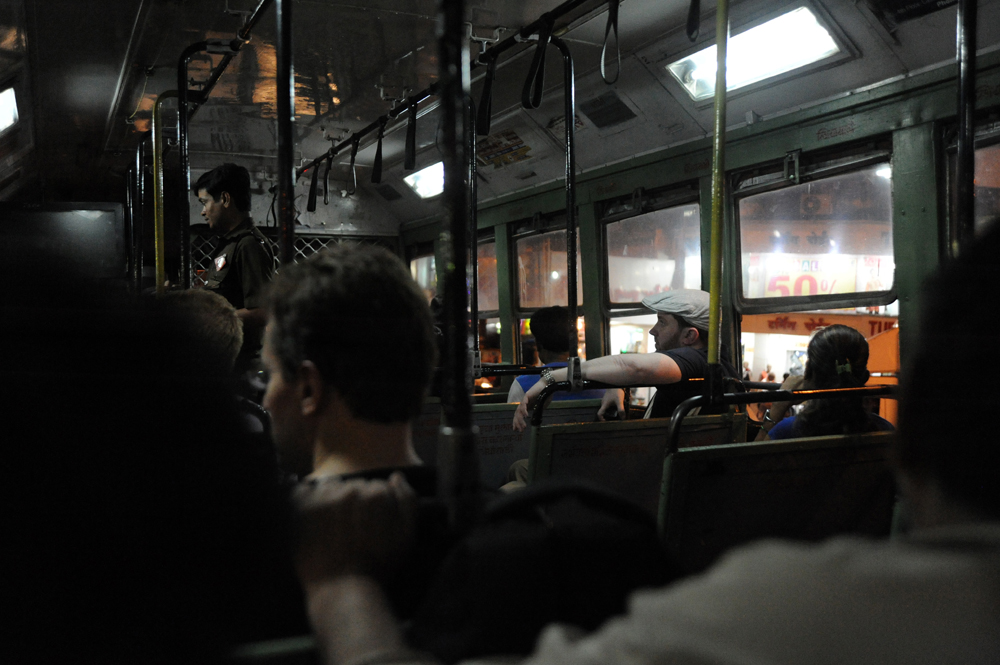 As the passengers stepped off, we found seats. We travelled passed shops, unusual electrical stores and metal works, through the red light district, to Mohammed Ali Road.
It was hard to move through the crowds, a bustling sea of faces, blurred with mopeds and lights, trolleys of metal poles and other goods, and so much noise it was hard to hear. It was fabulous. I loved it. It was just what I was hoping for from Mumbai, real Indian city life, with real people.
At Memon Wada Road, we made our next stop. In a dingy, fluorescent tube lit, open-fronted shop, we took our seats around the steel table as our food was served. We passed round the alcohol gel, rubbed it into our hands, and tucked in.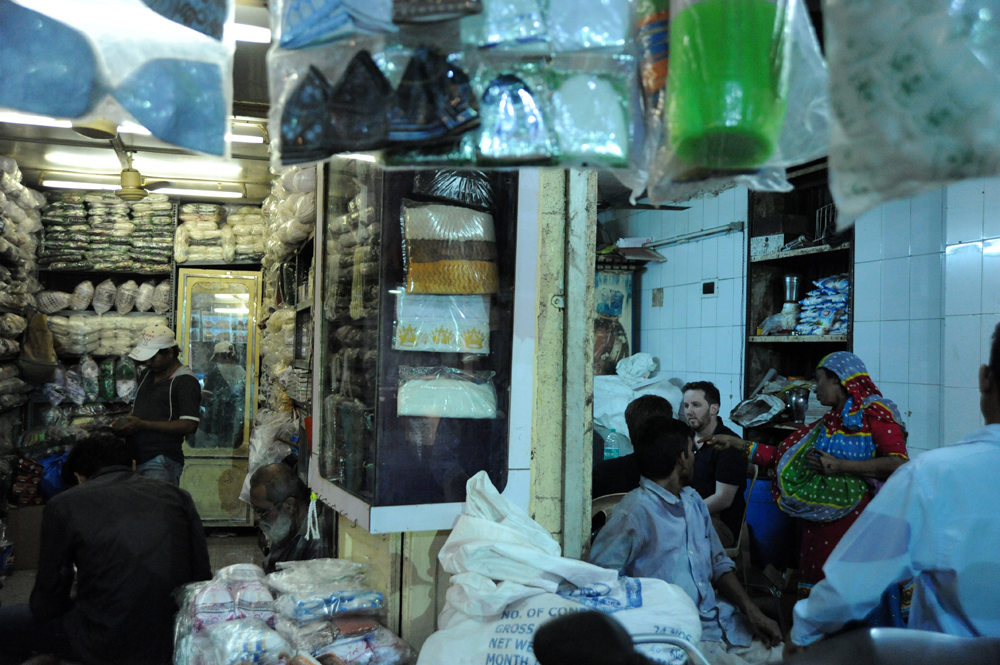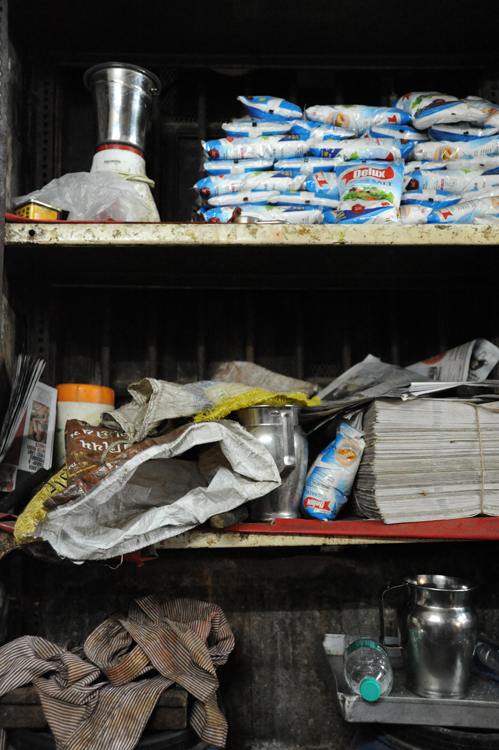 Next-door to our greyish-white tiled eating cave, was the stall that was preparing our food. I went and chatted with them. They've been there for years, maybe thirty or forty, nobody remembers.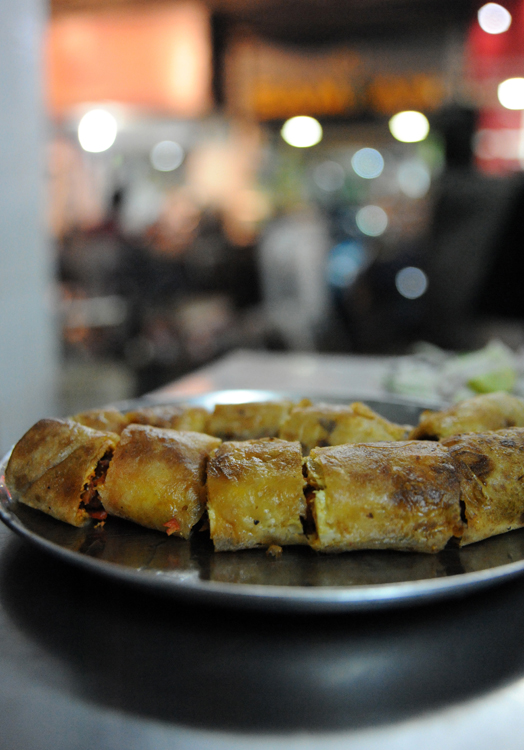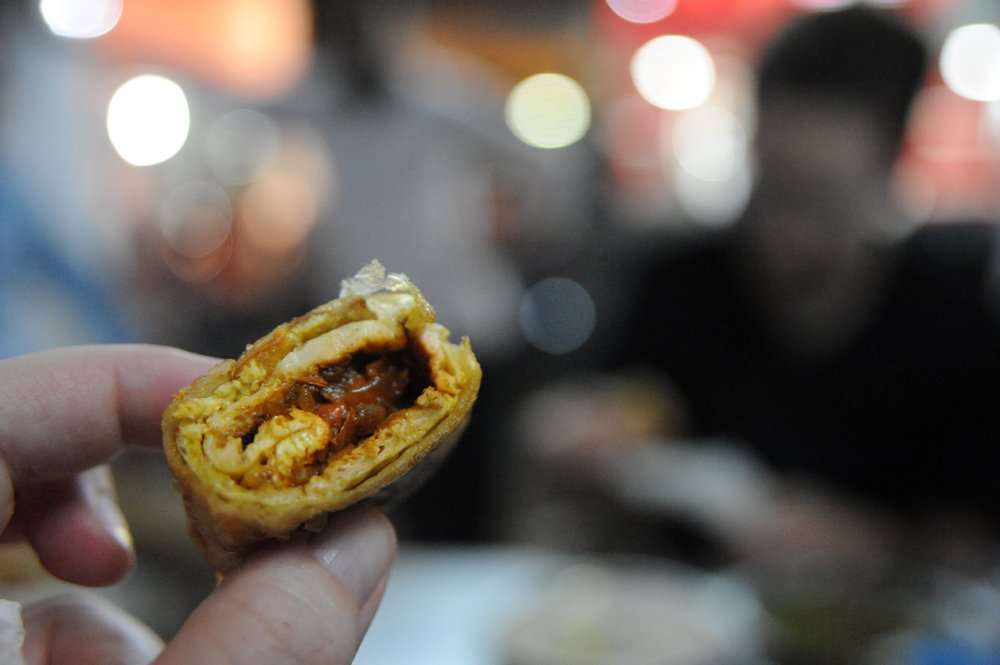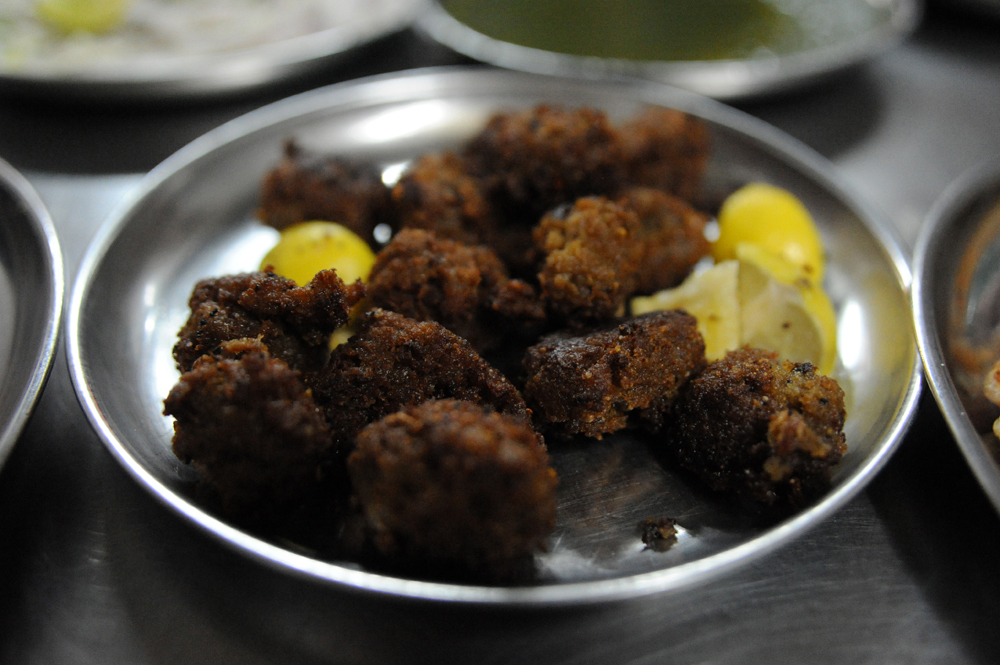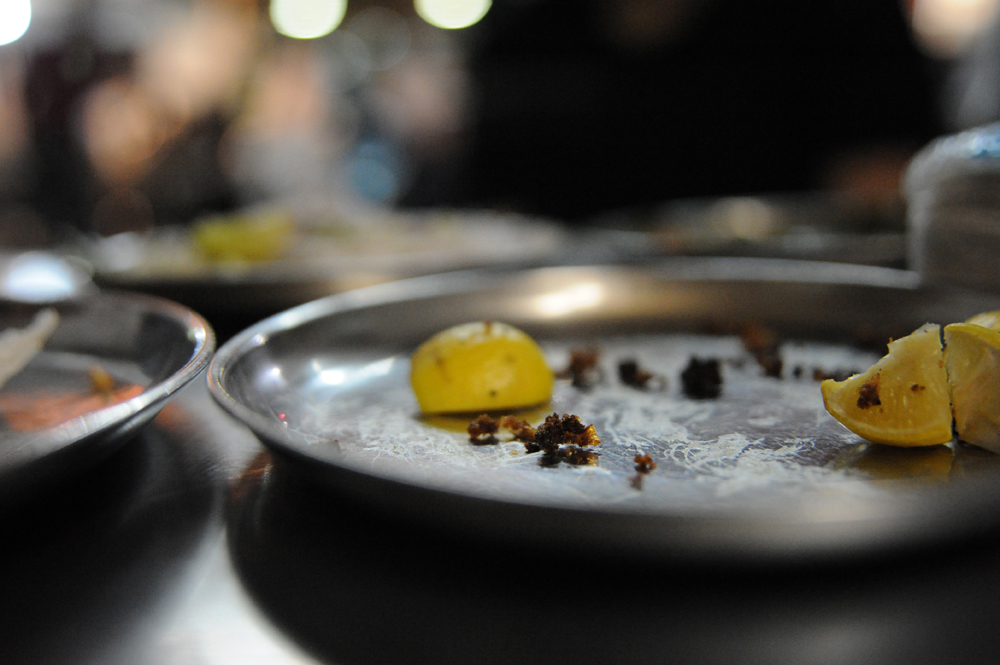 We shared Baida Roti (egg bread), chicken roll, Chicken Naan sandwich and tiny kebabs. It was all enjoyable and tasty, even though we were all already full, we were still happy to eat and share. Later Raj let slip that the kebab meat was goat. I don't think we minded, I'd say that the collective majority was goat friendly.
Back into the street, the traffic was intense – people, mopeds, occasional goats. We wound our way along the street, snaking through the crowds, trying to keep the flow going, no stopping, keep moving.
As we came up to our last, but-one, stop, we slowed at a narrowing in the road, a moped whizzed passed, 'Hello Karen!' said the rider, as he and his passenger smiled, and I said 'Hello!' back. My fellow foodies looked at me, quizzically, bemused, Adam laughed. In an extremely busy street, in a city of over 20 million people, wasn't it just weirdly wonderful to 'know' someone?!
(I was reminded of that time I went to see The Projectionist, and in between songs that could rip your bowels out through through your eye sockets, the singer stopped to say 'Hello Karen, are you having a nice time?' and people in the audience chanted my name, and it was surreal and unexplainably fabulous!)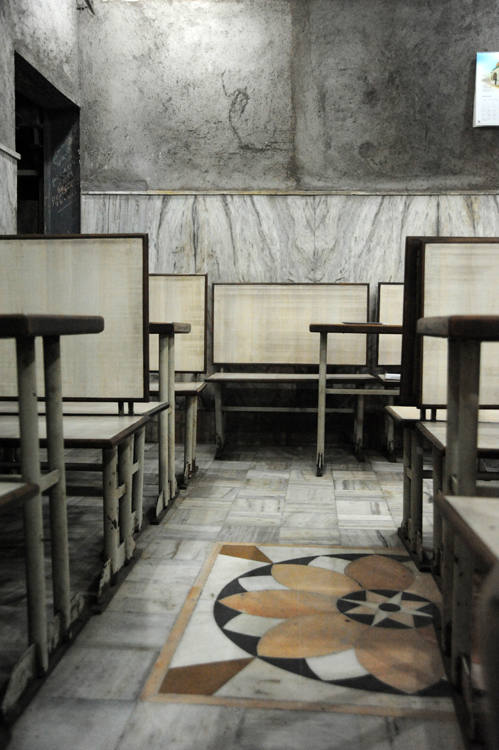 Now. On Khara Tank Road, in Bhendi Bazaar, you will find the parlour of Taj Ice-cream, and you will probably never want to leave. For four generations, and 125 years, the family have followed the same recipe to hand-make the most wonderfully fruity, rich and creamy, ice-cream.
I had Alphonso Mango, because I really want that to be a man's name, and Adam had Sitafel (custard apple). Both little tubs of ice-cream were made of awesomeness. So was the setting.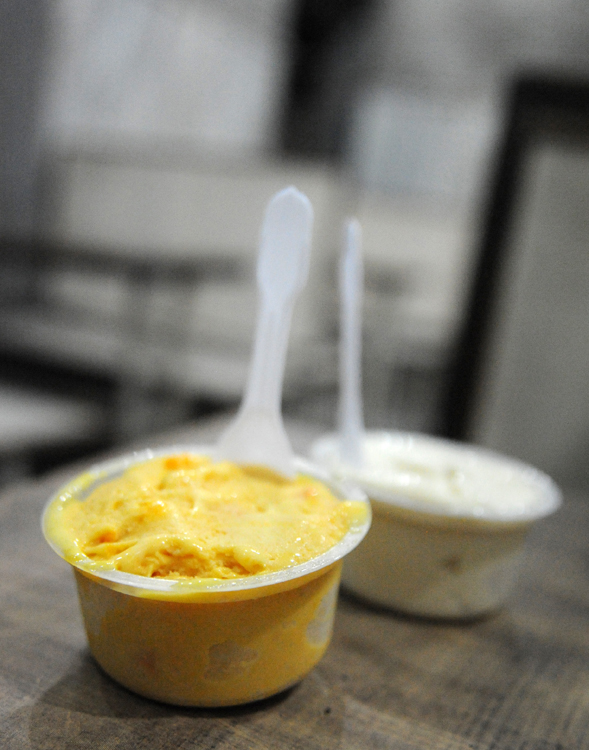 Back out into the street, and onwards, to the last stop of our tour, JJ Jalebi. Everywhere people looked at us and smiled, children said 'Hi!' and then giggled when we said it back. As Dorthe walked along two boys pointed, inhaled sharply and said 'Hollywood!'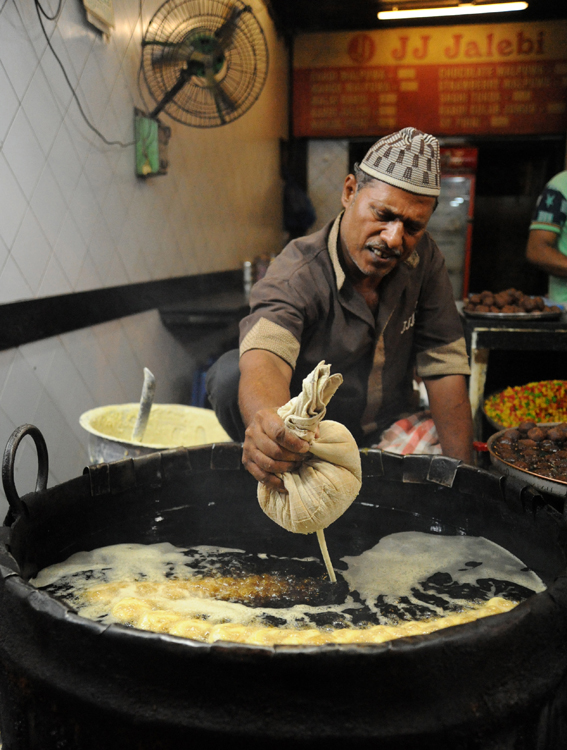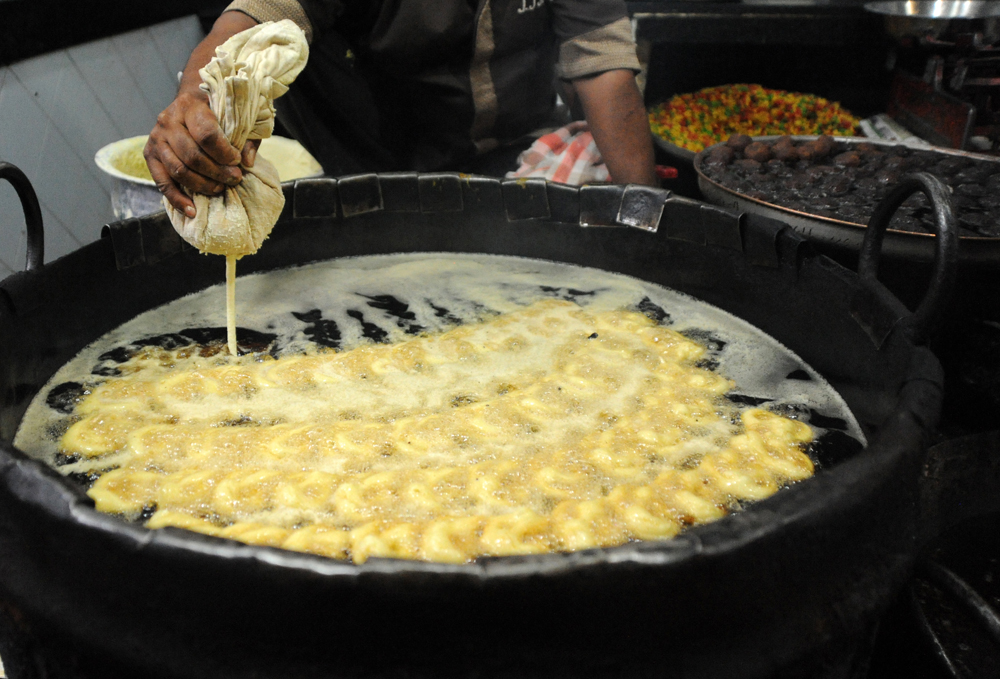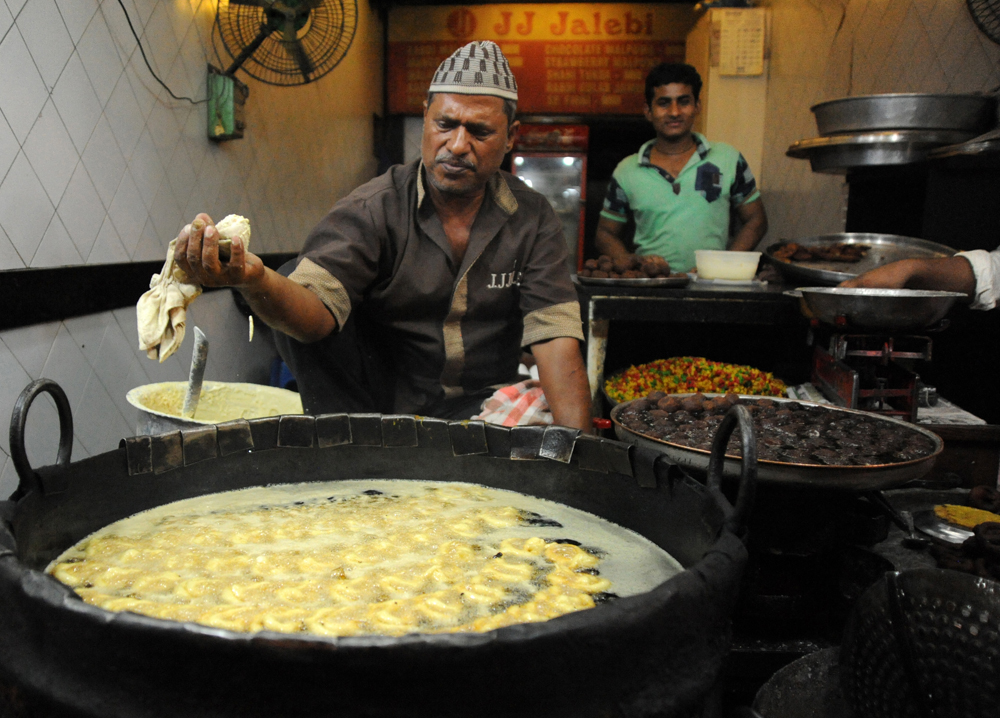 JJ Jalebi has been serving Mumbai with sweet treats since 1947. I know I like puddings, but even I find Jalebi too sweet. Still, it was great to have one that was fresh and just cooked, and even more wonderful to see them being made in front of us – the huge vat of boiling hot oil in full sight and reach of everyone.
We stood outside, in the warm bright street, under the dark sky,  and shared and savoured our last bite of street food together.
And then the tour was over. We took a taxi ride through the city, back to the bling of the Taj Mahal Palace Hotel, and went to bed happy. What a great way to spend our last evening in Mumbai.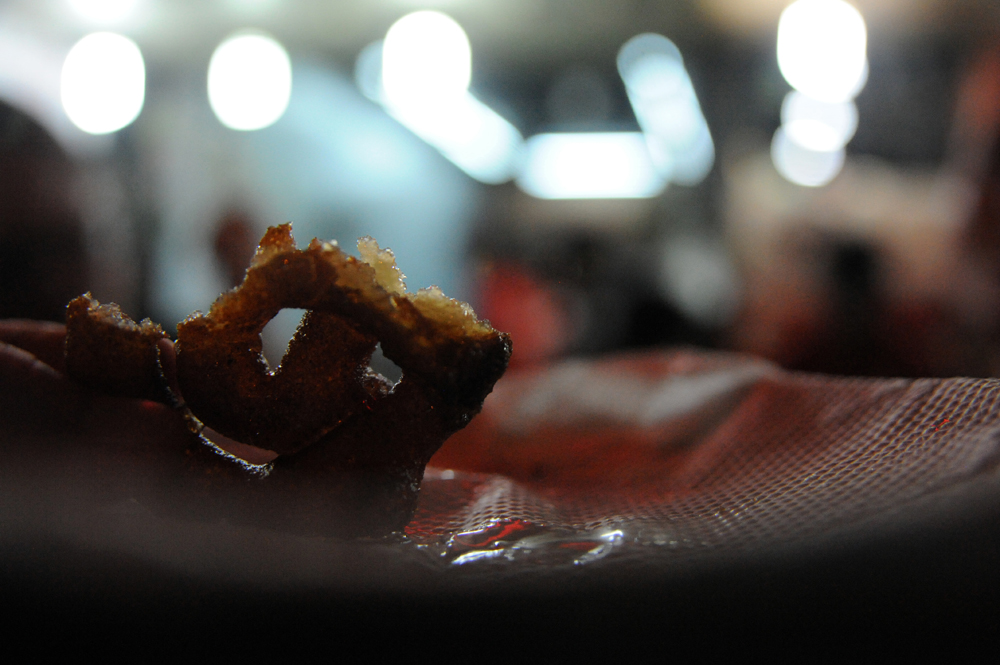 Our street food tour with Reality Tours was 1700 rupees per person (that's about £18) and included all the food, drinks and transport. It was ace. I highly recommend it. Also, 80% of the profits from the tour goes back into Indian communities, through Reality Gives, so you know you're doing something useful too, not just eating your way across Mumbai!